The sun shone hot, but Ricciardo provided the yellow glow at the Park
Never underestimate the power of a local hero.
In years gone by only Francophiles and those with a taste for quirky road cars might have been fans of the Renault Formula One team.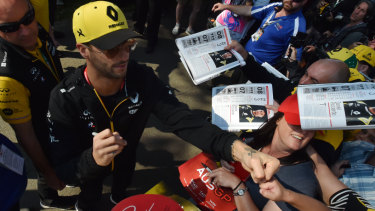 Formula One legend Alain Prost has labelled Renault's signing of Daniel Ricciardo as an "unbelieveable" success. Credit:AAP
But to the Gallic mix add a twist of Australiana, in the shape of Formula One driver Daniel Ricciardo, and et, voila!
While the sun shone down at a balmy 23 degrees and the cloudless skies sketched Albert Park with a brilliant blue background, the ground itself was a sea of yellow, proof positive even in such a global sport as Formual One that local legends still play well.
The yellow clad hordes wearing tee shirts, caps, copy race uniforms and other totems of their support for Ricciardo were a marketing tribute to the appeal of the Aussie driver who stunned the motorsport world last year when he announced that he would be joining the French squad on a long term deal beginning with the first race of the 2019 season in Melbourne.
Even the normally reserved Renault special advisor Alain Prost – a four-time world champion in his days behind the wheel – could not hide his surprise and delight at the difference that Ricciardo was having on his team: and not just to its merchandising division.
''It gives credibility to the outside, that we want to be a winning team,'' he said of Ricciardo's switch.
''Also, from the marketing side … in Australia you see it of course, but everywhere Daniel is very important. We've never seen a reaction for Renault like we did in Melbourne, yellow is everywhere, it was unbelievable.''
The cheeriness around Ricciardo contrasted with the sombre mood of the New Zealand drivers in the Supercars race that highlighted the F1 undercard.
Winner Scott McLaughlin, a native of Christchurch, wore a silver fern on his helmet and on his car, a tribute in which he was joined by several other drivers to commemorate those killed in the horror of his nation's worst terrorist atrocity in his home city on Friday.
Source: Read Full Article