England vs Sri Lanka, first Test: Ben Foakes and Sam Curran pull tourists back into contention at Galle after horror morning
New cap Ben Foakes produced some old-fashioned Test batting to pull England back into contention against Sri Lanka after a morning where they batted wildly and paid the price.
Perhaps England had an eye on next summer's World Cup with their performance in the opening hours of this series? With Trevor Bayliss departing in 2019, at least that would offer some explanation as to why they batted with such reckless abandon in the first session of this first Test at Galle, flying out of the blocks with one of their fastest starts to a Test innings in the past 20 years only to pay the inevitable price of early wickets and collapse to 103/5 after just 23.3 overs.
The tourists hit the boundary ropes ten times in the first ten overs, a total they had only bettered three times in the past two decades, as they took the fight to Sri Lanka only for their plan – if it could even be called that – to backfire fairly rapidly.
If they had confused the first session for a limited-overs slapabout then that was corrected thereafter, but the damage had been done. The cost was the cheap wickets of Ben Stokes, Moeen Ali and debutant Rory Burns, who looked comfortable from the start, only to get out for the rare 'good-looking nine'.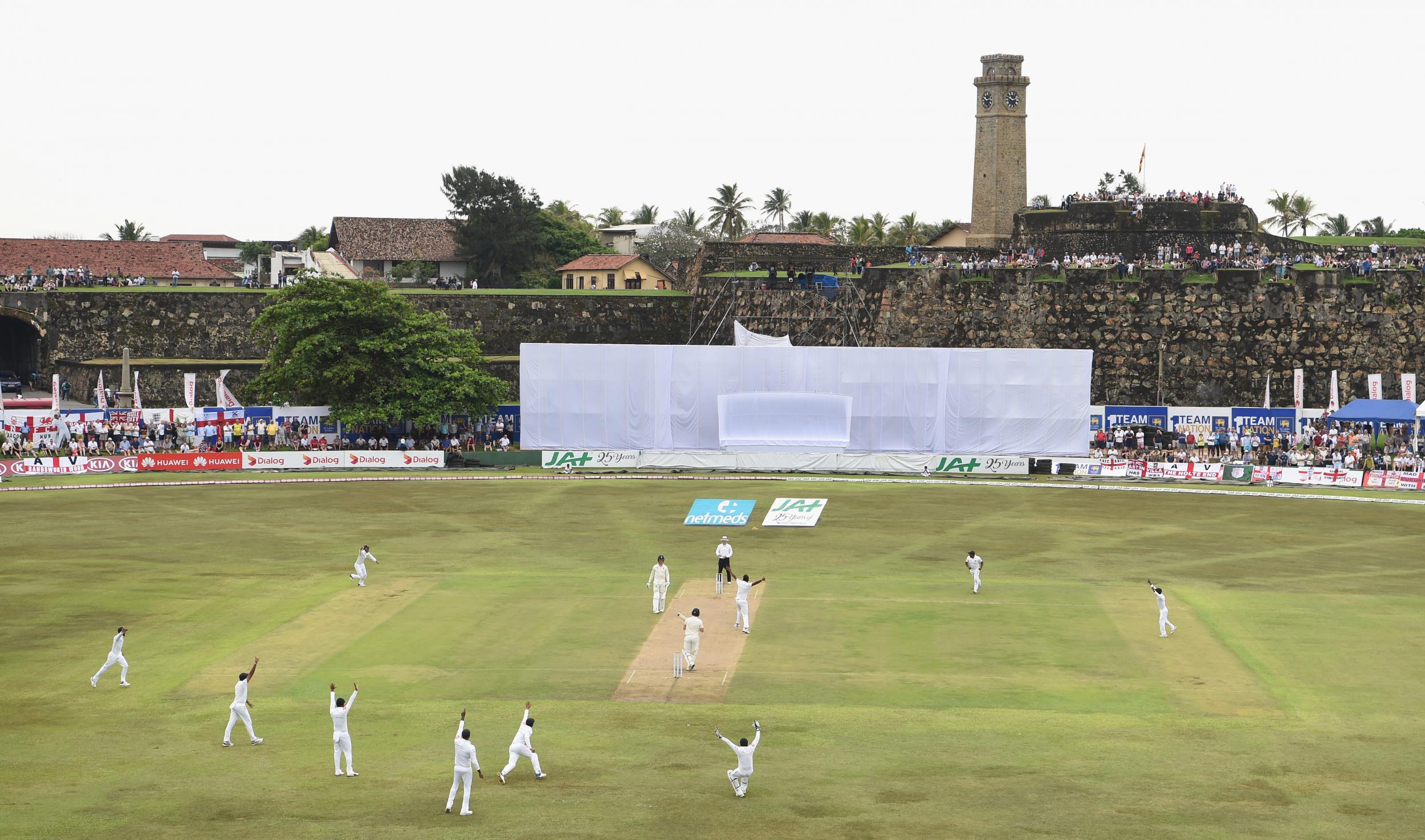 Burns was a player who earned his place – and thoroughly earned it, at that – through consistent excellency for Surrey, with England eventually recognising his ability to regularly amass runs but also to hang around for especially long periods, allowing his team to build innings around him.
On debut he did not look nervy or pressured by the occasion. Indeed, those in the huddle as Burns received his cap from old friend Mark Ramprakash on debut say the England batting coach was more nervous than the Surrey skipper and the shot to get him off the mark in international cricket could not have been more perfect, a punch through midwicket which he sort of leant on, and which not even the rain-soaked outfield could prevent from reaching the rope down by the grassy bank full of England fans.
It was a promising and comfortable start to his Test career, but one nipped cruelly in the bud moments later by a flick off his hips that rose on him a little as he tickled it behind to Niroshan Dickwella, whose footwork even Burns, a former keeper, would have appreciated. Well, perhaps not on this particular occasion.
That was the moment that the collapse began, though. Mo Ali went for a golden duck the following ball, his off stump relocated by a vicious delivery from Suranga Lakmal. Ali appeared to misjudge the angle as the Sri Lankan opener delivered from wide of the crease bowling around the wicket, but having been given the vote of confidence to continue batting at three, this was not the start that Bayliss had been hoping for when he put his faith in the all-rounder and his position remains under the microscope.
Joe Root came in and picked up runs quickly only to be bowled by Rangana Herath, the spark that lit the cannons on Galle's old fort, exploding with celebration at the 40-year-old's 100th wicket at this most picturesque of cricket grounds and the venue of both his first Test in 1999 and his last this week.
Keaton Jennings and Ben Stokes didn't last too long either and by the time debutant Foakes and the man whose wicketkeeping gloves he took, Jos Buttler, re-emerged after lunch, the instructions were obvious, heads were down and bats were straight.
England then blocked and prodded their way through the next hour. Foakes, at his best a batsman who imposes himself on the opposition, took 43 balls to even get into double figures as he overcame a tough start.
That partnership would stabilise England a little, passing 50 but eventually ended on 61 by another smart piece of wicketkeeping from Dickwella, who despite his overzealous appealing and hair-trigger approach to reviews that cost Sri Lanka both of their first-innings referrals inside the first hour, took a brilliant, low catch from the outside edge of Buttler's bat after Dilruwan Perera had forced the shot.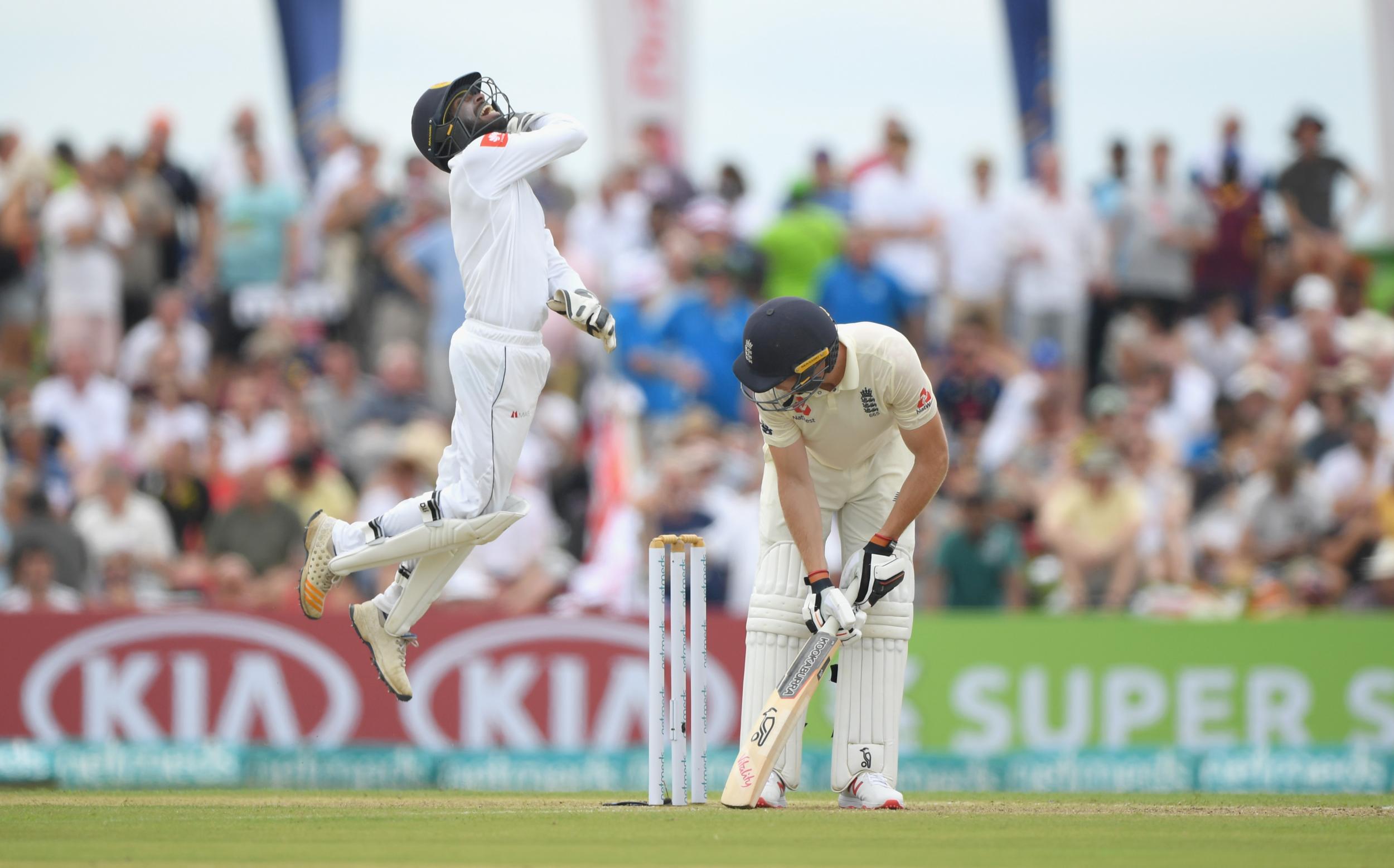 Perera was the pick of the Sri Lankan bowlers with four wickets on a promising day for the hosts, though an injury picked up by skipper Dinesh Chandimal while in the field could impact the rest of his series. The 28 year old appeared to pull a groin muscle chasing down a fairly innocuous-looking shot that Foakes had played into the off-side and spent the rest of the day in the slip cordon.
Ultimately Foakes would prove to be the story for England, taking a very different approach to his sweep-happy teammates to play an upright, straight-batted innings that carried him to the end of the day on 87 unbeaten.
The Surrey man was picked as a specialist keeper, with England deciding that an elite technician was needed behind the stumps with possibly hundreds of overs of spin to be bowled. But Foakes averages north of 40 in county cricket – hardly the record of a one-dimensional gloveman – and after overcoming a wobbly start he was England's rock around which his Surrey teammate Sam Curran opened up his arms.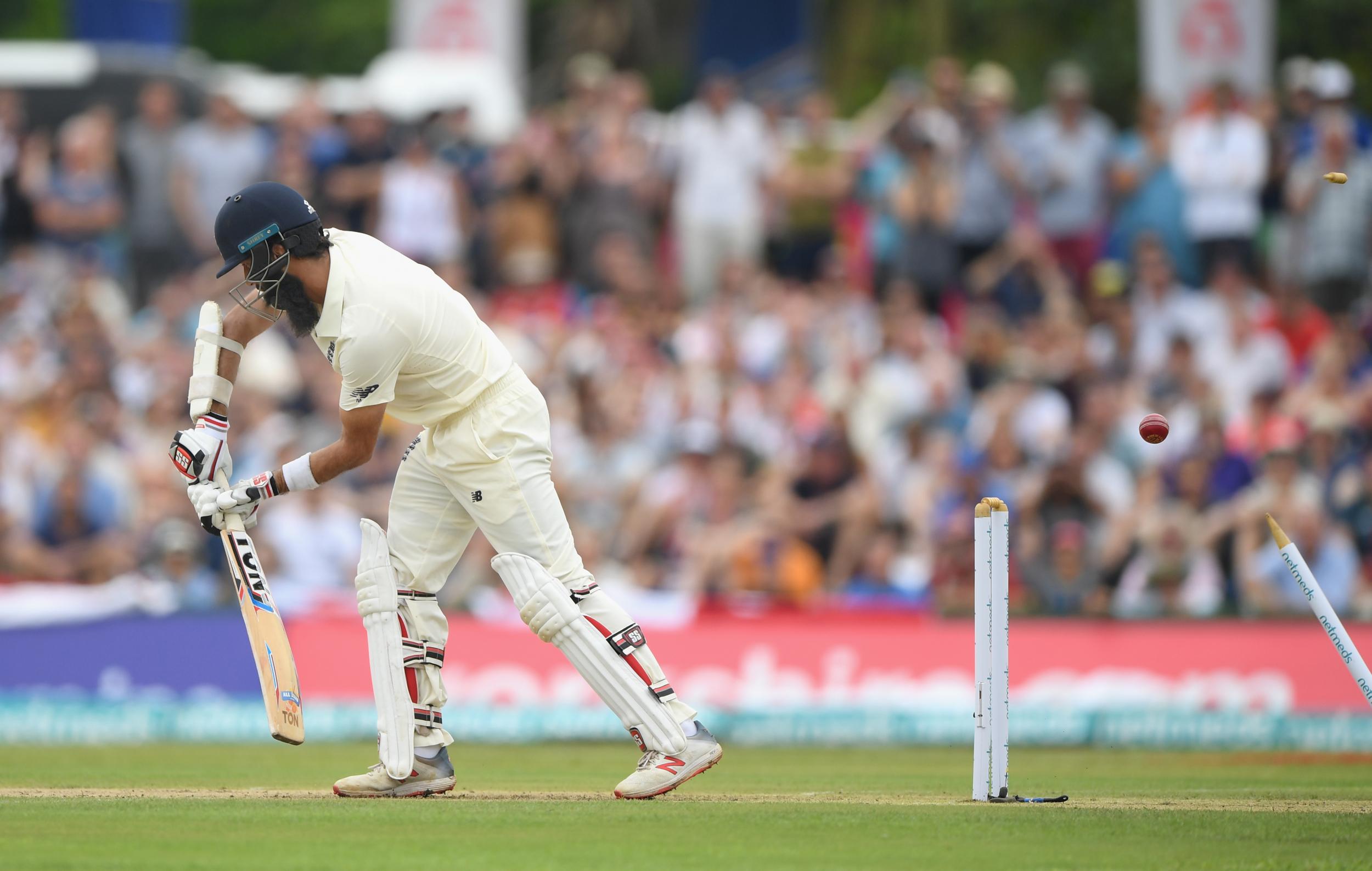 There have been questions about whether Curran would enjoy the same success with the ball overseas as he does in English conditions, but he was picked ahead of 433-wicket veteran Stuart Broad for the extra he offers with the bat and he notched three maximums – though, curiously, just one four – on his way to 48. Fittingly, Curran was caught trying to bring up his half-century with a boundary but edged to Chandimal at first slip to end a promising innings and nearly an hour of the Barmy Army continuously singing his name.
By that point, England had fought their way back into proceedings, and a late, flourish from Adil Rashid (35 from 38 balls) alongside the steady Foakes saw England tick past the 300 mark and approach respectability.
The chances are that this will be a rain-affected Test in Galle and there are doubts over whether the English bowlers will be capable of taking 20 wickets, but after such a wild and uneasy morning, England settled into their stride and batted with the sort of nous on Tuesday afternoon that skipper Root had talked up in the days preceding the match.
Follow the Independent Sport on Instagram here, for all of the best images, videos and stories from around the sporting world.
Source: Read Full Article