Inside cricket's careful return to training with England bowler Chris Woakes
A lot of Thursday was familiar to Chris Woakes.
He left home in the morning and headed to Edgbaston. There he would bowl on his own out in the middle ahead of what still may be a full programme of England fixtures over the coming months.
Nothing particularly taxing. The winter away in New Zealand and South Africa had come after an Ashes and World Cup that he'd have probably had the start of the 2020 summer off anyway.
Download the new Independent Premium app
Sharing the full story, not just the headlines
This was to be light work, getting back into the groove. A "starter session" of warm-ups, runs and five overs at "roughly 50 per cent". The ground, thronging at its best, was silent, but it's not uncommon for a centrally contracted Warwickshire cricketer to have it to himself and quiet but for his grunts.
But in every other way, things were totally different. On Thursday Woakes became one of the first of 18 England bowlers across seven venues to begin individual outdoor training. After weeks of isolating at home, the ECB are beginning to build their players back up in line with government advice on resuming elite training.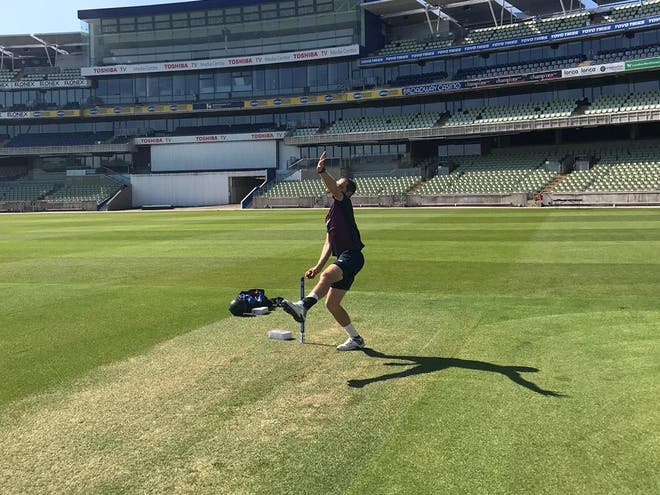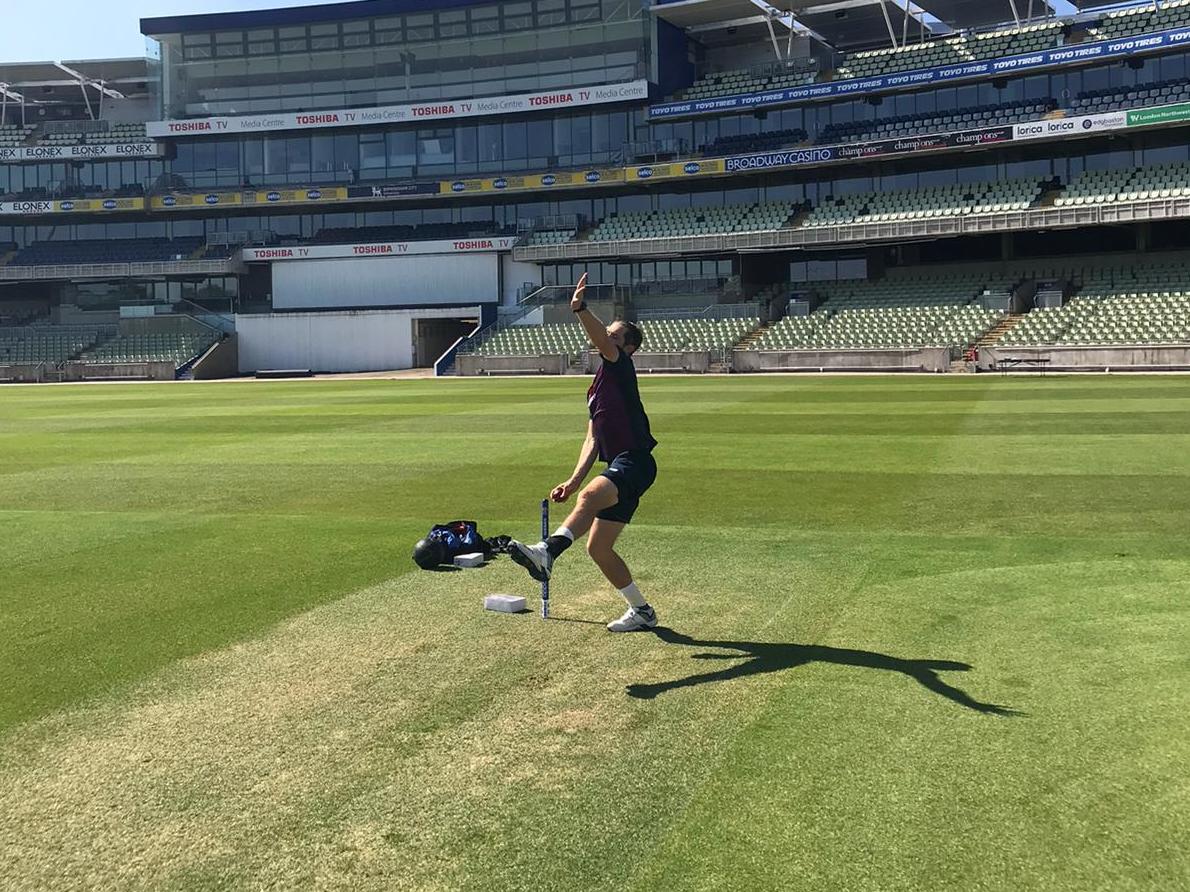 Earlier in the week, the necessary precautions relating to extensive guidelines were finally put in place. Mainly who goes where, and when. Stuart Broad, for instance, had his own designated bathroom at Trent Bridge, while those sharing the same ground, such as Ben Stokes and Mark Wood with Durham's Chester-le-Street, will be staggered. Each player had been a box of balls to be handled by them and only them. Avoiding contact with those outside your household has been planned to a tee.
As such, Woakes needed an extra provision – a hairband for his untrimmed locks. Having been left underwhelmed after raided his wife's stash, Amazon came to the rescue.
"I haven't had it cut in 12 weeks apart from the wife doing the sides," he said, sheepishly. "I needed it to keep my hair out of my eyes. The alice band will probably be a feature for a while until I can get it cut."
His day started with a temperature test administered by himself with a thermometer in the ear. For now, the ECB have not invested in COVID-19 testing kits. But there are further safeguarding checkpoints.
"We've got an app which we have to put in our so-called well-being and symptoms in each morning. For instance: is anyone in your family unwell? No. Are you feeling unwell? No. Are there any symptoms? No. Put your temperature, check your temperature in the app, and if all the questions are answered correctly you're free to go into training."
He arrived in his England training kit, ready to get going. Along with his box of balls were his other training essentials: water bottles, towels, medicine balls and rubber exercise bands.
However, he was unable to use the regular car park as Edgbaston is being used as a public testing facility. So he drove to the back of the ground.
On arrival there was a station to wash his hands and prior to training he rubbed his hands with anti-bacterial gel. He then made his way onto the field through the Hollies Stand.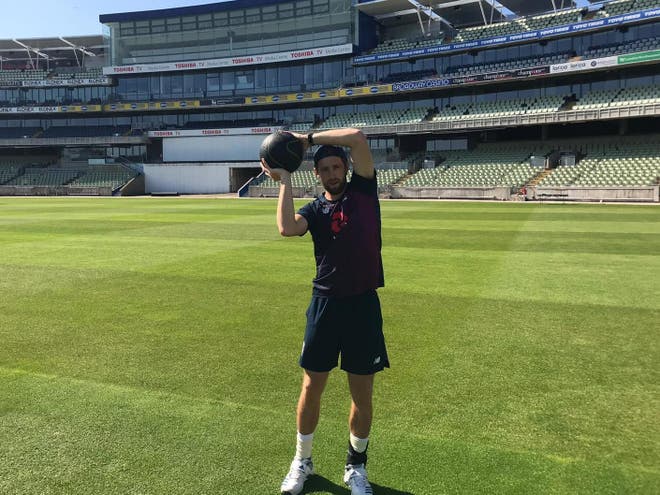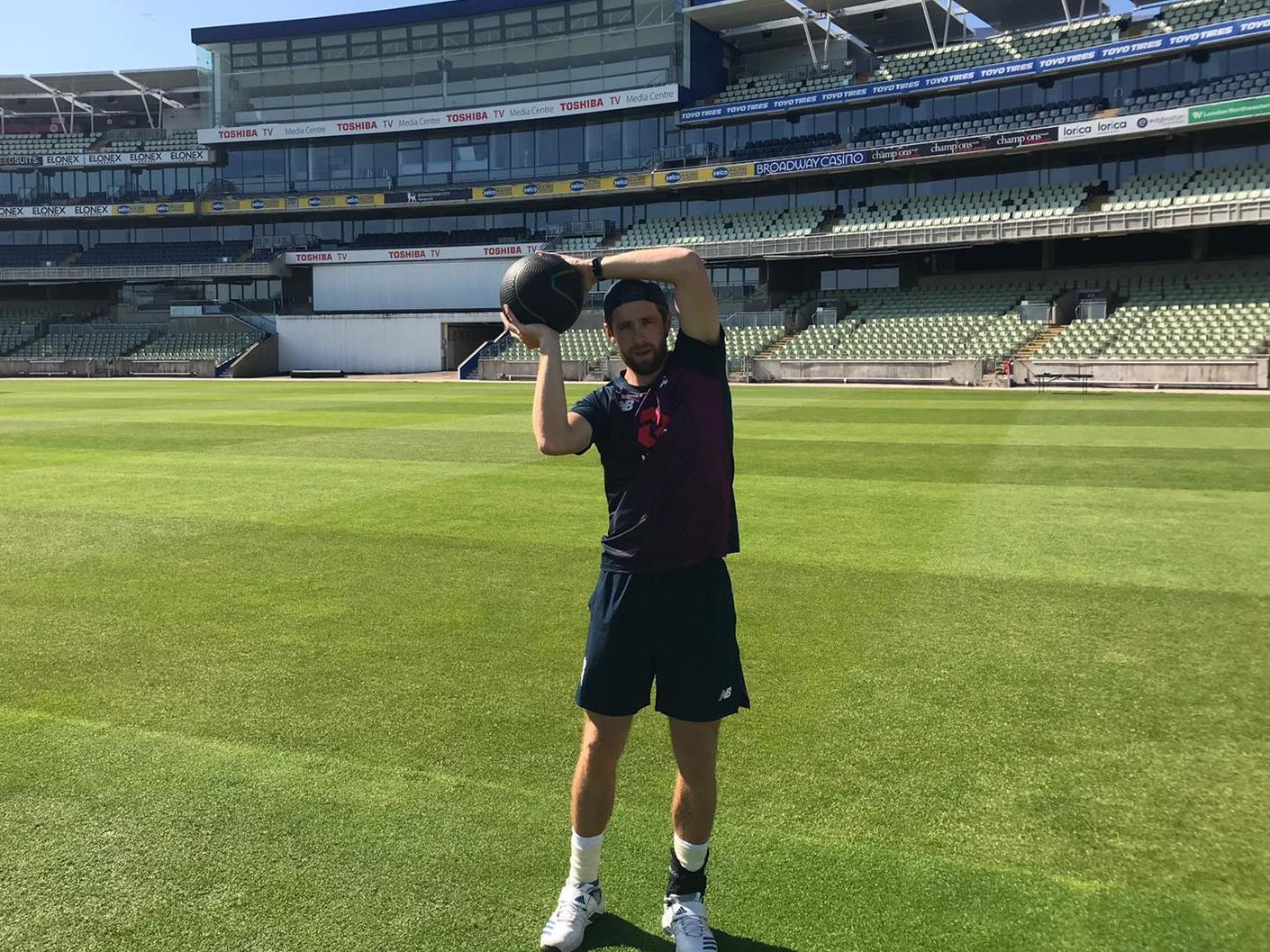 Warwickshire provided the physio who maintained a 2m distance throughout the hour-long session. Once it was over, he collected his things and made his way back through the Hollies Stand and to his car to shower at home. Unlike Broad, he didn't need to use his allotted toilet.
"It was all very strict," said Woakes on the experience. "In my eyes, they've done a really good job. I knew exactly how I was going to go into the ground."
For the next two weeks, this will be the new normal, albeit with a step up in technicalities. Woakes will be joined next week by his county bowling coach Graeme Welch, who knows his game well. From there, they will go into assessing where he is at this stage of his career: not just as a 31-year old allrounder, but one who showed marked improvement overseas, taking seven wickets at an average of 25.71 in two Tests, in New Zealand and South Africa.
"There's a few things I want to work on. When you have time away you reflect on things – the winter went well for me bowling away from home with the Kookaburra. Naturally I like bowling with the Duke but I look at the world's best, Jimmy and Broady, they are always looking ways to improve. So, I'll be picking the brains of Pop Welch to work on a few things."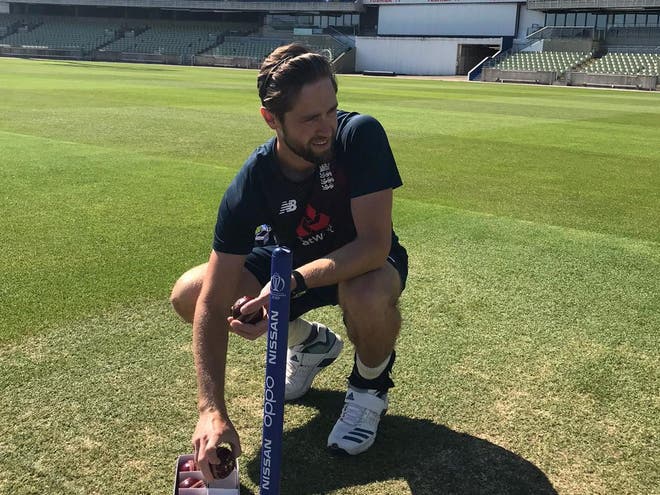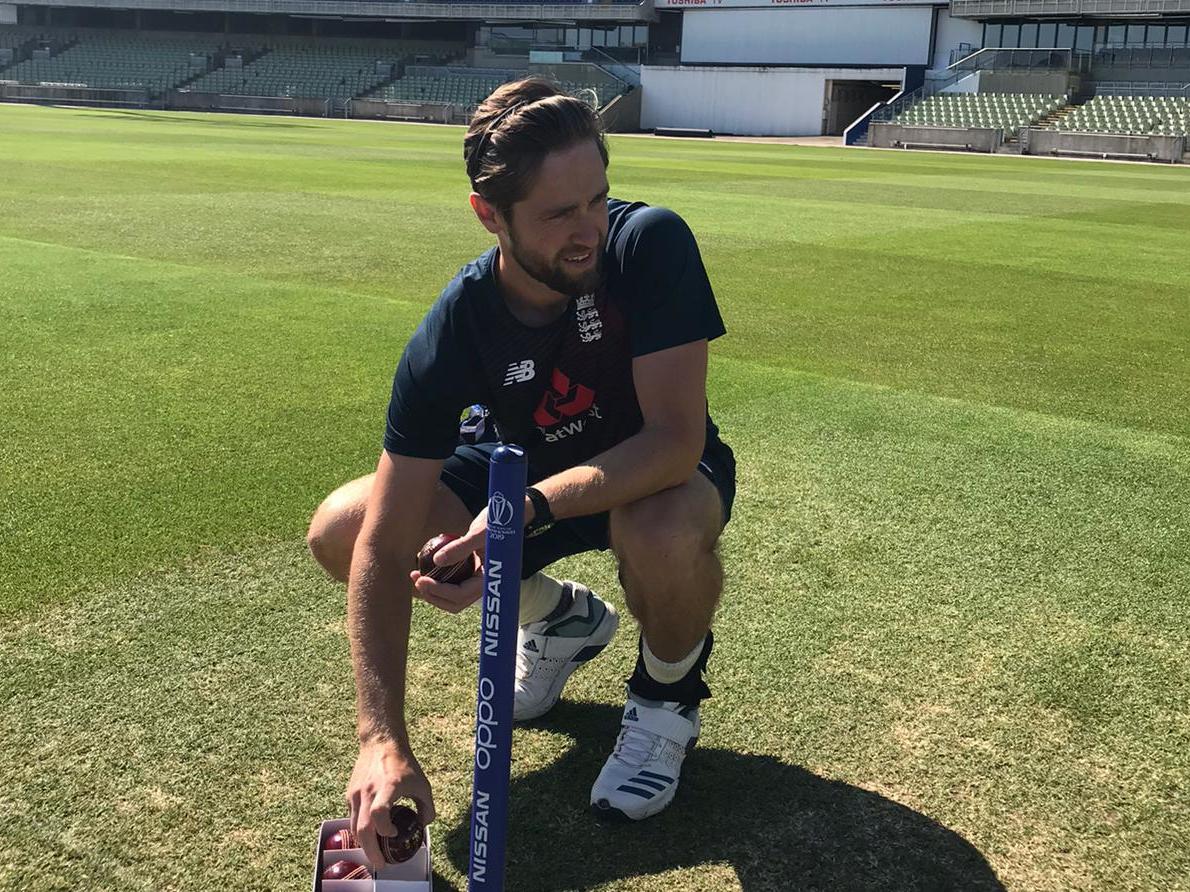 That, perhaps, is the biggest indication of how quickly players are adapting. There will be further adjustments to make as training expands to incorporate groups of five and especially if matches do go ahead in bio-secure venues. Player behaviour will be governed differently on and off the field. But through years of conditioning and weeks of itchy feet, the willingness to do what is necessary will prevail.
Cricket, for all its resistance to change, has to do so quickly and noticeably. What can be said is the first step taking by Woakes and others this week has been reassuringly normal.
Source: Read Full Article