Lyon's five wickets in Galle all about celebration and redemption
It has taken 11 years and 109 Tests for Nathan Lyon's career to turn full circle.
In almost perfect symmetry between his debut and current Tests, Lyon has again walked away from his first innings bowling at Galle with five wickets. The circumstances, however, could not have been more different.
Nathan Lyon acknowledges the crowd after taking five Sri Lankan wickets during day one of the first Test in Galle.Credit:AP
On that last day of August in 2011 Lyon became one of cricket's glorious instant hero stories, plucked off his lawn mower as an Adelaide Oval groundsman after just a handful of first class matches to carve himself a giant slice of history.
On Wednesday, it was a redemption story. With a backdrop of their personal and collective struggles of Australia's 2016 tour of Sri Lanka and given their recent success in Pakistan, Lyon and his teammates needed to prove they could continue standing up in the subcontinent.
Lyon's debut was pure fairytale. A wicket with his first ball, innings figures of 5-34 and an Australian victory which saw them go on to win the series.
But 2016 was somewhere near the bottom of that circle. Australia were flogged 3-0 and Lyon did not live up to expectations as Australia's main striker in such favourable spinning conditions. His 16 wickets at an average of 32 matched his overall career but he leaked runs and failed to make a decisive impact.
Lyon made an impact with his very first ball on Wednesday. Brought on to bowl just the sixth over, his opening gambit was perfectly pitched to left-handed opener Dimuth Karunaratne.
It exploded off the dry and dusty strip in the centre of Galle's lush, tropical outfield, flashing past the outside edge of the bat and hitting wicketkeeper Alex Carey in the head.
Carey had a mandatory concussion test before continuing and Steve Smith stood at slip with a broad smile at what Lyon had just done.
There were completely different emotions from Smith late in the day after he was run out for six in a terrible mix-up with Usman Khawaja, as Australia tried desperately to build the first innings lead it needs to have a chance of winning batting last.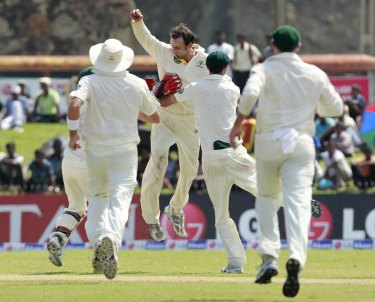 Nathan Lyon celebrates one of his five wickets on debut at Galle in 2011.Credit:Reuters
Khawaja hung on until stumps, perhaps feeling that it was best to stay in the middle for as long as possible to postpone a close encounter with Smith in the dressing room.
Lyon finished with 5-90, bowling 25 of the 59 overs delivered by Australia, the 20th time has claimed five or more wickets in a Test innings.
He went past Richard Hadlee's 431 wickets. On 432, Lyon is only one behind the man who destroyed Australia six years ago, pint-sized left arm spinner Rangana Herath, and two behind Kapil Dev.
These are remarkable figures for an Australian off-spinner given how unrewarding the task can be on Australia's hard and true pitches.
Steve Smith reacts after being run out for six.Credit:AP
But Lyon will need more remarkable figures in the coming days if Australia are to win this Test on a deliberately disintegrating pitch.
In what is an unhelpfully small sample, Australia have played in Galle on four previous occasions. Both times they batted first they won.
Batting second they finished behind in a rain-marred draw and lost badly in 2016, failing to make 200 in either innings.
On the evidence of day one it can be argued that Sri Lanka's 212 is a par score.
While the pitch has clearly been baked to a traditional Sri Lankan recipe, this is Test cricket's way in most places around the cricket world.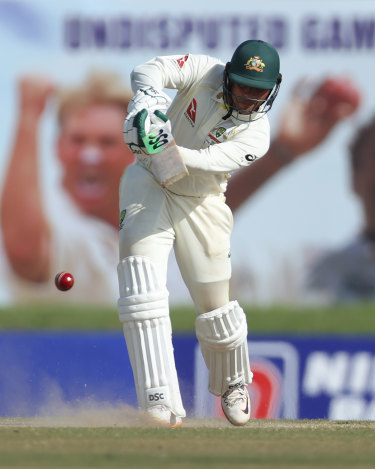 Australia will be relying heavily on Usman Khawaja, who went to stumps unbeaten on 47.Credit:Getty
Indeed, England are the most sanctimonious pitch doctorers in the world, often forgetting to turn the tap watering the pitch off if they have a decent pace attack, or forgetting to turn it on if they have spinners likely to prevail.
Australia need to look no further than the MCG during the last Boxing Day Test, which was over before lunch on the third day as England were bowled out for 68 on an outrageously green seamer. Journeyman pace bowler Scott Boland was Player of the Match with 6-7 as an injury replacement.
So if Australia are to justify their mantle as the number one Test team after their brave series victory in Pakistan they must compete in all conditions.
Over to the batsmen after Lyon laid the foundation for a good start.
News, results and expert analysis from the weekend of sport sent every Monday. Sign up for our Sport newsletter.
Most Viewed in Sport
From our partners
Source: Read Full Article