Mitchell Starc facing a growing fight to claim IPL payout
He may be celebrating the retention of the Ashes but Mitchell Starc faces a growing legal fight to receive a $1.53 million payout for his lost Indian Premier League contract.
The Australian fast bowler filed a lawsuit in the Victorian County Court in April against the insurers of his lucrative deal to play for the Kolkata Knight Riders in the world's most lucrative T20 tournament.
Howzat?: Mitchell Starc dismisses Jonny Bairstow in the fourth Ashes Test. His appeal for insurance coverage may be less successful.Credit:Getty Images
Starc was secured for $1.8 million in the 2018 auction, but did not get to play a game after he was injured during Australia's ill-fated tour of South Africa, his series ending with a fracture of his right tibial bone in the third Test in Cape Town.
In documents lodged with the court, it was revealed he had taken out a policy that would pay him a $1.53 million benefit should he have missed the IPL campaign through injury.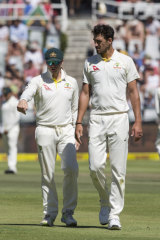 Nadir: Steve Smith with Starc during the infamous Cape Town Test.Credit:AP
Represented by Mills Oakley lawyers, he is suing a syndicate of Lloyd's of London, the long-running insurance market where coverage can be bought for unique circumstances that traditional insurers don't insure against. However, in documents lodged in May, Clyde and Co lawyers, representing Lloyd's of London, declared Starc did not "meet the policy requirements for payment of the total disablement benefit" and denied that Starc "suffered total disablement as a result of a bodily injury as defined by the policy contract".
"In answer to the whole of the statement of claim, the defendant denies that the plaintiff is entitled to the relief sought or any relief at all," the document filed by Clyde and Co claimed.
Starc's bid for payment included a statement from Australian team doctor Richard Saw.
Mills Oakley responded last month to a request for more information, raising a number of objections to Lloyd's of London's requests.
Starc's writ said he paid a premium of $97,920 to be covered between February 27 and March 31 in 2018, when the IPL tournament ended.
The pace ace claimed his injury woes began during the second Test against the Proteas in Port Elizabeth when he experienced right calf issues "on uneven footmarks on a worn wicket". The injury worsened in the third Test, when he "suffered was a grade three tibial injury which involved a fracture in his right tibial bone".
Mills Oakley and Clyde and Co lawyers did not respond to comment. The Australian Cricketers Association also did not wish to comment.
A civil trial has been listed for three days from March 30 next year.
Source: Read Full Article