Caster Semenya files appeal to Swiss court after testosterone ruling
Olympic 800 metres champion Caster Semenya has filed an appeal to Switzerland's highest court against a ruling to uphold rules requiring that middle-distance female athletes with a high natural level of testosterone must take medication to reduce it.
"I am a woman and I am a world-class athlete. The IAAF [International Association of Athletics Federations] will not drug me or stop me from being who I am," Semenya, 28, said in a statement after filing the appeal on Wednesday.
South Africa's Caster Semenya has filed an appeal against the Swiss court ruling.Credit:AP
South African Semenya lost an appeal to the Court of Arbitration for Sport (CAS) on May 1 which ruled the IAAF's regulations were necessary for athletes with differences in sexual development (DSDs) to ensure fair competition.
The statement added that Semenya will ask the Swiss Federal Supreme Court to set aside CAS's decision in its entirety, which it said did not consider medical protocols and uncertain health consequences of taking testosterone-reducing medication.
Semenya has said she will not undergo hormone therapy to lower her naturally elevated testosterone levels, a decision that, barring a successful appeal, would make her ineligible for the 800 metres at this year's world track championships in Doha, Qatar, and at the 2020 Olympics in Tokyo.
Intersex athletes such as Semenya face restrictions in women's events from 400 metres to one mile, distances that require both speed and endurance. Semenya can compete in long distance events without having hormone therapy to limit her testosterone levels.
On May 1, the Swiss-based Court of Arbitration for Sport upheld IAAF's testosterone restrictions. The court ruled by a 2-1 vote that the restrictions were discriminatory but also a "necessary, reasonable and proportionate" means of achieving the IAAF's goal of preserving a level playing field in women's track events.
The testosterone restrictions apply to athletes with a so-called disorder of sexual development known as 46, XY. Such athletes competing in women's events have a rare chromosomal makeup — both an X chromosome and a Y chromosome in each cell — that genetics have long defined as a standard male pattern. Women have been typically defined genetically by two X chromosomes. Athletes defined as intersex often have ambiguous genitalia.
Athletes with this disorder of sexual development can produce testosterone in the male range, according to an IAAF-backed study, and gain an unfair advantage in muscle strength and oxygen-carrying capacity in certain events.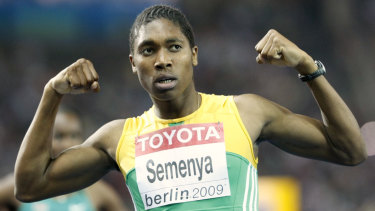 Semenya refused to take medication to lower her testosterone levels.Credit:AP
Intersex athletes who want to participate in women's track events from 400 metres to the mile will have to take hormone-suppressing drugs and reduce testosterone levels below 5 nanomoles per liter for six months before competing, then maintain those lowered levels.
Most women, including elite female athletes, have natural testosterone levels of 0.12 to 1.79 nanomoles per litre, the IAAF said, while the typical male range after puberty is much higher, at 7.7 to 29.4 nanomoles per litre. No female athlete would have natural testosterone levels of 5 nanomoles per litre or higher without a disorder of sex development or tumors, the IAAF has said.
Reuters, The New York Times
Source: Read Full Article