'Just amazement': The Aussie champ who competed against Fosbury and his famous flop
The first time Lawrie Peckham saw Dick Fosbury sail backwards with his crazy 'flop' was on the day the young American changed everything.
The year was 1968 and Peckham was in Mexico City, competing at his second Olympic Games for Australia as a high jumper.
As the reigning Commonwealth Games champion, Peckham was regarded as a strong chance for gold. Like most high jumpers of the day, Peckham used the straddle technique, where he would leap up and roll over the bar, face down.
But in the days leading up to the Olympic competition in Mexico, word began to spread about the unusual method of Fosbury, a young man from Oregon who'd won competitions in the US college system and prevailed in the US Olympic trials by going backwards over the bar.
"It was a big talking point around the village. I actually never saw him jump in practice but there were other straddlers who were out there attempting to imitate what he did, and doing it very poorly," Peckham told the Herald and The Age.
"It was really unique. It was only in the final that I finally saw him do it. It was just amazement."
Dick Fosbury's famous leap in Mexico City.Credit:AP
Fosbury won gold that day with an arch-backed technique that would come to be known as the "Fosbury flop", and changed the sport forever.
It wasn't quite overnight, but within a few years most high jumpers had adopted the Fosbury flop, understanding it could allow them to clear greater heights.
Dick Fosbury revolutionised high jumping.Credit:AP
Fosbury, a quiet 23-year-old, didn't defend his Olympic title in 1972 and later admitted to struggling with his sudden fame. But his unique contribution to sport was celebrated on Tuesday when it was announced he had died of cancer, aged 76.
It says something of Fosbury's legacy that his revolutionary style remains one of the things to stand out from the incredible 1968 Olympics.
In the same fortnight, John Carlos and Tommie Smith famously held their gloved fists aloft (next to Australian Peter Norman) to protest racism, George Foreman won a boxing gold medal, Bob Beamon set a long jump record that stood for 23 years and the first doping tests caught Swedish pentathlete Hans-Gunnar Liljenwall for illegally drinking two beers before the pistol shooting.
Peckham, who finished sixth in Mexico, said Fosbury's revolutionary style had been made possible with improvements in the safety of the high jump landing zones, via the introduction of thick padding.
Prior to that, the pits were basic and jumping backwards was not considered given the danger.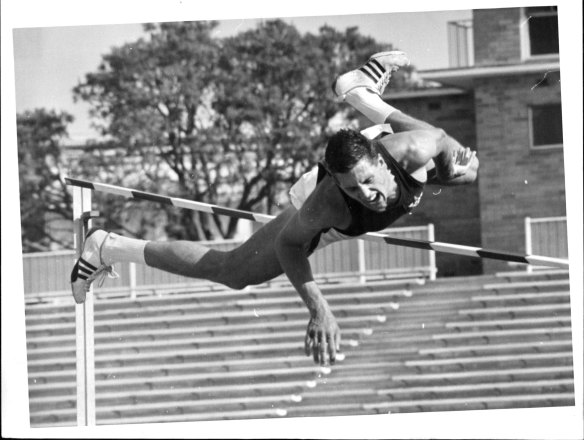 Lawrie Peckham competing with the straddle technique in 1966.Credit:Fairfax
(As he was experimenting with his style in America, Fosbury compressed several vertebrae.)
"We went through sand, to sawdust, wood shavings, hessian bags filled with rubber chips. Even in the 1964 Olympics, the pit was really just a pile of dirt with chunks of foam rubber sticking out of it," Peckham said.
On the advice of his father, Peckham had used the straddle since he and his mates tried jumping over poles in the streets as 10-year-olds, copying the athletes in the 1956 Olympics in Melbourne.
"We did the old scissors over the jump but my Dad encouraged me to roll over the bar. I started doing it without a pit at all," Peckham said.
Peckham went to the first of his three Olympic Games as a teenager in 1964, and would go on to be a 10-time national champion and win two Commonwealth Games golds.
But even after Fosbury won with the flop in 1968, he didn't make the switch. Peckham beat Fosbury by straddling at the Pacific Conference Games in 1969 and admits he even thought the flop wouldn't last.
"When it came in I thought, 'It's never going to take off'. I even wrote a paper saying the straddle would always be better. Totally wrong, of course," Peckham laughed.
Lawrie Peckham and Raelene Boyle model the Australian Olympic uniform before the 1972 Olympics.Credit:Fairfax
"I thought about it [switching] but it was a completely different event. I was about 6 feet 3 inches and probably 87kg. We used to lift huge weights and it was much more of a power event. Now it is has become more of a speed event and a flexibility event.
"I did it one day at interclub in Melbourne. I think I jumped 2.05m or something, with a very, very poor flop. I could never have gone any higher. I didn't have that back flexibility.
"The same with my mate [two-time Olympic high-jumper Tony] Sneazwell, he had a crook back all the time. We couldn't have done it."
By the 1972 Olympics, 28 of the 40 competitors were using the Fosbury flop but Peckham was among the remaining straddlers, and all the medallists were too.
Jüri Tarmak of the Soviet Union won gold in Munich with the straddle, but he would be the last.
Fosbury had not qualified to defend his Olympic title but his name would live on regardless. By that point he'd already become one of the most influential athletes in history.
Sports news, results and expert commentary. Sign up for our Sport newsletter.
Most Viewed in Sport
From our partners
Source: Read Full Article