Kings wary of 'wounded animal' Hawks even after disastrous year
Despite recording their biggest win in more than 20 years, the Sydney Kings are approaching Sunday's match against arch-rivals Illawarra with caution.
The Kings thumped the Brisbane Bullets on Wednesday 116-67, their largest margin since 2001. But every game they've played this season with the injury-plagued Illawarra Hawks, who are at the bottom of the ladder, has been tight.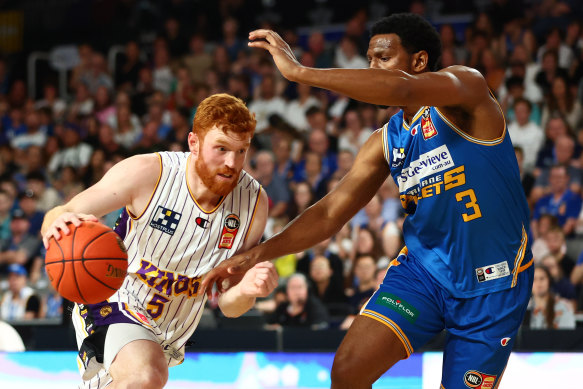 Sydney Kings' guard Angus Glover said they'll show "no mercy" to his injury-plagued former team.Credit:Getty
"I think you have to be worried about a wounded animal," said coach Chase Buford. "That's when they'll fight the hardest."
The Kings are chasing their sixth straight win and their fourth over the Hawks. They won the past three games against Illawarra by nine, one and seven points respectively.
"Anytime you've got a rivalry game, there's going to be a little bit more juice from both sides," Buford said. "And those often lead to close battles, despite what the standings say. It's always fun to play in a local derby rivalry game where both sides have pride as much as anything on the line."
Buford said he felt for the Hawks and coach Jacob Jackomas after a disastrous year of injuries.
"It's unfortunate for a team to have as much bad luck as they've had," he said. "But, you know, injuries are part of the game. We had our own fair share in the early part of last year and it can be devastating."
On Wednesday, the Hawks lost their fourth import this season to injury when Michael Frazier II, their highest-scoring player, collided with two Adelaide 36ers players and broke his arm.
Earlier in the season a meniscus tear took out Justin Robinson after one game, a shoulder problem also ended Peyton Siva's season, and George King returned to the United States after bowing out with a lower leg complaint.
"You feel for them a bit with all their injuries, but we're gonna obviously show no mercy on Sunday," said Kings guard Angus Glover, who made his NBL debut with the Hawks.
The Illawarra Hawks lost their fourth import this season, top-scorer Michael Frazier II, to a broken arm last week.Credit:Getty
"They've fought all year. Every single game has been close between Illawarra and Sydney. It's the freeway series rivalry, it's always hotly contested, and I'm sure Sunday will be no different."
Glover said the Kings will focus on disrupting Hawks guard Tyler Harvey, who's averaging 16.5 points a game.
"We know that the ball goes a lot through Tyler especially," Glover said. "We have a pretty good game plan set to deal with that."
The champions will try to weaponise their defence at Qudos Bank Arena on Sunday. "We generate a lot of our points through getting stops on defence and running it down people's throats," Glover said.
The Kings are on course at 16-5 to have home-court advantage heading into next month's playoffs but Buford isn't taking anything for granted. He said things could go wrong if "we don't come out and respect our opponents, or we play lethargically or expect things to just come easy for us".
"We have to be the aggressor."
Sports news, results and expert commentary. Sign up for our Sport newsletter.
Most Viewed in Sport
From our partners
Source: Read Full Article