Stop the presses: Ben Simmons sinks a three-pointer
Ben Simmons sank a three-pointer.
It might be one small step for an NBA player, but it was a giant leap for the Australian Philadelphia 76ers' star when he calmly dropped a long bomb in the 144-86 exhibition game demolition of China's visiting Guangzhou Loong-Lions on Tuesday.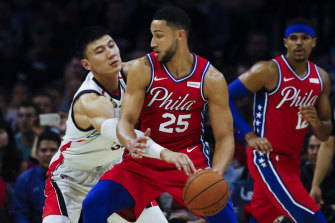 Ben Simmons drives to the net against Guangzhou, but it was his three-pointer that was all the talk.Credit:AP
First he displayed some Steph Curry-like handles dribbling the ball.
Then midway in the second quarter the 76ers ran a play for Simmons, but his fade-away jump shot bounced off the rim.
The three-pointer came in the final seconds of the first half.
With the Philadelphia crowd and teammates egging him on to shoot a three-pointer, Simmons calmly held the ball and then launched it.
The Wells Fargo Centre erupted and the 76ers mobbed a smiling Simmons.
The crowd also witnessed Simmons' usual bag of tricks – thunderous dunks and pinpoint passes.
Simmons had 19 first-half points. He finished with 21 points, connecting with nine of 14 field goals, and eight rebounds and seven assists.
The 76ers, after losing last year's starters JJ Redick and Jimmy Butler, debuted new signings Al Horford and Josh Richardson.
Horford had eight points and two rebounds while Richardson showed his scoring ability with 16 points, including sinking three of five three-pointers.
The 76ers' other Australian, Jonah Bolden, had six points.
AAP
Source: Read Full Article