Leishman looks to bring the heat
Australian Marc Leishman is hoping for hot and windy conditions as the International team looks to turn up the heat on Tiger Woods and his fellow U.S. players ahead of the Presidents Cup.
Leishman will be one of three Australians in Ernie Els' team after former world No.1 Jason Day pulled out of the tournament with a back injury.
South Korean An Byeong-hun has been called into the side, with the International's looking to beat the USA for the first time since 1998.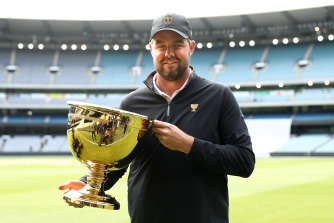 Marc Leishman believes blustery conditions could help his side at the upcoming Presidents Cup. Credit:Getty Images
But Leishman – who will play in the Australian Open in Sydney this week – is hoping to get an extra lift from the crowd and the conditions.
"I think if the northerly gets up, potentially it could get difficult," Leishman said on Monday.
"We play different conditions every week, all the guys on the tour. The top guys from the tour adjust.
"But it goes to a different level if that northerly comes in, so I hope it does. Hopefully we get a couple of days where it's hot and windy."
The International's are seen as heavy underdogs going into next week's tournament, with every player on USA's team inside the top 22 ranking spots in the world.
But Leishman believes the team is as close as he's ever seen and is also hoping for some extra help from the local support.
"I think we've bonded earlier this time. The last few Presidents Cups it seems like the Saturday night we're all pretty comfortable with each other.
"This time we've played a lot more practice rounds together and I think we've bonded better as a team already.
"It's a great opportunity to give the International team a real home ground advantage and I think we really need that."
Leishman, a self-confessed lawn enthusiast, jumped into a ride-on mower at the MCG when given the opportunity by the grounds keepers during a press conference.
Born in Warrnambool, Leishman now resides Virginia Beach in the States, where he has his own putting green and chipping facility in his back yard.
"I have my moments, but nothing like what these boys do out here," he said.
"It's become a bit of a passion, I never thought it would lead to anything like this!"
Source: Read Full Article