Race-free days to increase as part of participant welfare initiative
Racing on Christmas Eve has been scrapped among a raft of initiatives to improve the welfare of trainers, jockey and staff in the racing industry.
Racing Victoria on Tuesday night announced a series of changes to its racing calendar to improve participant welfare following consultation with racing clubs and the national trainers' and jockeys' associations.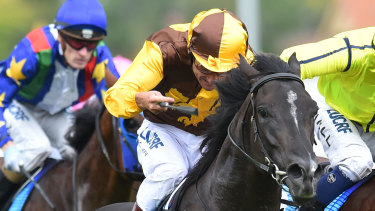 A raft of initiatives are set to improve participant welfare.Credit:Reuters
Among the initiatives include a race-free week at the end of the season in July 2021 and 2022 to give jockeys a guaranteed week off, while the number of race-free days will increase from 15 to 17 next season.
Racing on Christmas Eve has also been canned to give industry participants two race-free days in a row, while night race meetings at Pakenham (Thursdays) and Cranbourne (Fridays) will finish earlier as part of a two-month trial in April and May.
Champion jockey Damien Oliver flagged the need for change last month after driving home fatigued from a night meeting.
"I actually found myself driving home from the races last Thursday night at Pakenham, I was fatiguing and I was thinking if I don't stay aware of myself here I could find myself running off the road," he told Racenet.
"And I would hate to think it would take something like that to happen, a terrible accident, for something to be done."
Racing Victoria chief executive Giles Thompson said a balance was needed between growing returns to participants and improving participant welfare.
"Today's announcements, highlighted by a race-free week and Christmas Eve, are the next steps in a range of initiatives that consider the welfare of a broad range of stakeholders whilst seeking to maintain a sustainable industry for the future," Thompson said.
"We considered a number of options and our experiences with race-free Mondays before determining that we would like to trial some consecutive race-free days, as we believe this may ultimately provide a better outcome for the wider industry.
"The trial of earlier finishes at our April and May night meetings will provide us with a greater insight on the impact on attendance, hospitality and wagering to assist our decision-making ahead of the 2020-21 night racing season.
"In making these announcements, I want to stress that our review of the working week remains ongoing and that there a number of areas of interest, including training hours, that we continue to discuss with the ATA, VJA and our Clubs."
Source: Read Full Article