Baseball's Weirdest Team Makes A Weird GM Hire, But Maybe A Smart One Too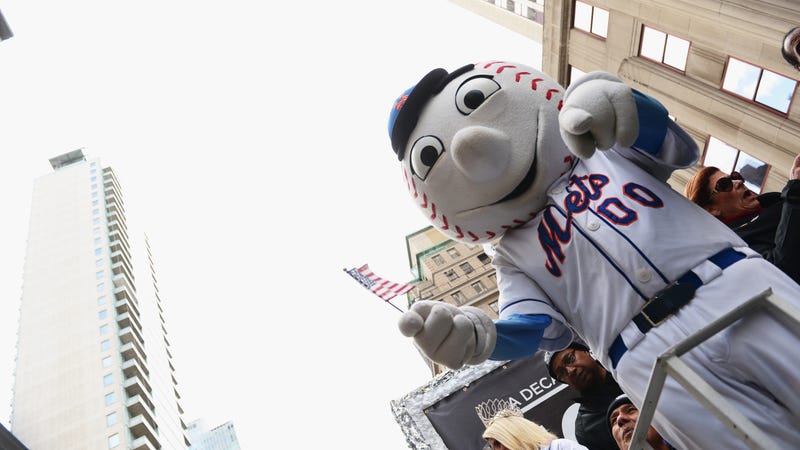 The Mets being the Mets and Mets fans being Mets fans, each of the team's three GM finalists had a specific gripe attached to them before the team announced on Monday evening that it would be hiring CAA agent Brodie Van Wagenen. If this seems like a bit much, it's because of the Kremlinology that's required to understand anything that this secretive and strange organization does. Everything that the Mets do reflects not just the prerogatives but the fragrant passing whims of its ruling family, and that ruling family is petty and image-conscious and profoundly, proudly mediocre. Because of how much control the Wilpons exert over every decision that the team makes—the GM has in recent years been given no set budget, with ownership approving every personnel move on a case-by-case basis—the identity of the next GM mattered most as a reflection of how these grouchy Long Island weirdos were feeling.
The gripes were shaded and tiered accordingly. Had the team opted for Doug Melvin, the walrusian 66-year-old who stepped down as the Brewers GM in 2015 because he felt the job was better suited for a younger man, it would have signaled that grimacing patriarch Fred Wilpon was still fully in charge and steering his team into full anti-analytical revanchism. If the team had hired Chaim Bloom, the 35-year-old demi-wunderkind executive from Tampa Bay, it would have shown the team embracing its often-denied reality as a smaller-budget team faking it in the nation's biggest market. The prewritten complaint on hand for Van Wagenen—a collegiate player turned agent who now represents Yoenis Cespedes, Noah Syndergaard, Jacob deGrom, and three other Mets—was that such a move would demonstrate Jeff Wilpon, failson of Fred and the team's COO, asserting himself by hiring a buddy.
None of those complaints were wrong, exactly, but none are quite fair. Everyone in Major League Baseball knows who the Wilpons are, what they're about, and how little latitude they afford or gratitude they show to their GM's. Everyone in Major League Baseball has seen the way that the team's defective first family blames the people they hire and fire, and as a result many of the bright young dudes who qualify as hot executive commodities in baseball opted not even to interview for the Mets job. Some of the candidates that did, like Bloom and the former Dodgers Assistant GM and current MLB executive Kim Ng, might well have seen a gig as Designated Chief Shit-Catcher for a family of quarrelsome dopes as a lateral move or worse. But the three finalists that the Mets wound up with were, whatever their semiotic heft, all perfectly qualified for the job. The Mets probably hired the most interesting candidate, either by accident or actively for the wrong reasons, but with this ownership and this team, that looks like a win.
It is not quite as weird as it looks for a MLB team to hire a player agent as its chief executive—the Arizona Diamondbacks have done it twice, once hiring the exec who built the 2001 World Series champions and once quite literally hiring Dave Stewart. It's less rare in other sports; before Bob Myers became the architect of the Golden State Warriors, he was the agent for Brandon Roy and Tyreke Evans, among others. While no one will confuse the Mets with the Warriors, or honestly even the Diamondbacks, the team's decision-makers at least opted for the reasonable kind of out-of-the-box candidate. While Van Wagenen will need to craft an organizational vision and manage up on some deeply unmanageable goofballs, he is not a shoddily disguised man calling himself Geoff Milpon.
Advertisement
And he may be quite a bit better than that. As a top agent, Van Wagenen knows the state of play in the league and understands both player evaluation and valuation; CAA, like many big sports agencies, has an in-house analytics shop that almost certainly dwarfs the tiny team that the Wilpons grudgingly allowed to former GM Sandy Alderson in both size and sophistication. There's not much that Van Wagenen will need to do as a GM that he hasn't done at least a little bit of as an agent, although he's more experienced in some areas than others.
If the team hired Van Wagenen because the Wilpons thought that it might somehow get them some sort of discount on Van Wagenen clients like deGrom and Syndergaard and Brandon Nimmo, that would be both stupid and entirely on-brand. But if they hired Van Wagenen because the doofs in charge trust him and think he's smart, it's … well, it's still the Mets, so it may not matter much in the end. But given the restrictions that come with this organization and its owners, a little bit of trust and a little bit of space could go a long way. And, for good reasons or for bad ones, those owners made a comparatively bold and comparatively intriguing choice; this is one possible explanation for why so many people told Buster Olney they hated it. More to the point, though, given the extent to which the idiosyncrasies and idiocies of Mets ownership drive everything the team does, hiring someone with as much Wilpon-related experience as Van Wagenen seems not just prudent but necessary. The mystery of this team is getting its bad owners to do good things, and no candidate—no potential candidate—knows that better than the man who has spent so much time negotiating with them.
Nothing much is likely to change as long as the Wilpons are in charge, and the owners are supremely dedicated to their particular brand of vinegary shortsightedness. But if Van Wagenen will have to do the same things that every GM has done under the Wilpons—convince Fred to do more to improve the team than signing some aw-shucks potato-shaped ex-slugger and then groaning anonymously to the Daily News—he at least has some relevant experience convincing this particular oldster on matters like this. As Baseball Prospectus's Jarrett Seidler wrote, there's a great deal that's damning about the fact that a baseball team venturing this far outside the box still winds up with a white dude named Brodie who played right field for Stanford. "[They] hired someone whose qualifications are so offbeat that it would've opened the door to hire a real change agent," Seidler tweeted. "And instead they hired him because he's chummy with the owner's son."
Advertisement
All true enough, and all embarrassing in precisely the ways that both this organization and our ostensible meritocracies are so reliably so embarrassing. But while the Mets' owners were never going to be the ones to hire a woman or a person of color or someone from a less traditional background as their GM, hiring someone like Van Wagenen is either a step or a stumble forward for an organization that had otherwise seemed determined to take at least a couple of steps back on pure grouchy principle. Whether the hire himself is quite as inspiring remains to be seen; the answer will, in all the familiar ways, not really be his to give. But the move at least raises a more interesting and less bleak set of questions than usual. Let's call that a start.
Source: Read Full Article