Hassan Whiteside Claims He Wasn't Mad, Just Had To Use The Bathroom When He Left The Bench Early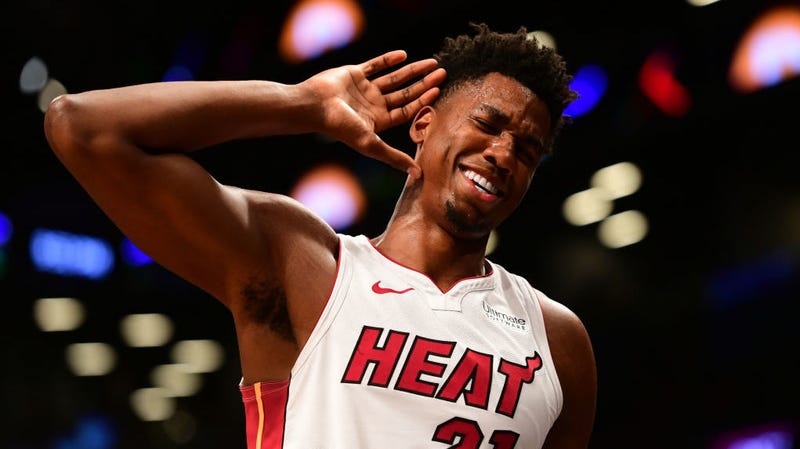 Miami Heat center Hassan Whiteside was having a fine game on Tuesday night, with a team-high 12 points as his team led the Orlando Magic 50-46 at halftime. But when he began to eat shit in a scoreless third quarter, so did the Heat, who were outscored 30-12 en route to a 105-90 loss. Miami head coach Erik Spoelstra benched Whiteside for the entirety of the fourth quarter, which he's done in five of the Heat's last six games.
So when Whiteside got up and walked to the locker room with 40.5 seconds to go and his team down 15, you could guess that he was huffing away from his floundering team. But Whiteside, who's had a contentious relationship with Spoelstra and Pat Riley, told the Sun Sentinel on Wednesday that he wasn't mad about the benching, and was just dealing with some bathroom issues:
"I was just holding it," said Whiteside, who left the bench with 40.5 seconds remaining in the 105-90 defeat. "It's not the first time I left the bench to go to the bathroom, but I think the situation kind of made it a bigger deal because we were down 15, I guess."
Whiteside claims he was trying to hold out for longer, but his stomach was acting up so much that he couldn't wait another minute:
"I didn't know it was going to be as big of a deal as it was. I couldn't hold it. My stomach was bothering me," Whiteside said. "Maybe I would've just – I don't know – I would've tried to hold even longer. I don't know. I tried to hold it as long as I could.
"But I had to go to the bathroom. I'm sorry if that makes me a bad guy."
Even after this explanation surfaced Wednesday afternoon — Whiteside was unavailable to members of the media after the game on Tuesday, apparently shooting 300 free throws at the Heat's practice facility — Spoelstra wasn't satisfied with his excuse. "It's totally unacceptable behavior by Hassan," Spoelstra told the Sun Sentinel. "We handled it as a team in the locker room [Wednesday]."
Advertisement
Source: Read Full Article