Lowe's 10 things: Dame, Luka, Kuzma and Giannis
Starting November with another 10 Things:
1. Damian Lillard, wrecking you
This guy gets better every season. Lillard has rounded out his game on offense to the point that he is good at everything — and realizes it. He can punish opponents in every conceivable way, from almost any spot inside the half court. He shifts entire defenses with one dribble, one shoulder fake, one glance at the rim. He knows every counter you have, and has two counters ready. He is operating with a stone-faced disdain that says, "Why are you even bothering?"
Even last season, Lillard didn't quite have this combination of ferocity and multidirectional acrobatics in his off-the-bounce game:
Against Houston on Tuesday, he embarrassed Clint Capela — an accomplished switch defender — until the Rockets stopped switching into that matchup.
Lillard is shooting 64 percent at the rim, and earning 8.5 free throw attempts per game — career highs. The Blazers have scored 1.45 points per possession on any trip featuring a Lillard drive, the second-best mark in the league among 72 players who have piled up at least 50 drives, per Second Spectrum data. Lillard has gone right on about half of those forays — a bit higher than usual for a guy who leaned way left when he entered the league.
The whole league watched Lillard quake when the Pelicans blitzed him in their first-round humiliation of Portland last season. Lillard clearly went to work. If he's not ready for that treatment this season, he might never be.
Lillard won't win the MVP. He can't bring the two-way impact of LeBron, Anthony Davis, Kawhi Leonard, Giannis Antetokounmpo, or Kevin Durant. He is the closest thing to Stephen Curry as a one-man point guard defense-bender, though no one is really close to Curry in that regard.
But it's always fun when a stealth candidate crashes the MVP conversation — and the ballot, as Lillard did last season. If you're looking for that, look to Lillard again. He is making those of us who thought Portland might teeter look foolish — so far.
Fun subplot: If Lillard keeps this up, he's absolutely making another All-NBA team — triggering eligibility for a supermax extension this summer. That deal would kick in during Lillard's 10th season, meaning it would inflate his salary for only that one campaign. (All players are eligible for the same maximum salary — 35 percent of the cap — after they have logged 10 seasons.) But earlier eligibility would accelerate Portland's decision-making timetable — if they even consider it a decision. (They probably should.)
2. Cuttin' Kyle Kuzma
Shooting made Kuzma an obvious fit next to LeBron James, but his canny cutting has taken that to another level. Kuzma skulks the baseline when his defender gawks at the ball. That is a handy skill playing with LeBron; the Lakers run a lot of their offense through the elbows, and LeBron attracts eyeballs lording over the action there.
Even better: Kuzma executes those baseline sneaks amid the chaos of semi-transition, and that is where the Lakers live.
About 64 percent of Kuzma's 2-point baskets have come via assists, up from about 53 percent last season. James alone has assisted him 20 times already.
Kuzma should stay in his starting role. Brandon Ingram should too, even if he deserves more run leading second units when LeBron sits. As I wrote before the season, playing James, Kuzma and Ingram together with a center — JaVale McGee — shifts the Lakers toward giant lineups.
That might be their best hope for offense-defense balance. The current starting five, with Lonzo Ball rounding it out, is plus-13 in 31 minutes so far. McGee has been, frankly, incredible by his standards over an unthinkable 27 minutes per game. (The Lakers need to be careful, starting yesterday, about running McGee into the ground.)
The Lakers, an awful defensive team overall, have allowed only 98 points per 100 possessions with LeBron and McGee on the floor, a mark that would rank second in the league, per NBA.com.
That starting five shoves Josh Hart, an essential two-way bruiser, into backup duty. Hart might just have to accept that. He is versatile enough to log 25-plus minutes off the bench, especially if the Lakers stop experimenting with silly things like playing Ball and Rajon Rondo extended stretches together.
They might even think about giving run to a super-big lineup featuring no traditional point guard — something like Hart, Ingram, James, Kuzma and McGee/Johnathan Williams. Hart needs to play more than Rondo, period.
Luke Walton is solving a weird roster puzzle. Kuzma has solved part of it for him.
3. Luka Doncic's improvised brilliance
Doncic is as advertised. If he sustains 40 percent shooting from deep, he will exceed expectations. (Whether he can do that is unclear. Doncic has hit a Steph Curry-esque 42 percent on pull-up 3-pointers so far, and those toughies comprise about 60 percent of his attempts.)
Some players thrive only in highly controlled settings. When they run a scripted play, they know which options will pop up, and in what order.
Doncic's brilliance shines when the game goes off-script — when the defense tries something outside the scouting report, or slips up and unlocks an opening that wasn't supposed to be there. In those moments, Doncic doesn't just see pathways toward his own scoring. He sees what the situation means for everyone.
Look how much thinking — or perhaps not-thinking — Doncic does in three seconds:
He watches Kawhi Leonard smack into DeAndre Jordan's pick, and rises for a jumper. That's the obvious move. But Leonard apparates back in front of Doncic like a goddamned phantom. That would unnerve even some elite players. Not Doncic. With Leonard airborne, Doncic seizes a give-and-go. He knows his cut will spring Jalen Brunson open before Jordan even hands him the ball back.
There are legitimate questions about whether Doncic has the athleticism to become a regular All-Star; Atlanta bet against it. But he's really good already, and there is no questioning his IQ.
4. Montrezl Harrell, rounding out his game
Harrell emerged last season as a wily scorer with a soft touch. He did not fare as well on defense.
That is changing. Harrell is playing both harder and smarter on that end. He is rejecting almost 3.2 shots per 36 minutes, more than double his career rate, and staying down until the very last moment:
(Bonus points for being one of the most enthusiastic "GIMME DAT —-!" screamers.)
Rex Kalamian, the Clippers' new defensive coordinator, installed a conservative system that has Harrell chilling near the rim, and that has helped him. Harrell is blowing away his career rebounding rates, and boxing out like a mad man; he's recording almost 11.7 box-outs per 36 minutes, a top-30-ish rate on par with that of Draymond Green and Rudy Gobert, per NBA.com.
Harrell is never going to be an elite defender, or even much above average. He's just not big enough. The Clips are a bad defensive rebounding team overall. About 42 percent of their opponents' shots have come at the rim — the highest such mark in the league, per Cleaning The Glass.
But Harrell is grinding, and he has great hands; he's close to averaging a steal and two blocks per game — rare historic territory for a reserve. He outworks and outruns opposing backup bigs who aren't used to bench guys punching them in the mouth.
The Clippers don't do anything fancy. Their offense isn't pretty; they have assisted on just 52.6 percent of their baskets, sixth-lowest overall. But they do everything — every pass, cut, screen and box-out — with a certain oomph. They play within themselves, and with a purpose.
5. The Phoenix-era Tyson Chandler alley-oop experience
The defining image of Chandler's four seasons in Phoenix will be Chandler trying, and failing, to convert the alley-oops that came so easily with Chris Paul in New Orleans and during two rim-rocking stints in Dallas. (Almost nobody rocked rims like prime Chandler. Dude did insta-pull-ups on those things, releasing fast enough that refs couldn't hit him with technicals.)
Phoenix's point guard rotation thinned out amid discontent and one sell-low trade of Isaiah Thomas. That left Chandler flailing hopelessly for wayward lobs from Brandon Knight and a bunch of unprepared kiddos. Now, age is winning:
This is such a sad denouement for the guy who damn near invented the modern archetype of rim-running, lob-catching center — a selfless All-Star (one time!), beloved teammate, Defensive Player of the Year, and keystone to the Mavs' just-good-enough defense during their 2011 title run. (Chandler was probably the second-most valuable player on that team.)
Maybe he has one last run as a buyout backup on a contender.
6. For the love of god pass the ball Jordan Clarkson
Clarkson has shot well so far, at least from 2-point range. The Cavs are scoring better than 1.5 points per possession when he drives — the best mark in the league among ball-handlers, per Second Spectrum. That's all cool. He also has eight assists in seven games. He plays as if passing is illegal. Like, what is this?
Clarkson has soaked up about 29 percent of Cleveland's possessions with a shot, turnover, or drawn foul. He has dished dimes on only 8.3 percent those possessions. That is an astonishing discrepancy for a guard who handles the ball so much.
Only two point guards or wings this decade have used up at least 26 percent of their team's possessions while recording assists on fewer than 10 percent of them: Klay Thompson and Nick Young. Those guys are finishers; they don't really dribble. Clarkson starts and finishes while everyone else stands around. It is infuriating watching Collin Sexton — a nominal point guard playing alongside Clarkson on bench units — waste developmental minutes while Clarkson dribbles the air out of the ball.
This is not all Clarkson's fault. The Cavs had no plan for this post-LeBron hellscape, beyond some vague commitment to pushing the pace. They can't even agree on Larry Drew's freaking job title.
They rank toward the bottom of the league in assist rate and total passes, per NBA.com. They are addicted to midrange 2s. You know how certain players inflate their numbers when they transition from a winning team to a rebuilding one — the classic "good team/bad stats" conundrum? Some of the Cleveland veterans — Rodney Hood and George Hill, for instance — have somehow transitioned into a strange "bad team/worse stats" career phase.
LeBron left, and Hill's assist numbers dropped. How is that even possible?
Anyway, please separate Sexton and Clarkson — even if it means starting Sexton — so Sexton can do stuff.
7. De'Aaron Fox, seeing clearly now
We think of Fox as a straight-line blur for the suddenly turbocharged Kings, but his improved calm with the ball has been a big driver of Sacto's early-season success. The Heat pressured Fox on Monday, hoping to fluster him, but Fox coolly turned that pressure against them:
One glance at Willie Cauley-Stein rolling into open space baits Goran Dragic into the paint, leaving Iman Shumpert free. (Cauley-Stein has plenty of space with former Sixer Nemanja Bjelica working as a stretch power forward. Who knew that playing two paint-bound centers, as the Kings did most of last season, was detrimental to an offense?)
Two minutes later, Fox leveraged the possibility of that kickout pass to find Cauley-Stein for an easy layup:
Look at Dwyane Wade guarding Bjelica on the left wing; he has no idea what to do, and ends up doing nothing. Fox manipulated a pretty good NBA defense, and we did not see much from him in Year 1 to suggest he would be doing that two weeks into Year 2. After slinging 15 dimes (!) against the tankerrific Hawks on Thursday, Fox is up to 7.8 assists per game — within spitting distance of doubling his rookie mark (4.4). Remarkable.
He's learning to slow down once he turns to the corner on the pick-and-roll — to keep defenders on his hip, search out passing lanes, and draw contact. Fox is getting to the line more than seven times per game, up from 2.7 attempts last season; he ranks near the top of all ball-handlers in drawing fouls out of the pick-and-roll, per Second Spectrum tracking data.
Fox is still turnover prone. He has hit more than half his shots from floater range — a number that will come down. He's just 7-of-23 from deep. But he's creeping toward league-average efficiency for his position, and that is a huge step forward.
8. Giannis Antetokounmpo, bursting out of jail
Beware the pace-and-space Bucks. They finally took a loss in Boston last night, but they're 7-1, and Antetokounmpo hasn't even gone crazy yet.
My favorite Giannis thing: when he dunks from a location or an angle that seems so impossible, the poor sap he dunks on is more impressed than upset. The most common such dunks come on the fast break, when Antetokounmpo rises up from some absurd distance with a defender in front of him, keeps on rising as that defender descends, and then crams. He obliterated a backpedaling Taj Gibson with a filthy one of these in Minnesota on Friday.
A cousin dunk: When Antetokounmpo bully-balls his way underneath the backboard and picks up his dribble. Most guys are cornered there; they have to kick the ball out. Antetokounmpo just jumps over and through his defender:
He's like a tied-up superhero busting out of the ropes binding his arms to his chest. By the way: Milwaukee has scored a ginormous 1.4 points per possession on any trip featuring an Antetokounmpo post-up — the sixth-highest mark in the league, behind (in order) Durant, DeMar DeRozan, Jabari Parker, Khris Middleton, and Cauley-Stein, per Second Spectrum.
9. The hiccups of Mario Hezonja
For something of a gunner, Hezonja has a weird habit of passing up open catch-and-shoot triples to hold the ball and then … attempt much more difficult contested 3s:
This strange indecision marked his sputtering tenure as a would-be core player — the No. 5 pick! — in Orlando.
His toes and heels have a magnetic attraction to the 3-point arc:
That shot has to be a 3.
It's early, but not much has changed for Hezonja in New York beyond David Fizdale granting him more freedom to work the pick-and-roll. Lineups featuring Hezonja at power forward and Enes Kanter shockingly have zero chance at stopping teams. (Fizdale will sometimes slot Lance Thomas alongside them, and his tweener versatility plugs some holes.)
The Knicks have been fun! Frank Ntilikina's development on and off the ball is a crucial night-to-night subplot. (He's a beast on defense already.) Mitchell Robinson has provided some bounce, and Noah Vonleh is comfortable switching onto little guys. (Broader team defense remains a problem for him.) Tim Hardaway Jr. is scoring in bunches. Damyean Dotson can play. Allonzo Trier gets buckets.
For Hezonja to join in, he has to get out of his own head.
10. Brooklyn's inexplicable court design change
Three years ago, the Nets introduced a subway tile motif into the baseline areas of their home court: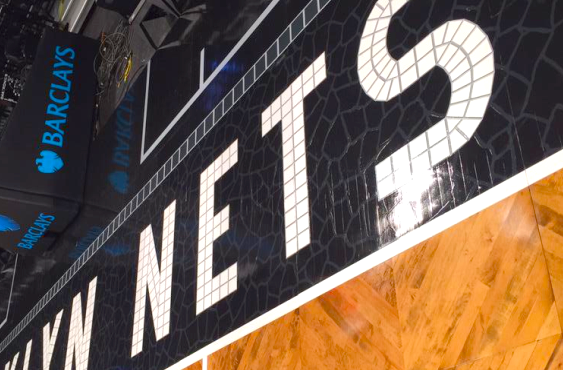 It was great! Every New Yorker — and probably most non-New Yorkers — got the reference.
Just before the start of this season, the Nets scrapped the subway theme in favor of whatever this is:
/Troy McClure gulp
Can you imagine the pitch meeting? "Guys, guys, let's talk branding. And maybe corporate synergy and being intentional and millennials and influencers and whatever made-up gobbledygook we say at these meetings. We have this awesome, locally distinct court design everyone loves. How about we replace it — and stay with me here, because I'm going out of the box — with a lame and generic font that could live on literally any court anywhere? Sounds good, right? Set aside thousands of dollars now!"
The league should dock the Nets a second-round pick for this debacle.
Source: Read Full Article