Adam Thielen is on John Randle-like path with Vikings
As Adam Thielen's record-breaking season and storybook career continues, he reminds me of another undrafted Vikings player who reached great NFL heights — Hall of Famer John Randle.
In 1990, I paid Randle a $5,000 signing bonus after he slid through the draft as an undersized defensive tackle from little-known Division II Texas A&M-Kingsville. Randle arrived at our rookie camp at just 240 pounds, and our coaches told him he needed to add weight, but we could see his raw strength and quickness.
WEEK 8 NFL PICKS: Straight up | Against the spread
Randle not only survived all the cuts, but after building himself up to 280 pounds, he thrived. Over 14 seasons, he was a seven-time Pro Bowler and posted 137.5 sacks on his way to Canton. Randle is my favorite example of an undrafted player who worked tremendously hard to make the team, master his craft and become an all-time great.
Now Thielen is on a similar path.
A product of Minnesota State-Mankato (also Division II), Thielen had five 100-yard receiving games in his entire college career. This week, he will have a new NFL record if he can gain 100 or more receiving yards for the eighth straight game to open a season, breaking his current tie with Houston's Charlie Hennigan (1961), who appropriately played college ball at small-school Northwestern State in Louisiana.
Like Randle, Thielen had to make it in the NFL the hard way. In 2013, he had to survive a rookie tryout camp to get signed (with zero bonus) as an undrafted free agent. He was cut and signed to the practice squad before he earned a roster spot as an excellent special teams player.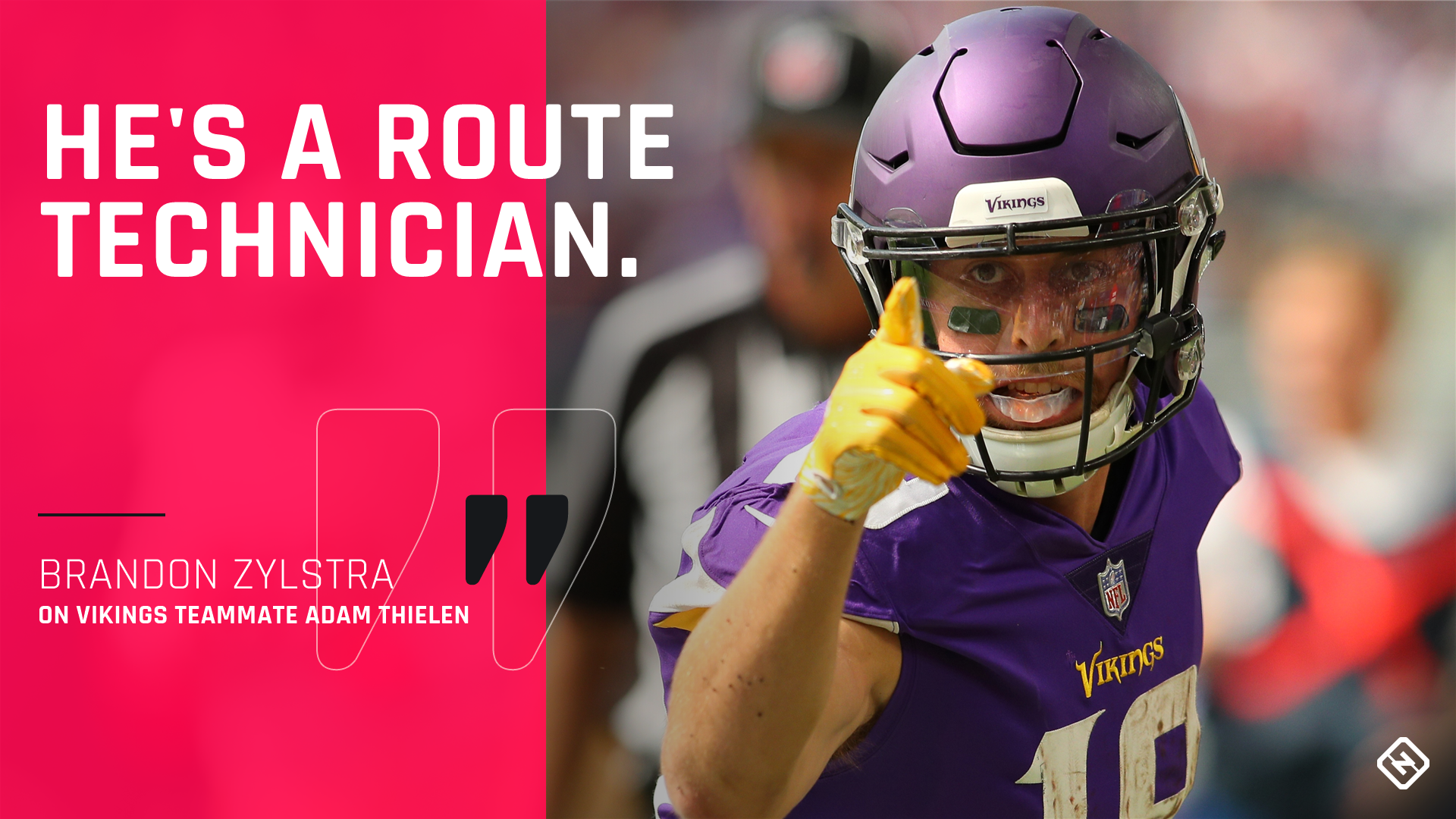 In limited snaps as a receiver, he caught eight passes in his second season, then 12 in his third year. All the while he worked on his route running and receiving skills, improved his strength and conditioning and became a starter for his breakout season in 2016, when he had 69 receptions for 967 yards.
Last season, Thielen made his first Pro Bowl, and this year, he has become quarterback Kirk Cousins' top target. Through seven games, he leads the NFL in receptions (67), receiving yards (822) and a rarely discussed-but-important category — receptions for first downs (43). He's on pace for 153 catches, which would break Marvin Harrison's single-season NFL record of 143, set with the Colts in 2002.
Thielen also would break the Vikings' single-season receiving records of two Hall of Famers he grew up watching at home in Detroit Lakes, Minn. — Cris Carter in catches (122 in 1994 and '95) and Randy Moss in yards (1,632 in 2003). All this while working with a new QB in Cousins and a new offensive coordinator in John DeFilippo.
DIAMOND: The genesis of Randy Moss' Hall of Fame career
Thielen's popularity with his teammates says a lot about him. Said Cousins recently: "It starts with he's a great person. The Vikings are lucky to have him and I'm lucky to play with him."
And Vikings receiver Brandon Zylstra, like Thielen a Minnesota native and small-school player from Concordia-Moorhead, to TalkNorth.com's Jim Souhan: "He's still a humble dude. Going to a small school probably has something to do with that. He's a route technician. I know what he did last year but I thought this would be his breakout year."
And Vikings fullback C.J. Ham, another small-school player (Augustana) and Minnesota native who can relate to Thielen's journey: "He's definitely inspired me. But now the story is that he's just a phenomenal wide receiver."
In discussing his record pace this season, Thielen is typically low key, but Mike Zimmer is effusive in praising his star receiver.
"Adam has great heart, the biggest heart there is, and he's a tough kid," the Vikings coach said. "He doesn't think there's a ball he can't catch, even in practice he lays out for tough catches. He's always talking about how he can get better. He's a heckuva football player and I'm glad he's on our team."
Zimmer certainly loves that Thielen is the ultimate unselfish team player who doesn't seek the spotlight. Thielen is just as happy if fellow Minnesota receiver Stefon Diggs, not himself, is the one who makes the play of the year.
He never complains if he doesn't get enough targets. He doesn't threaten to hold out if he's not the highest-paid receiver in the league (although his next contract should put him in that stratosphere). He makes spectacular catches and gives others the credit. For example, when asked about his outstanding, opening-drive TD catch in New York made with a Jets defender grabbing his left arm, Thielen said, "Kirk pretty much caught that ball for me."
GRADES: Amari Cooper trade worthy risk for Cowboys, no-brainer for Raiders
Thielen plays through tough hits, too. In that Jets game, he was blasted high to the chin, leaving him bleeding, but he stayed in the game. He was upset last month when league concussion protocol forced him out of the Rams game for a key third down play after he took a big shot. He missed only that play.
At 28, Thielen is just now hitting his prime. He's also utilizing his platform as a prominent NFL player to give back through the Thielen Foundation he and his wife Caitlin (and their son Asher) launched last month via a $100,000 donation. Their mission is to help in the area of youth behavioral health.
At a time when too many premier wide receivers act like divas, Thielen is a breath of fresh air. He's what an NFL player should be; the consummate professional on and off the field.
And he could be on a path to join Randle in the undrafted players wing of the Pro Football Hall of Fame.
Jeff Diamond is a former president of the Titans and former vice president/general manager of the Vikings. He was selected NFL Executive of the Year in 1998. Diamond is currently a business and sports consultant who also does broadcast and online media work. He makes speaking appearances to corporate/civic groups and college classes on Negotiation and Sports Business/Sports Management. He is the former chairman and CEO of The Ingram Group. Follow Jeff on Twitter: @jeffdiamondNFL.
Source: Read Full Article