Barnwell's NFL midseason awards: Picks for MVP, best plays, more
We've reached the halfway point of the NFL campaign, which means it's midseason awards time. I handed out quarter-season awards after Week 4, and just like last time, I'm trying to use my best judgment on who should win the award based on the criteria typically set by the voters. I'll mention those quirks as we get involved, but in some cases, I'll have to break from tradition if I feel like there's a player deserving of further attention.
Like last time, I'll be listing my top three candidates for the league's major awards, which are officially handed out by the Associated Press. I'll also be giving nods for several awards I'm making up, many of which owe a research debt to the NFL's Next Gen Stats and player-tracking data. Let's begin, though, by running through the options for Coach of the Year:
Coach of the Year
My quarter-season winner for this award was Mike Vrabel, and things haven't exactly gone well for the Titans since then. They started 3-1 and subsequently went 0-3, losing to the Bills, Ravens and Chargers before hitting a post-London bye. A team that kept finding ways to win games lost one game on a last-second field goal and another on a failed two-point conversion. Vrabel isn't a Coach of the Year candidate until the Titans right the ship.
There's a whole other tier of teams whose coaches are consistently great but never get much appreciation for this award. Bill Belichick might deserve to win this award every year. Sean Payton's Saints are 7-1.

Third: Sean McVay, Los Angeles Rams
McVay won Coach of the Year last season and is doing every bit as good of a job in 2018, but nobody has won this award in consecutive seasons since Joe Gibbs in 1982 and 1983. The Rams might have needed to go 16-0 for McVay to win for the second time in two seasons. I think he could win it at 15-1, too, but Sunday's loss to the Saints takes McVay down a peg for the short term.
Second: Andy Reid, Kansas City Chiefs
The one veteran candidate who might be ahead in the running is Reid, given that the Chiefs are 8-1 after replacing Alex Smith with Patrick Mahomes. The longtime Eagles and Chiefs coach is rightly getting credit for bringing Mahomes along and building a devastating scheme around the strengths of both his quarterback and the Chiefs' many weapons. He hasn't won this award since 2002, when Reid took a 12-4 Eagles team to the postseason, although that was an atypical choice given that the Eagles were coming off of consecutive 11-5 campaigns. Reid was my pick for the award after four weeks last season, but the Chiefs suffered through a 1-6 stretch in midseason before figuring things out. Reid can't do that again and compete for this award in 2018.

First: Matt Nagy, Chicago Bears
Instead, I think the favorite is likely the guy to whom Reid handed over playcalling duties during that ugly November run a year ago. Nagy might need to share this award with defensive coordinator Vic Fangio given that the Bears are relying so heavily upon their D, but the first-year coach has done a great job of working with an extremely inexperienced quarterback in Mitchell Trubisky to create an offense that seems to perpetually generate safe completions with big-play possibilities after the catch. The most likely candidate to win this award is always a first-year coach who leads a team from the bottom of a division to the playoffs, and Nagy is the only candidate who fits that description.
Will Nagy's Bears undergo a fall similar to Vrabel's Titans? If they do, it won't be for the same reasons. The Titans' three wins came by a combined nine points, and each required Tennessee to take the lead in the fourth quarter. We can't say the same thing about the Bears, who led entering the fourth quarter in four of their five victories. After modest victories over the Seahawks and Cardinals, the Bears have thumped the Bucs, Jets and Bills by a combined 84 points. Big wins over bad teams might not seem impressive, but they're historically a better predictor of future success than narrow wins, even against better competition.
You might argue that the Bears haven't played a tough slate, but it isn't about to get difficult. The Bears had the league's second-easiest remaining schedule by DVOA heading into Week 9, and while the last-placed Bills were a huge part of that equation, the only dominant team left on Chicago's schedule is the Rams in Week 14. They have home-and-homes left with the inconsistent Vikings and the even more inconsistent Lions, plus a home game against the Packers, and road trips to play the lowly Giants and 49ers. If the Bears can go 5-3 against that schedule, they'll make the postseason and Nagy should win this award.
Play of the Year
If we're looking for the most important play of 2018 so far, the best place to go is ESPN's win expectancy model. The play that produced the biggest swing in win expectancy is the most meaningful one of the first half. When you look at the numbers, it isn't even really a contest.
Not every game-breaking touchdown is a game winner, sadly. The third-place play of the year just came Sunday afternoon, when Brandon McManus missed a would-be 51-yard field goal to win the game against the Texans. Case Keenum had converted a pair of fourth downs in driving the Broncos to the 37-yard line with 43 seconds left, but after using its second timeout, Denver decided to throw a 5-yard pass to Jeff Heuerman before basically sitting on its lead and settling for a long field goal.
Vance Joseph was punished for attempting to ice Texans kicker Ka'imi Fairbairn at the end of the first half, which turned a missed field goal into a make. Research suggests icing the kicker doesn't have any effect, although Joseph probably remembers when he successfully iced Younghoe Koo in his first start against the Chargers in 2017. (The universe ices Chargers kickers.) In a situation in which he could play a much more meaningful role, Joseph had his offense sit on the football and settle for a 51-yard field goal, which isn't close to a sure thing, even in the thin air of Denver. The Broncos had a 66.9 percent chance of winning before the kick, but their win expectancy evaporated entirely with the miss.
The non-special teams Play of the Year belongs to the Bengals. Andy Dalton's 13-yard touchdown pass to A.J. Green against the Falcons in Week 4 capped a 16-play, 75-yard drive by scoring a touchdown with seven seconds left, giving the Bengals a 37-36 lead. The game wasn't over — the Bengals failed on their two-point try and had to keep Atlanta from scoring — but Cincinnati's win expectancy jumped by 72.2 percent after the touchdown pass.
Through nine weeks, though, the Play of the Year is Graham Gano's 63-yard field goal against the Giants, which turned a 31-30 deficit into a 33-31 victory for the Panthers with one second left. Carolina's chances of winning rose by a whopping 80.7 percent on the play, as the Panthers suddenly became prohibitive favorites on one of the longest field goals in NFL history. The Panthers only needed to stop the Giants on the subsequent kickoff to ensure a victory, which took them to 3-1 in the NFC.
Comeback Player of the Year
Honorable mention for this award goes to Andre Hal, who was diagnosed with Hodgkin lymphoma in June and has somehow already made it back onto the field for the first-place Texans. Hal is out with a shoulder injury and hasn't played enough to compete for this nod, but if we were measuring what a player has overcome to play football, Hal would be in first place by a considerable margin.
The only player to drop out of the top three after Week 4 is John Brown, and that is because the Ravens haven't been able to consistently feature him. Brown had seven catches on seven targets for 134 yards against the Saints, but otherwise, he has racked up a total of just 129 yards over Baltimore's four other games during that time frame. Brown would be the Ravens receiver most likely to benefit from a quarterback change during the bye, given that Joe Flacco's 55.0 passer rating on deep passes this season ranks 33rd out of 34 qualifying signal-callers.
Third: Adrian Peterson, RB, Washington
Peterson's tenure in Arizona last season ended after a neck injury, but the 33-year-old's presence on this list stems from the fact that he was on the street as late as Aug. 20 and was only signed because Derrius Guice went down with a torn ACL. Peterson racked up only 33 yards from scrimmage and Washington lost two linemen to serious injuries on Sunday, but the future Hall of Famer has exceeded everyone's expectations. The former Vikings star has 604 rushing yards and four scores through nine games. Peterson has run for first downs on only 19.6 percent of his carries, which cuts through some of the shine given that he ranks 12th among the 20 backs with 100 carries or more, but he has still been a productive back for a team that looked like it was going to have to beg for a useful back behind Alex Smith.

Second: Andrew Luck, QB, Indianapolis Colts
As his offensive line has improved, Luck has begun to grow comfortable under center. The Colts were on bye this week, but from Weeks 5-8, Luck took just one sack on 160 dropbacks. That's unheard of for a player who appeared to be a magnet for pass-rushers as recently as 2016. Opponents were getting pressure on only 23.1 percent of their dropbacks over that time frame, which was the seventh-lowest mark in the league.
Predictably, Luck has responded with excellent play. He's averaging a modest 6.8 yards per attempt, but he has thrown 14 touchdown passes against five picks, completed more than 64 percent of his passes, and posted a Total QBR of 76.6, which is sixth best in the NFL over that span. Not bad when you consider that he was without T.Y. Hilton for two of those games and Ryan Grant for the other two.

First: J.J. Watt, DE, Houston Texans
Even if the player who seemed to defy the physics of the interior and time-warp his way through the line of scrimmage isn't quite back, the version of Watt we're seeing in 2018 is still a top-five pass-rusher. He has to rely a little more on that ceaseless motor, and Watt sees fewer double-teams thanks to the presence of Jadeveon Clowney, but the future Hall of Famer is an easy All-Pro pick with nine sacks, 16 quarterback knockdowns and four forced fumbles in nine games.
Miss of the Year
In a year in which quarterbacks are producing record numbers across the board and coaches like McVay and Reid seem capable of scheming open receivers on just about every single snap, there's one element you simply can't escape: You've got to finish the play. With help from NFL's Next Gen Stats, we can actually quantify each pass's chance of being completed. The end result isn't perfect, but it's the best insight we've had so far into each and every pass's chance of success.
For this category, I'm limiting myself to throws traveling 16 or more yards downfield, which is the NFL's definition of a deep pass. The "winner" here is a Jared Goff pass to Cooper Kupp in the Rams' season-opening win over the Raiders. As you can see from the animation below, Kupp looks like he's running a shallow cross before turning upfield on his wheel route. Goff anticipates Kupp coming open and makes his throw, but even with an 85.6 percent chance of completing this pass, the throw is behind the receiver and falls incomplete.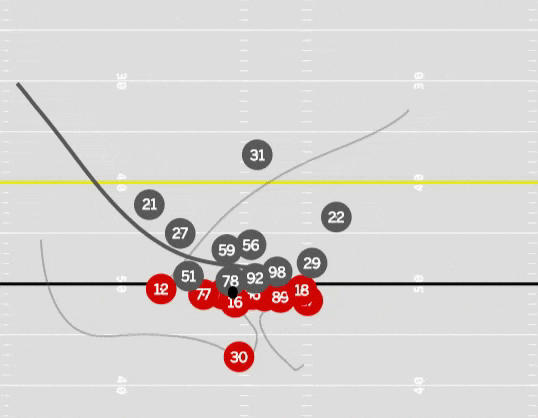 There's another way to define this, and it also includes Goff. The league's Next Gen Stats also measure the distance between a receiver and any opposing defenders when a pass is thrown or lands, to provide a strong estimate of how much separation a receiver has. The most open receiver on an incompletion, by far, came on a Goff pass to Robert Woods against the Cardinals in Week 2. The Cardinals blew an assignment and left Woods an almost comically easy path to the end zone with 17.2 yards of separation, nearly five more yards of space than any other receiver has had on an incompletion this year. Whether it was Woods hesitating briefly before continuing his fade or Goff simply missing the throw is hard to tell, but the Rams missed what should have been one of the easiest touchdowns of the season:
Of course, the Rams won both those games comfortably, and Goff is still having a great season. It's also terrifying that the Rams could be among the best offenses in football and still leave meat on the bone.
Defensive Rookie of the Year
This is a four-player race, which obviously makes it difficult to sum up in three spots. I honestly think you could leave off any one of these players and make a case for the other three. As tough as it was given that his team led the league in pass defense DVOA heading into the game, I'm putting Denzel Ward fourth. He has taken on a lot of responsibility in covering No. 1 wideouts, but even before Sunday, when Ward left with a hip injury, the Browns were 24th in DVOA against No. 1 wideouts while allowing them 87.7 yards per game, which ranked 28th in the NFL.

Third: Bradley Chubb, LB, Denver Broncos
After a slow start, Chubb came afire in October. The fourth overall pick racked up 5.5 sacks in five October games and has eight so far this season, which is tied for sixth in the league. Chubb has done that on only 11 knockdowns, which is a tough pace to keep up given that edge rushers will typically turn around 45 percent of their knockdowns into sacks. His considerable growth during the season suggests that Chubb could continue to improve as the season goes along, though. I haven't seen consistent play from Chubb as an edge-setter or when the Broncos have pushed him out into coverage, but Denver drafted Chubb to take down the quarterback. He's doing that at a Rookie of the Year-level rate.
Second: Derwin James, S, Los Angeles Chargers
Rookie safeties don't often do what James is doing. Usually, even talented first-rounders who go on to lengthy careers struggle as rookies or narrowly keep their head above water. James can do everything from fill-in run support to stand up in coverage against anybody the Chargers face on a weekly basis, and defensive coordinator Gus Bradley asks him to do a little bit of everything from snap to snap and series to series. He seems to make himself conspicuous doing one thing or another each week; on Sunday, it was racking up 11 tackles against the Seahawks in a game marred only by an unnecessary-roughness call on the rookie safety. He still leads all defensive backs with 3.5 sacks, which has come in handy as the Chargers have missed Joey Bosa.

First: Darius Leonard, LB, Indianapolis Colts
Leonard missed Indianapolis' game against the Patriots, and New England promptly took advantage by throwing for a combined 152 yards and a touchdown to Rob Gronkowski and James White. He missed one running play against the Bills and Buffalo turned it into a 30-yard gain. The Colts aren't a great defense, but how many of their starters can you even name without hoping that Robert Mathis is still in the fold? Leonard has been an immediate difference-maker for a team desperate to find them.
The South Carolina State product continues to fill up the scoresheet, as even after missing a game, he has racked up a league-high 88 tackles to go along with four sacks, three forced fumbles and two pass breakups. To put that tackle number in context, Leonard has been in on the tackle on 19.7 percent of his snaps this season. Rams linebacker Cory Littleton, who is playing behind arguably the scariest interior defensive line in football, is the only guy with 400 snaps or more within 3.5 percentage of points of Leonard. I don't think Leonard will win, if only because he's playing for a team nobody is really paying attention to and won't rack up a huge sack total, but the second-round pick has been a huge find for Frank Reich and Chris Ballard in Indy.
Offensive Rookie of the Year
Somewhat surprisingly, none of the five quarterbacks taken in the first round even merit serious consideration for one of these three spots. The five passers — Josh Allen, Sam Darnold, Lamar Jackson, Baker Mayfield and Josh Rosen — have combined to complete just 56.5 percent of their passes while tossing more interceptions (32) than touchdown (29). Their cumulative passer rating is 72.1 and their Total QBR, buoyed by rushing, is up at 36.3. Jackson doesn't qualify, but the other four rookies stand as four of the five worst quarterbacks in the league by QBR so far this season in a group along with Eli Manning.

Third: Kerryon Johnson, RB, Detroit Lions
Johnson didn't offer much on Sunday against a stout Vikings run defense, but as the Lions distribute extra touches after trading away Golden Tate, Johnson should be one of the first people in line for more runs. The second-round pick has been a devastating home-run hitter for Detroit, racking up five runs of 20 yards or more on just 89 carries. The added receiving utility has been a bonus. Johnson never topped 24 catches or 194 receiving yards at Auburn, but he already has generated 24 catches for 165 yards in eight games with the Lions. As long as he doesn't manage to offend Matt Patricia with his posture, the 43rd overall pick should see his role continue to grow during the second half.

Second: Calvin Ridley, WR, Atlanta Falcons
The touchdown rate from Weeks 2-4 was never going to be sustainable, although Ridley did get back on the board for the first time since September with a 40-yard catch in traffic and score during Sunday's comfortable win over Washington. The former Alabama star caught six passes for 71 yards, his second-highest yardage total of the season, and Ridley has caught an even 75 percent of his targets despite averaging nearly 11.2 air yards per attempt. The presence of Julio Jones is a blessing and a curse for his Rookie of the Year chances; Jones keeps the double-teams away from Ridley and opens him up for red-zone opportunities, but with Julio averaging more than 11 targets per game, Ridley might not get the target share to compete.

First: Saquon Barkley, RB, New York Giants
Barkley's numbers are inflated, and he should still win Rookie of the Year. Just 21.6 percent of his carries have turned into first downs, which is just below the running back average of 21.8 percent. Barkley has 152 yards from scrimmage in garbage time, when the Giants start drives with no more than a 1 percent chance of winning the game. The only players with more are Chris Ivory (155) and Odell Beckham Jr.. (165).
And yet, you've seen him play and know what I'm talking about. Barkley has six touches for 30 yards or more when nobody else has more than four. He has 348 more yards from scrimmage than any other rookie and is on pace for 2,032 yards from scrimmage, which only Eric Dickerson and Edgerrin James pulled off as rookies. The Giants haven't done many creative things with Barkley, as he has caught just four passes which traveled longer than six yards in the air. He is the "Get Out of Jail Free" card for an offense that is tethered to the ground by a horrific offensive line and a quarterback who is crumbling into dust.
Pass of the Year
Just as we used completion probability to figure out the Miss of the Year, we can also use the same stat to figure out which successful pass actually overcame the longest odds to fall into a receiver's hands. Again, I'm going to limit myself to passes traveling 16 yards in the air or more. It's always nice when the numbers match up with the tape and something that seemed almost impossible on film is backed up by player tracking data too.
Even better, this pass actually played a huge role in a game too. Not winning, in this case, but tying one. When Kirk Cousins found Adam Thielen for a 22-yard touchdown against the Packers in Week 2, it brought the Vikings within two points of the Packers with 36 seconds to go after trailing 20-7 at the start of the fourth quarter. Stefon Diggs tied the score with the subsequent two-point conversion, and after the two teams combined to miss three makeable field goals over the ensuing 15-plus minutes of football, the game ended in a 29-29 tie. Watch the animation and you'll see just how tight of a window Cousins has for this football: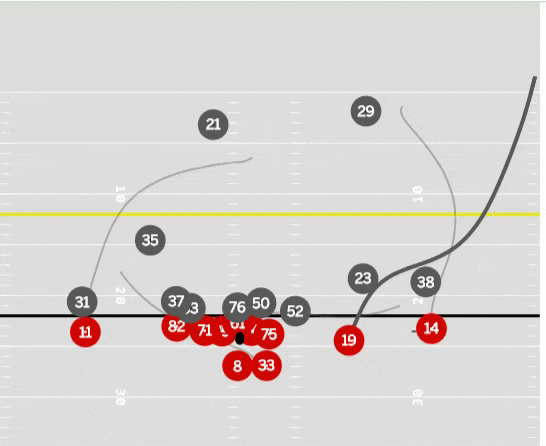 NFL Next Gen Stats estimates that Cousins has just a 12.4 percent chance of completing this one. It's an inch-perfect throw on a post/wheel concept against man coverage with two deep safeties. Thielen isn't remotely open when the ball is released — he's level with cornerback Jaire Alexander (23) at the 15-yard line — but Cousins leads Thielen to the absolute exact spot on the field where he can catch the pass before being hit by safety Kentrell Brice (29). When you consider that was Cousins' second regular-season game with Thielen, the touch and familiarity it took to make this pass is absolutely unreal. What a throw.
Run of the Year
I'm going to use a combination of the Next Gen Stats and the tape to award this one. It's tempting to award this one to Kareem Hunt's 22-yard touchdown in Week 8, where he broke two tackles, hurdled a third, and then dragged a fourth Broncos defender to the end zone for a score on fourth-and-1, but that came when the Chiefs were running a power shovel read concept and threw Hunt a shovel pass. Technically, it's a pass. Sorry, Kareem.
Instead, my Run of the Year is the longest run of the season where a running back went untouched. Those sort of runs can be more about the offensive line than the back, but Isaiah Crowell's 77-yard touchdown against the Broncos in Week 5 is a good balance of both:
The line does a great job of creating an edge for Crowell, with tight end Chris Herndon (89) sealing Bradley Chubb at the point of attack. The only Jets blocker who doesn't do his job is Robby Anderson, who overruns Chris Harris Jr. No worry. Crowell stretches the play outside Harris, jukes both Bradley Roby and Darian Stewart into the turf, and outruns the defense to the house. Terrelle Pryor throws in a disrespectful stiff-arm of Adam Jones at the end of the play. The Broncos aren't exactly a tough team to run on this season, but the Jets could use some good news on offense after Sam Darnold threw four interceptions on Sunday.
Defensive Player of the Year
History tells us that barring a transcendent season from a player in the secondary or at middle linebacker, this award goes to a pass-rusher. With all due respect to guys like D.J. Swearinger, Stephon Gilmore and Tre'Davious White, nobody in the secondary has stood out quite enough to earn a third-placed nod.
My pick here after four weeks was Khalil Mack, but he falls off the list after an injury-hit October. Mack suffered an ankle injury during the Bears' Week 6 overtime loss to the Dolphins and hasn't been the same since. He didn't record a sack or a quarterback knockdown in either of the losses to the Dolphins or Patriots, and the Bears have wisely sat him out against the inferior Jets and Bills. We all know what a healthy Mack can do, so he can still get back into the running, but an anonymous month certainly hurts his chances dramatically.

Third: Myles Garrett, DE, Cleveland Browns
Garrett was quietly an impact player on a middling defense last season, though he missed a chunk of the season with injuries. This year, Garrett is quietly an All-Pro candidate on the league's best pass defense by DVOA, but they'll likely fall off that mantel after running into the Chiefs on Sunday. No matter. Garrett has been excellent, with nine sacks, 18 knockdowns and three forced fumbles. He has beaten Alejandro Villanueva for a sack in each of Cleveland's games against the Steelers, and while his other sacks have been against the less notable of the linemen world, Garrett's motor shines through on tape. Even if you think he's blocked, Garrett seems to run his way into second-chance sacks every week. He and Larry Ogunjobi are the best building blocks left from the Sashi Brown reign in Cleveland.

Second: Danielle Hunter, DE, Minnesota Vikings
After 3.5 sacks and four knockdowns on Sunday during Minnesota's twice-annual "What did Matthew Stafford do to the people of Minneapolis?" festival, Hunter now leads the NFL with 11.5 sacks, spotting the 24-year-old a 1.5-sack lead on the competition. And while you could maybe make the case that Hunter benefited from playing alongside Everson Griffen before this season, Griffen missed five games before returning against the Saints in Week 8.
Hunter's performance might not be sustainable — those 11.5 sacks have come on just 15 knockdowns, which would usually generate something closer to seven sacks — but he's a legitimate superstar playing for a defense with three high-profile games against the Bears, Packers and Seahawks after its bye. Hunter also gets the Lions again in Week 16 in what could be a showcase game for the LSU product.

First: Aaron Donald, DT, Los Angeles Rams
Donald didn't have a sack against the devastatingly quick release of Drew Brees on Sunday, so the reigning Defensive Player of the Year had to settle for four knockdowns, a tackle for loss in which he might have made Alvin Kamara reconsider football, a pass deflection and a fumble recovery to hand the Rams a short field. After a slow start to the year, Donald has 10 sacks and 20 knockdowns in his past six games. Hunter has the better sack total, but Donald is such a force of nature on each and every snap he plays in a way that nobody else in football can match right now. If the numbers are close, I lean toward the Rams star.
Longest Touchdown of the Year
An NFL touchdown can only officially go a maximum of 109 yards, given that a player can take the ball in the back of his own end zone and run it all the way past the other team's goal line for a score. Kick returner/goal-line back Cordarrelle Patterson did this for the Vikings back in 2013.
To get more specific, we can use the Next Gen Stats to see which player actually traveled the furthest en route to a touchdown this season. On Sunday, we saw an example of just how much work it can take to score when Panthers wideout Curtis Samuel took a 33-yard reverse to the house. The longest touchdown of the year, though, unsurprisingly belongs to a Chiefs player. The surprise might be that it came while Patrick Mahomes was on the sideline: It was Tyreek Hill's 91-yard punt return for a touchdown against the Chargers in Week 1, where Hill ran a total of 140.9 yards and got up to 21.8 mph in the process. "Tyreek Hill is fast" isn't exactly news, but in a league in which players have their pre-draft 40-yard dash time quoted as gospel a decade into their careers, putting some fresh numbers on Hill's speed isn't a bad thing.
Offensive Player of the Year
I'm going to treat that as the award for non-quarterbacks, since there have been years (including 2017) in which the voting has gone in that direction in awarding the best skill-position weapon the trophy. I'm willing to consider a universe in which a running back or receiver is eligible to win MVP, but the season we're seeing from James Conner might be a useful reminder of how even the great backs can be replaced.
I don't think anybody would argue that Le'Veon Bell isn't a better back than Conner, but with a great offensive infrastructure and a healthy half-season, Conner has racked up 1,085 yards from scrimmage and 10 touchdowns on 189 touches through eight games, numbers that compare favorably to what Bell (979 yards from scrimmage and five scores on 229 touches) produced over the first eight games of last season. In every one of the league's offenses in which a team has a great quarterback and a dominant running back, I think the team would suffer more if it lost its signal-caller than if it lost its ball carrier. Until that changes, I can't give any of them an MVP nod.

Third: Julio Jones, WR, Atlanta Falcons
Do you care about the touchdown total? Jones finally did make it into the end zone for the first time this season, taking a screen to the house for a 35-yard touchdown in the fourth quarter to seal a win against Washington. It was a fitting cap to yet another 100-yard day for Jones, who has run off four such games in five contests. He's the rare wideout who is so productive that fantasy owners can't even realistically be upset that he hasn't been scoring touchdowns.
We know touchdown rates for wideouts are generally dictated by volume and target location as opposed to innate skill, and if you've seen Julio play, you know skill isn't a problem. More importantly, though, we know that Jones is drawing attention away from other receivers and creating opportunities for the Falcons in the red zone. After their prime-time opening-night debacle in the red zone against the Eagles in Week 1, the Falcons have averaged 6.2 points per red zone trip, the best mark in football. They've done that without Devonta Freeman and are down both of their Week 1 starters at guard. Jones is the sun in that offense.
With even a middling touchdown rate, Jones would be a viable top choice here. He's averaging 116.6 receiving yards per game and attracting targets on 32.3 percent of his routes, both of which are tops among wideouts. Jones is also averaging nearly 14 air yards per target, which is crazy for his usage rate. The only WR1s topping that are Mike Evans and Tyreek Hill, who aren't the same sort of intermediate weapon Jones has been for years. If you can't get past the touchdowns, you're missing greatness.

Second: Adam Thielen, WR, Minnesota Vikings
Thielen's streak of games with 100 yards and a touchdown came to an end on Sunday, as he racked up just 22 yards and a score on seven targets during the win over the Lions. The most underpaid veteran in the league will have to settle for entering his bye week with the league lead in receptions (78), receiving yards (947), and first downs (51). It seems like there's going to come a point in which Thielen retreats to earth and is suddenly a mortal wideout again, but over the second half of 2017, Thielen racked up 43 catches for 649 yards and three scores, which isn't exactly anything of which to be ashamed.
I think you'll see a slight decline in Thielen's numbers, if only by virtue of volume. Dalvin Cook's return to health and a likely run of victories against an easier schedule in December should push Minnesota toward a heavier dose of its running game, which would come at the expense of its pass-catching corps. Even then, though, Thielen is going to be a very viable OPOY candidate.

First: Todd Gurley, RB, Los Angeles Rams
In a way, I couldn't put backs like Kareem Hunt or Alvin Kamara on this list because Gurley has blown them away with production. Even after his quietest game of the season during Sunday's loss to the Saints, Gurley has 1,230 yards from scrimmage, 145 yards more than the second-placed Conner. Barkley is the only other back to top 1,000 yards. Gurley has 16 touchdowns, which is three ahead of Hunt at 13. He has 31 more carries than any other back, of course, but the former first-round pick is averaging 4.8 yards per carry and producing first downs on 26.9 percent of his runs. Kamara is the only back with 100 carries or more who tops him there, and Kamara has done it over 111 carries to Gurley's 182. Backs with this sort of volume and efficiency just don't exist anymore.
What would it take for Gurley to win MVP? He had a better shot last season, when the young breakout candidates tore their ACLs and the award fell almost by default to Tom Brady, who is at a natural disadvantage as a former two-time winner. Brady played great and deserved the trophy, but his efficiency numbers were no different from 2015, when he didn't come close to winning, and they were actually down from 2016, when Brady was suspended for four games to start the year.
Gurley has 868 rushing yards and 362 receiving yards to go with 16 touchdowns in nine games, leaving him on pace for 1,543 rushing yards, 644 receiving yards, and 28 touchdowns. That would be one hell of a résumé, but the Rams might sit Gurley if they have nothing to play for in December. Voters haven't really been interested in total yards from scrimmage in years past, but if Gurley can make it to 2,500 and 30 touchdowns, those round numbers might be enough.
Most Valuable Player
We're left with the quarterbacks. Two passers are pretty obviously shoo-ins. The third-place pick was a little tougher. You can pick a flaw in a lot of very good candidates. Brady's interception rate has spiked to the point where he won't be able to repeat. Carson Wentz is two (and in some cases three) games behind the competition, although his rate stats are excellent. Ben Roethlisberger hasn't been accurate enough to keep up, which is remarkable given that he has a 64.5 percent completion percentage. (League average is 65.2 percent.) Philip Rivers has thrown only 246 passes, which is good for his arm but keeps him from racking up the cumulative totals to get in the top three.
Two young NFC passers came up narrowly short. Jared Goff is playing well, but he has slipped some after that incredible prime-time game against the Vikings. From Week 5 on, Goff has completed 64.2 percent of his passes and posted a 100.9 passer rating, which is 11th in the league. By Total QBR, his 64.0 mark is 13th. He certainly hasn't been bad, of course, but the standards at the top of the charts here are higher than they've ever been before. He has fallen to fifth in both passer rating and QBR, which is where he ranks here.
I'm also narrowly eliminating Cam Newton, although I've been pleasantly surprised to be totally wrong about Norv Turner and the Panthers' offense this season. Instead of trying to revert to some antiquated offensive scheme, Turner has turned Newton and the offense loose. Plenty of teams run jet sweeps and end-arounds in 2018, but the Panthers mix in reverses and even the rare double reverse for big plays, like the one we saw to Samuel on Sunday.
The only thing I'd fault Newton for in this offense is a relatively conservative passing game. The Panthers have successfully jump-started his completion percentage over 60 percent and all the way to a staggering 67.3 percent, but Newton is averaging just 7.2 yards per attempt, which is below the league average of 7.6 yards per pass attempt this season. He makes up for that to some extent by racking up 355 rushing yards, but even those runs have required 62 carries, which is far more than any other passer. (Those numbers don't include kneel-downs.) His numbers are very good, but they're just a tad below our top three MVP candidates.

Third: Matt Ryan, QB, Atlanta Falcons
I recognize that 2018 has been a higher-scoring campaign than 2016, but compare Ryan's first eight games of 2018 with the first eight games of his MVP campaign under Kyle Shanahan in 2016:
Yes, Ryan is not going to get as much consideration because his defense stinks and his team is a distant third at 4-4 in the NFC South, but he has been every bit as good as the guy we saw win MVP two years ago. Keep in mind he was doing that with a better offensive line and Freeman as his lead back in the running game. This version of Ryan has Calvin Ridley, which helps, but the Boston College product just went five-plus games without an interception before throwing a pick on Sunday afternoon. If the Falcons make their way back into the wild-card hunt in the NFC, Ryan deserves MVP chatter.

Second: Patrick Mahomes, QB, Kansas City Chiefs
First: Drew Brees, QB, New Orleans Saints
Let's work through these two together, since they stand apart for me. The most obvious difference is the touchdown total. Mahomes has 29 touchdown passes. Twenty-nine! Brees has 18. Andrew Luck has 23, and nobody else in the league tops 20. The second-year sensation Mahomes is throwing for touchdowns on 9.1 percent of his passes, the second-highest mark in the league behind Ryan Fitzpatrick. The only passer to hit 9 percent in a 500-attempt season is Aaron Rodgers in 2011. Tom Brady didn't do it in 2007. Dan Marino didn't do it in 1984. This is a big advantage for Mahomes.
And then, when you start working through the rest of the categories, Brees picks up advantages, some significant. The veteran has thrown one interception on 279 pass attempts. Mahomes has thrown seven in 317 tries, although his pick on Sunday was essentially a Hail Mary after poor Chiefs clock management. Mahomes is completing 66.2 percent of his passes. Brees is completing 76.3 percent of his throws. Just as Mahomes is challenging the touchdown record, Brees is threatening to take the completion percentage record and jump it from 72.1 percent by more than 4 percentage points. Completions can be overrated, but 40.9 percent of Brees' completions go for first downs, which is well above the league average of 36.3 percent.
Mahomes is averaging nearly a full yard more per pass than Brees, but a lot of that comes from his receivers' work on screens. Strip them out and Brees is completing 74.9 percent of his passes and averaging 8.7 yards per attempt. Mahomes is completing 61.9 percent of his non-screen passes while averaging … 8.7 yards per attempt. Both marks are great. You don't need me to tell you Brees' is better.
Of course, while both teams have excellent weapons, there's a reason I ranked the Chiefs' weapons as the scariest in football before the season. Brees' top two receivers are Michael Thomas and Alvin Kamara. Pretty terrifying. Mahomes gets to work with Tyreek Hill and Kareem Hunt. Also scary. After that, though, Mahomes' next two guys up are Travis Kelce and Sammy Watkins. Brees is working with Benjamin Watson and either Ted Ginn Jr. or rookie Tre'Quan Smith, depending on when you're judging the arsenals. Brees has Mark Ingram to help in pass protection and a better offensive line given the injuries on the interior for the Chiefs, but Mahomes has more with which to work.
I'm not exactly the QB wins type, but the Saints are 7-1 and the Chiefs are 8-1. The Saints' lone loss came in a game against the Bucs in which Brees put up 40 points and his defense allowed 48 points. The Chiefs' lone loss came in a game in which Mahomes scored 40 points and his defense allowed 43 points to the Patriots. The only thing I might mention is that Mahomes left a couple of would-be touchdowns on the table with bad throws in the first half. It would be foolish to say Mahomes played badly, but it also would be naive to pretend he couldn't have played better given the opportunities at hand.
The case for Mahomes outside of the touchdowns isn't as obvious, at least to me. He has thrown 38 more passes than Brees, the product of not yet having his bye week. Mahomes offers far more with his legs than Brees, as the Texas Tech product has 144 rushing yards and two touchdowns on 25 carries once you remove those pesky kneel-downs from his totals. Brees, ceding touches in the running game to Taysom Hill, has turned nine carries into 34 yards, although he also has two scores on sneaks, which mitigates some of the gap between the two.
At the end of the day, there just isn't much between these two. Brees has a passer rating of 120.6 and a Total QBR of 84.5. Mahomes has a passer rating of 116.7 and a Total QBR of 85.4. They're 1-2 in each category. Maybe I lean toward Brees because the sentimental, sappy side of me wants to see the 39-year-old Brees finally win league MVP before he retires. If you prefer Mahomes, I can't fault you. If Mahomes gets to 56 passing touchdowns and breaks the league record in his first full year as a starter, I'll join you on that side of the fence. For now, though, very narrowly, I lean toward Brees.
Source: Read Full Article