Larry Fitzgerald Spiked The Ball To Get Back At His Garbage Son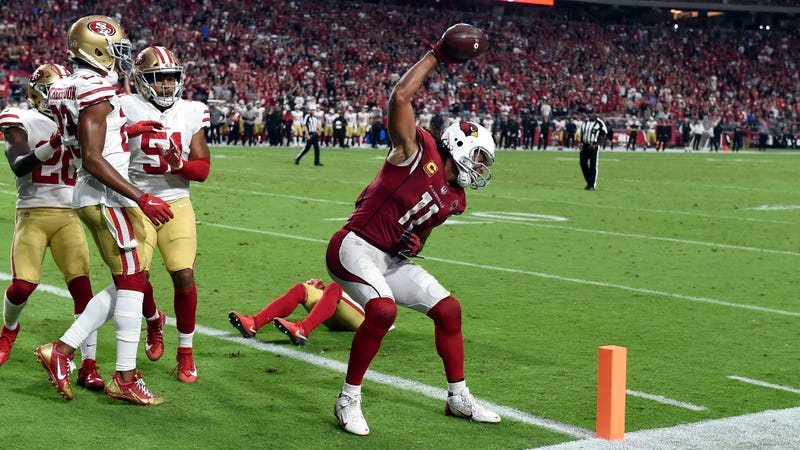 Larry Fitzgerald, now in his 15th season, is suffering through yet another pointless year with the Cardinals, leading one of the worst teams in football with 34 receptions so far. And after a late two-point conversion catch that solidified his team's 18-15 win over the 49ers on Sunday, some of that intense frustration that has to build up if you're on a hopeless losing team finally peeked through.
According to the veteran receiver, however, the cathartic spike wasn't so much about his team's record as it was a cruel rejection by his son, Devin, who best I can tell is around 10 years old. Devin understandably decided that he would rather go to the Arizona State Fair than attend a game between the 1-6 Cardinals and the 1-6 Niners, and his father was none too happy about it.
"I was a little frustrated and had a heavy heart today," Fitzgerald said. "My feelings were a little hurt, so I was carrying that around all day. So, when I got in there, I kind of let it out. To all the kids that are watching, I'm sorry. I set a bad example today."
[…]
Asked if he thought Devin gave up on him after the Cardinals began the season 1-6, Fitzgerald said his son "didn't want to come support us."
"So, I'm trying to pick up the pieces," Fitzgerald said. "I have to be a better father."
Advertisement
Fitzgerald's looking at this all wrong. If he raised a kid who chooses fun and wholesome activities like a state fair over degenerate behavior like going to an Arizona Cardinals game, he did a pretty good job.
Source: Read Full Article