New England Patriots 25-6 Buffalo Bills: Devin McCourty pick six clinches low-scorer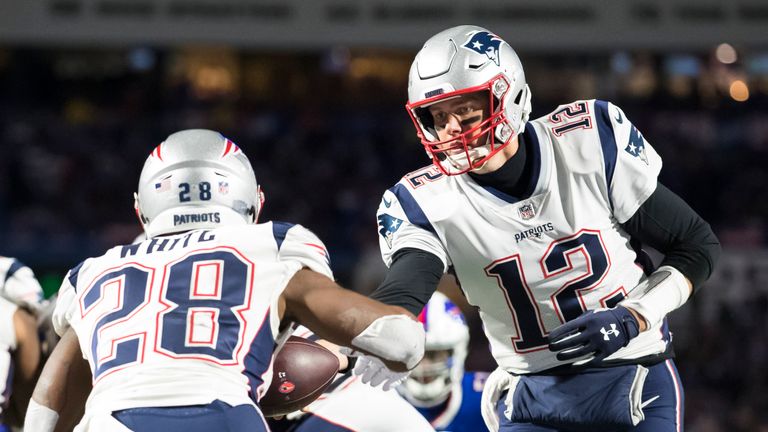 Devin McCourty returned an interception 84 yards for a touchdown to clinch a 25-6 victory for the New England Patriots over the Buffalo Bills after both offenses struggled in their Monday Night Football meeting.
James White had scored on a one-yard run earlier in the fourth quarter, but the Patriots (6-2) relied more on Stephen Gostkowski's leg than on Tom Brady's arm to earn their fifth straight win. Gostkowski hit four of five field-goal attempts as neither team managed to find the endzone in the opening three quarters.
Brady finished 29 of 45 for 324 yards, but was held without a touchdown pass for the first time this season. However, his career-long dominance over the Bills continues, with the QB improving to 29-3 against them, extending the NFL record for most wins by a quarterback against one opponent.
White's final-quarter score stretched New England's lead, while McCourty's pick six with five minutes and 54 seconds remaining sealed victory for the visitors.
Two plays before the game-clinching interception, Bills tight end Jason Croom's diving one-handed touchdown catch was overturned following a video review. Replays clearly showed Croom never had possession in attempting to make the 25-yard catch, which would have made it a one-score game.
Buffalo (2-6) have now lost three straight games, with their offense – which has managed only 87 points – continuing to be a problem, as they were held to under seven points for the fourth time this season.
Back-up quarterback Derek Anderson was escorted off the field with little more than a minute left when he was sacked by Kyle Van Noy. Anderson finished 22 of 39 for 290 yards and an interception.
FIRST QUARTER
Patriots 3-0 Bills: Stephen Gostkowski 25-yard field goal
SECOND QUARTER
Patriots 6-0 Bills: Gostkowski 40-yard field goal
Patriots 9-0 Bills: Gostkowski 38-yard field goal
Patriots 9-3 Bills: Stephen Hauschka 47-yard field goal
THIRD QUARTER
Patriots 9-6 Bills: Hauschka 51-yard field goal
Patriots 12-6 Bills: Gostkowski 25-yard field goal
FOURTH QUARTER
Patriots 18-6 Bills: James White one-yard touchdown run (Failed two-point conversion attempt)
Patriots 25-13 Bills: Devin McCourty 84-yard interception return for a touchdown (Gostkowski extra point good)
Game's key stats
Source: Read Full Article