Rae Carruth Has Been Released From Prison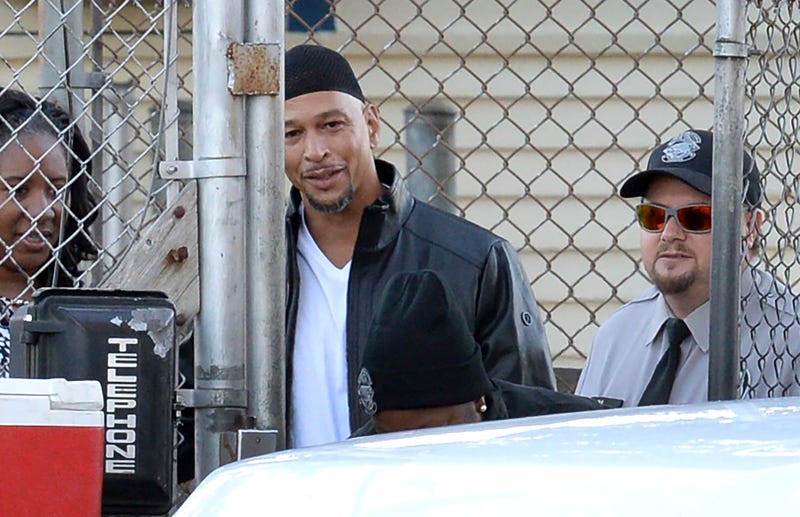 Former Carolina Panthers wide receiver Rae Carruth, who was convicted in 2001 of plotting the murder of his pregnant girlfriend Cherica Adams, was released from Sampson Correctional Institution in Clinton, North Carolina today.
Adams died in December of 1999, a month after she was shot four times in her car by Van Brett Watkins, a gunman Carruth hired to kill her, because, prosecutors said, he didn't want to pay child support.
In a phone interview from prison last week, Carruth told WSOC-TV: "I just truly want to be forgiven" and bemoaned the "hate and negativity toward" him:
"I'm excited about just being out of here. I'm nervous just about how I'll be received by the public. I still have to work. I still have to live. I have to exist out there and it just seems like there is so much hate and negativity toward me."
Adams was eight months pregnant when she was shot. Her son, Chancellor Lee Adams, survived and was born with cerebral palsy, a condition connected to his mother's loss of blood and oxygen from the shooting. Watkins, who testified that Carruth hired him to kill Adams and her baby, said in court that during the shooting, Adams "was screaming. She was drowning in her own blood. You could hear a gurgling sound."
Advertisement
Chancellor, who is now 18, has been raised and cared for by Adams's mother, Saundra Adams. In February, Carruth said he wanted to be a father to his son when he was released from prison. He wrote a 15-page letter apologizing to Adams and saying he wanted to have a relationship with his son, but in a phone call to local news station WBTV in the same period, he accused Adams of lying about him in the press:
"I feel like if I did it in the open, it would put an end to the lies. If I say publicly, 'Ms. Adams, I apologize, Ms. Adams, I take responsibility for what happened,' that she can no longer get on television and do an interview and say Rae has never apologized to me."
At the time, Adams told the Charlotte Observer that Carruth would not get custody of her grandson, who is physically and mentally disabled:
"I've forgiven Rae already, but to have any type of relationship with him, there does have to be some repentance," Adams said. "And I think this opens the door. But I can say definitively he's not ever going to have custody of Chancellor. Chancellor will be raised either by me or, after I'm gone, by someone else who loves him and who knows him. He will never be raised by a stranger – someone he doesn't know and who tried to kill him."
Advertisement
Weeks later, Carruth changed his mind. He said in a prison letter to the Charlotte Observer published on March 1 that he would "no longer be pursuing a relationship with Chancellor and Ms. Adams."
Carruth did not speak to reporters as he left prison today.
Source: Read Full Article