Report: Prison Drug Use May Have Contributed To Aaron Hernandez's Death By Suicide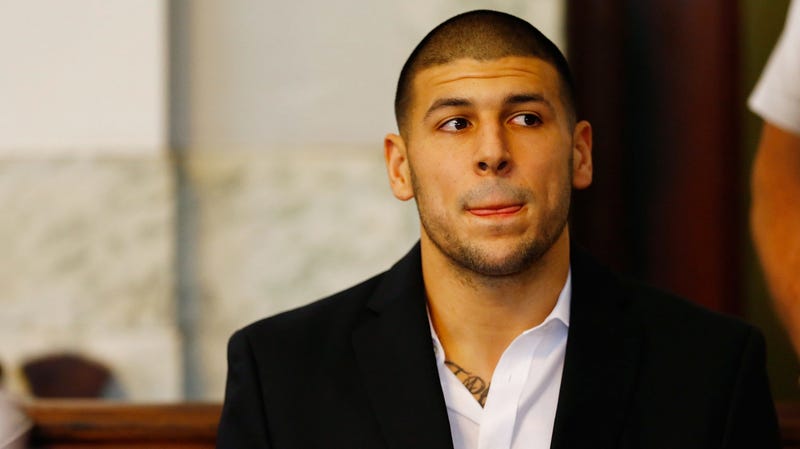 An autopsy performed in April 2017, after the death by suicide of former Patriots tight end and convicted murderer Aaron Hernandez, reportedly "came back negative for all substances" tested, including, importantly, synthetic cannabinoids. But a new report from the Boston Globe says the final police report redacted and obscured additional evidence that indicated Hernandez was heavily using K2 in prison in the days immediately prior to his suicide.
An inmate interview with officials the day Hernandez died, April 19, 2017, was partially redacted from a 132-page public report. The hidden portion, which the Globe was able to review last week for the first time, said: "He's spent the last two days smoking K2 in his cell and he wasn't in the right frame of mind."
Advertisement
K2, or synthetic marijuana, is apparently a popular drug among inmates because "it's difficult to detect in routine drug tests," and is apparently pretty easy to score inside. According to at least two inmates quoted in the report, Hernandez was hitting it pretty hard after the "not guilty" verdict was delivered in his trial for a 2012 double murder, part of what one fellow inmate described as Hernandez celebrating that good news and his renewed hope for exoneration in the Odin Lloyd case. Officials reportedly said the information was redacted in order to preserve the integrity of an ongoing investigation into prison drug activity, but its exclusion potentially contributed to confusion about some of the stranger details of Hernandez's suicide:
"We see many, many cases of people using synthetic cannabinoids and other novel psychoactive substances that are aggressive toward themselves," [toxicologist Marilyn Huestis] said. "Psychosis is common."
Religious delusions also are reported, according to people familiar with K2's effects. Not a traditionally religious man, Hernandez had become more "spiritual" toward the end of his life, according to fellow inmates' accounts in records.
The scene at Hernandez's death was rife with eerie religious writings and symbols. There was religious writing on the walls. He wrote 3:16 in blood on his forehead and had the Bible citation "John 3:16" open on his desk.
Advertisement
This is at least the second significant revelation to come out of the Globe's Spotlight team's reporting on the circumstances of Hernandez's life and death, after it was reported early in October that Hernandez had been physically and sexually abused as a boy. The series is very much worth your time.
Source: Read Full Article