Will Muschamp, Self-Proclaimed Molder Of Young Men, Didn't Talk To His Players About Voting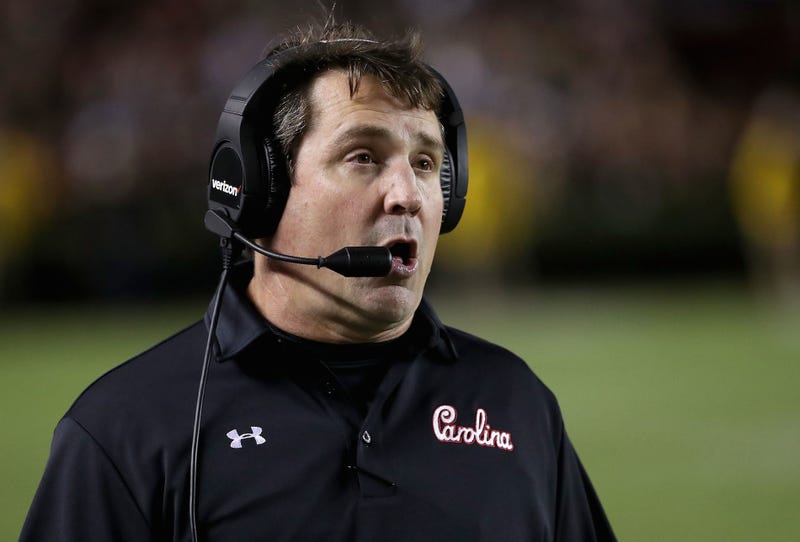 College football fetishizes the roles of its coaches as more than just coaches. They're Teachers of Student-Athletes and Molders of Men. Always with the molding of men! In reality, the coaching pool is a mixture of bloated, irritable hicks and ancient, anal-retentive freaks. (Both categories are overpaid and suck at covering up scandals.) Really, it shouldn't be a surprise that South Carolina head coach Will Muschamp didn't feel like maintaining the facade.
Today is Election Day. The State reporter Josh Kendall asked Muschamp if he had talked about it with his team. This is a fine question, given all the bullshit college football coaches spout about caring about their players as more than just players. Do these coaches keep in mind the demanding schedule of a college athlete, as well as the likelihood that players might not be registered to vote near where they attend school? Muschamp wasn't even aware of the significance of this Tuesday:
Advertisement
With credit to The Athletic's Matt Fortuna for flagging, here's what Muschamp said in his opening statement when the Gamecocks hired him in 2015 (emphasis added):
The spiritual support gives them outlets for what they want to be able to accomplish, to make sure there's people they can talk to if they don't want to talk to Coach Muschamp, and socially the diverse campus we have that certainly President Pastides has pushed for. It's really exciting that a young man can come on this campus and to the city of Columbia and have a wonderful college experience. That's really important to me because it goes a lot further than Saturday afternoons. We're with them Sunday through Friday in the growing process of the future leaders of our country.
The future leaders will have to learn to value and practice civics some other way, because Coach didn't want to take, say, five minutes out of the week to talk to his future leaders about something that wasn't football. Bah! A waste of time.
Advertisement
As 247Sports' Brad Crawford smarmily pointed out, Tennessee head coach Jeremy Pruitt was asked the same question yesterday:
Advertisement
Pruitt had similar empty words in his opening statement last December:
We laid out a plan today. When I was talking to our guys and I saw their legs start shaking, I knew we had them. When they were sitting on the edge of their seat, I knew we had them. I think our guys are pretty excited. Now we have to take it one day at a time. My first challenge for them was this: Finals Week. If they have a 65 in a class, let's find a way to get it to a 70. If they have an 88 in a class, let's find a way to get it to a 91. Let's find a way to finish. If you want to have success in this conference you have to learn how to finish. That goes for the classroom, the football field and with everything that they do.
Even though Penn State's football program should have ceased to exist, James Franklin talked to his players about the importance of voting. His team's 6-3, and he found some time in the day to do it.
Advertisement
Let's strike up a compromise. No one will expect these men-molders to actually mold men if we can call them what they really are: rich guys with unhealthy work-life balances.
H/t to Ben
Source: Read Full Article