'Both clubs are to blame': EDFL disqualifies preliminary finalists after brawl
The Essendon District Football League insists Oak Park and Westmeadows have only themselves to blame for being barred from Saturday's premier division women's grand final after an incident-filled preliminary final.
Unruly spectator behaviour that required league intervention followed by physical altercations between players, and the alleged assault of a coach, led to the match at Highgate Reserve being abandoned at half-time with Oak Park leading 21-1.
Players from both teams agreed conditions had become unsafe, but sources close to Oak Park say the team was shattered it was not deemed the winning side, going on to play Keilor in the grand final at Windy Hill on Saturday.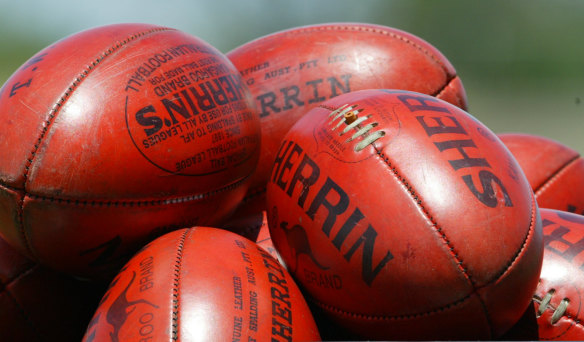 An EDFL preliminary final was called off at half-time last weekend after unruly on-and-off-field behaviour.Credit:Vince Caligiuri
Instead, Aberfeldie, having finished fourth on the ladder but eliminated in a semi-final, will now feature in the grand final.
EDFL chief executive Ian Kyte said Oak Park and Westmeadows were to blame for what had transpired.
"The fault lay with both clubs. One club cannot be blamed more than the other. There is a fair bit of information floating around which is incorrect," Kyte said on Tuesday.
"I was actually at the game. I am extremely clear with what happened. Both clubs are to blame."
Two Westmeadows players were carded on the cusp of half-time, sparking what onlookers say was a war of words between the sides. As the half-time break began, it's alleged Oak Park co-coach Nicholas Cook was physically assaulted by a person present at the ground.
Sources close to Cook say he had considered laying charges but is now focused on the welfare of his players.
"There were altercations which occurred between officials, spectators and players. It was deemed by myself and other EDFL staff that were there that, for the safety for all those present, spectators, players, officials and EDFL staff, the game should not continue," Kyte said.
The Oak Park Football Club has accepted the EDFL's decision. The women's team did not wish to comment. Westmeadows did not respond when contacted for comment but league sources say the club's board had also accepted the decision.
Sources close to the Oak Park team, which had finished second on the ladder, said the players had agreed that the match should be abandoned but are distraught at missing the grand final over incidents they claim they had no part in.
Kyte reiterated there was no appeals process, and called for spectators to be better behaved.
"It's a passionate game, but this is another incident that has occurred where, right across metro Melbourne this year, I am not sure of country footy, but I know of metro football, it's like some form of entitlement coming out of lockdown that people think they are no longer under any rules or regulations, that they can do whatever they want," he said.
"We have a zero tolerance to that and we will not be put in any position by any club that puts the game, us, themselves into disrepute."
Keep up to date with the best AFL coverage in the country. Sign up for the Real Footy newsletter.
Most Viewed in Sport
From our partners
Source: Read Full Article