Former volleyballer jumps like Jeremy Howe. Will he launch onto an AFL list?
AFL draft prospect Rye Penny models himself on Jeremy Howe, the high-flying Collingwood defender known for his show-stopping marks. The Magpie is one of the best markers the league's seen – receiving a league-record 35 mark of the year nominations, which he won in 2012.
"Watching him jump and take a mark, I think, 'Geez, I want to be able to do that'," reflects Penny.
The dream could be within reach for the young Gisborne talent. Penny, who grew up competing in elite athletics and volleyball, has some serious athletic skill, matching the AFL's national records in jumping, and impressed clubs with his lightning-quick sprint time.
Draft prospect Rye Penny.Credit:Simon Schluter
But despite his impressive athleticism, Penny reckons the chances of getting called up could swing either way. After injuring an ankle mid-season, the Calder Cannons midfielder/defender was sidelined for six games of the NAB League. It also saw him miss out on an invitation to the national combine in October when 68 potential draftees were put to the test in a range of skill-based trials.
Instead, Penny was invited to the Melbourne-based state combine, giving 44 players who missed out on the national event an opportunity to showcase their skill.
"It was more to prove that I did the work to come back from the injury and built up my athleticism again," Penny said.
Penny managed to do that, matching the national record for the standing vertical jump, reaching 89 cm – held by North Melbourne's Aiden Bonar in 2017. His name won't be added to the records, however, as only the national testing is recorded.
He also charged ahead in the 20 m sprint, placing him second nationally with a time of 2.84 seconds. In the running vertical jump, Penny again topped the national charts for running vertical jump, reaching 104 cm.
Football was a bit of an unusual choice within the Penny family. His parents, Deborah and Gavin, met playing volleyball for the University of Melbourne. His siblings Jay, Elanda and Abe are volleyballers. But at the start of the pandemic, Penny was at the crossroads, and decided to pursue professional footy over volleyball. It's always been his favourite sport to play, but not the sport he's been best at.
"[It's my favourite] because it involves everything. It's so unpredictable. It's got running, jumping, tackling," Penny said.
"Volleyball was repetitive. I guess I got a bit sick of dig-set-spike, dig-set-spike.
"My dad even encouraged the footy, which surprised me, actually. I thought he'd be like, 'Come to volleyball, come to volleyball'."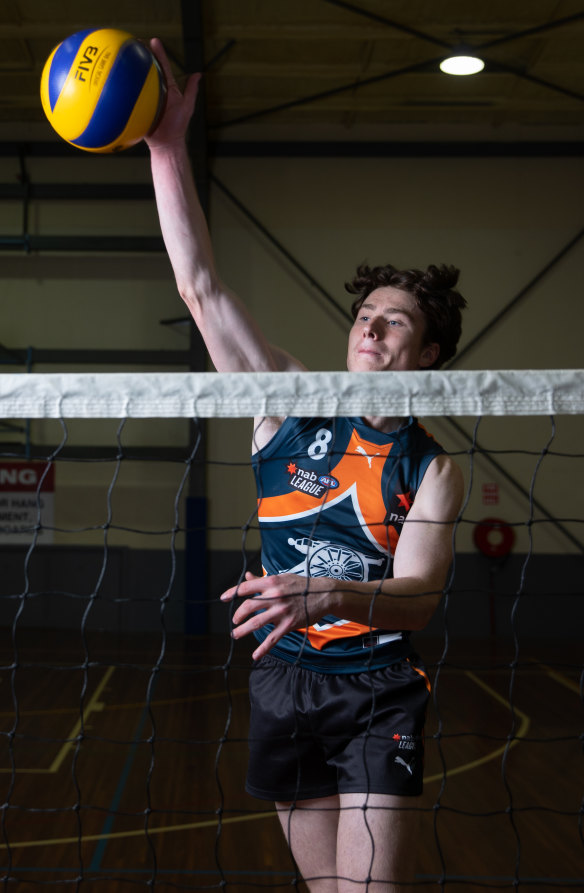 Rye Penny shows his athleticism.Credit:Simon Schluter
Penny will have to wait to see whether his athletic prowess and passion for the sport will be enough to get drafted. But given his call-up for Vic Metro in the final national championships game in September, and his combine results, things could swing his way. If they don't, Penny will play for a VFL side.
His highlight this year was playing for Vic Metro: "It completed the trifecta. I've always had a goal when I was young to represent athletics, volleyball and footy for my state. I kicked that off at the end of this year."
Draft prospect Rye Penny and Jeremy Howe.Credit:Archives
News, results and expert analysis from the weekend of sport sent every Monday. Sign up for our Sport newsletter.
Most Viewed in Sport
From our partners
Source: Read Full Article