Geelong water boy headed to his own grand final
Key points
As head water boy for the Cats on their main training day, Sam Moorfoot never thought he would be playing for his own premiership medal.
The 29-year-old Geelong Dragons player, who has Down syndrome, will play in the grand final match against Kananook on Sunday.
Friends, including Cats captain Joel Selwood, will be barracking for him.
When Sam Moorfoot landed his dream job working for Geelong Football Club, he never imagined that, one day, the top players would be barracking for him as he took to the ground.
Moorfoot has been head water boy for Geelong on their main training day for the past seven years. But this weekend he will take to the field to fight for his own premiership medal.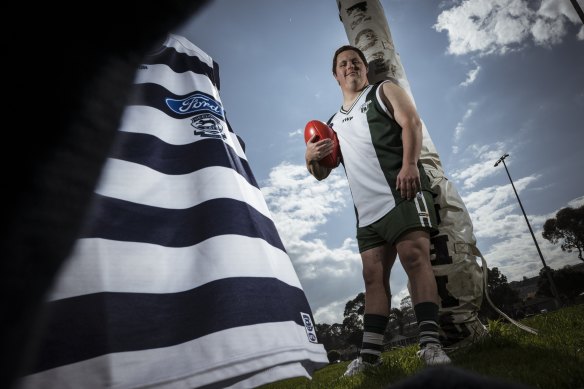 Sam Moorfoot ready for his grand finalCredit:Chris Hopkins
On Sunday, the 29-year-old is playing for the Geelong Dragons in their grand final match against Kananook, in Donvale, in Melbourne's east.
"It's very exciting, hopefully we get a win," Moorfoot said.
Sam Moorfoot has been a Cats fan since he was four.Credit:Chris Hopkins
The Geelong Dragons include players with disabilities, like Moorfoot who has Down syndrome. The club is supported by the Leisure Network, a not-for-profit organisation that supports disabled people through the NDIS.
"I love footy because of the friendships, and it's a great game," Moorfoot said.
He has been barracking for the Cats since he was four. This weekend, the Cats, including friend and captain Joel Selwood, will be barracking for him.
"Sam has let everyone know about the big game this week. He's not shy of that. He was even caught earlier in the week doing hot and cold recovery with the boys at the club. We're all really excited for him," Selwood said.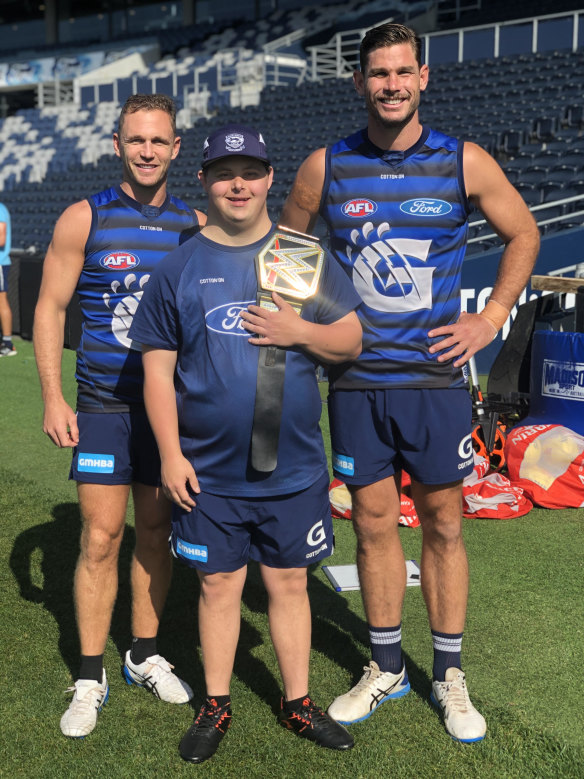 Geelong footballers Joel Selwood (left) and Tom Hawkins with Sam MoorfootCredit:Dave McPherson
Selwood, the AFL's inaugural Disability Inclusion Ambassador for 2022, met Sam in 2018 when he began working with the club.
"Sammy was working in our Cats Bistro as a volunteer. When we started developing the ground, the bistro closed.
"We then recruited Sam as head water boy on our main training day and he has never looked back since. We share a very special friendship, and I consider him like family. He has my back and I have his."
The admiration is mutual.
"I think Joel is amazing. A great role model but also a little bit cheeky. He treats me like a brother and always looks out for me," Moorfoot said.
"There isn't one player at Geelong that isn't kind and supportive. They are all my mates."
Tim Downes was involved in a working group to establish the Geelong Dragons, and met Moorfoot in 2017.
"There were no opportunities for disabled people in football after they reached 14," he said. "They get to that age [with AFL] and unfortunately have to exit and look for other sports."
Moorfoot was around 14 years old when he announced to his mum, Lindy, that he was walking away from the game.
"He came to me one day and said 'mum, I think I'll retire'. There was no other league for people with disabilities," she said.
Now the Geelong Dragons have grown to 70 players across two teams and they plan to develop a Geelong competition in the future.
Lindy is still in awe of the opportunities footy has created for her son.
"We've travelled around the state for his games. It's been a dream come true," she said.
Downes recalls Moorfoot's first game: "At his first game in 2018 there were eight to 10 Geelong Cats players there to support him.
"Sam kicked from the forward pocket and scored and then ran to the other side of the ground to celebrate with all the Geelong FC players."
In need of some good news? The Greater Good newsletter delivers stories to your inbox to brighten your outlook. Sign up here.
Most Viewed in Sport
From our partners
Source: Read Full Article