Go West: The son of a gun making his mark
When Rhylee West was drafted by the Western Bulldogs in November 2018, the son of a gun was naturally asked how he compared to his father Scott, the seven-time Charles Sutton medallist.
"I'm a right-footer. I obviously didn't get Dad's genes in the kicking area but similar to him – hard midfielder that likes to go in for the ball and also likes to go forward and kick a goal. I guess similar to Dad … with a few more tricks," West said.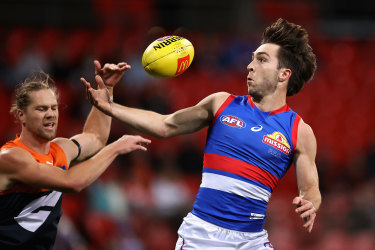 Rhylee West has made a strong impression as a high-pressure half forward this season.Credit:Getty Images
More than three years on, those "tricks" have been on show through six straight matches, the last of those a season highlight with 19 touches (12 contested), three goals, six marks and five tackles in the win over Hawthorn last Friday. That 13 of West's 19 touches ended in a Dogs score reinforced his dominant performance at half-forward, culminating in seven AFL Coaches Associations votes.
"It hasn't been easy, but I just put my head down and trying to work hard and play my role for the team at the moment, which is all I can do," West told Seven.
"My role hasn't changed for the last six weeks. With 'Baz' [Bailey Smith] being out, I've played a little bit more midfield time here and there, but just that pressure forward playing on the defenders and kick snags if I can."
Coach Luke Beveridge, the first man to coach the Bulldogs to 100 wins, described West as outstanding, and was particularly delighted he had been one of 12 goalkickers.
"That's the way we want to play, spreading that load. That means we are unpredictable to the opposition," he said.
West has more than fulfilled his role, with this expected to continue against the Brisbane Lions at the Gabba in another crunch clash on Thursday night.
Through rounds nine to 15, he has been ranked No.1 for score assists at the club (13) and second for scoreboard impact (105) and disposals inside 50 (33). His ball use has also impressed.
It's been quite the turnaround since just over a year ago when Scott West took aim at Beveridge in a social media post for dropping his son immediately after he had returned to the team in the round-seven clash against Richmond. Rhylee had five disposals that night, and was the (unused) medical substitute a week later against Carlton.
West, who had played alongside and been "close mates" with Beveridge, labelled the decision "absolutely disgraceful management" in a Facebook post that was deleted soon after. Beveridge said at the time he felt "like a little bit of a father figure to Rhylee at times", and he and the player had no issues.
That's been the case this season. West is highly regarded by his teammates for his work ethic, he is often the first to arrive and last to leave, delving into his craft with the professionalism of someone determined to have a break-out season. He has worked assiduously on his aerobic capacity, and can now finish matches strongly.
Beveridge this week said that where Scott West had quickly adjusted to what was required in terms of "ground coverage", this had taken time for his son to adjust to.
"Most young guys, when they come into an AFL program, have got areas they need to improve on," Beveridge said.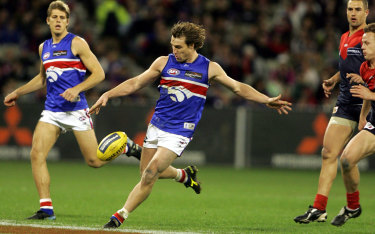 Scott West was one of the league's premier midfielders through a glorious career which netted seven best and fairests.Credit:Pat Scala
"Sometimes it's skill and game sense. Sometimes it's endurance and speed and strength. And Rhylee has had lots of things that he has focused on. That's the critical thing with him – he has really applied himself.
"He gets in early. He is an example of a player who is making the most of the resources available to him. He picks the brain, he spends the time with nearly every coach in the building and how is starting to reap the benefits.
"He has a great balance in his life. He studies hard, he is embroiled in academia, and I think he is your modern-day example as far as your balance [in life] goes. He has always had a really strong belief in himself."
Drafted as a midfielder, West has realised it will take time to break into that sphere where vaunted stars including Marcus Bontempelli, Jack Macrae and Tom Liberatore operate. At 21, there appears plenty of time for those ambitions to be reached but, for now, he is doing all he can to be an elite pressure forward that also provides scoreboard punch.
Rhylee was eight when he told his father he wanted to tread the same path as a footballer. If he can finish his career with half of the impact of his father, a 324-game champion, he has done well. But Scott was never able to taste the ultimate glory. That's one "trick" the younger West hopes to enjoy.
Keep up to date with the best AFL coverage in the country. Sign up for the Real Footy newsletter.
Most Viewed in Sport
From our partners
Source: Read Full Article