Hilder brings back Studdon, but axes star trio from NSW Origin squad
NSW women's Origin coach Kylie Hilder has brought back former captain Maddie Studdon in her first Blues squad since making the transition from player to coach.
Hilder, who hung up her boots after playing in last year's Origin defeat to Queensland aged 44, was announced as the coach of the NSW women's side earlier this year.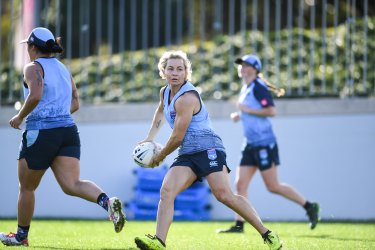 Big calls: NSW women's origin coach Kylie Hilder.Credit:NRL Photos
"That's rep footy and that's part of the game," Hilder said. "I spoke to the girls that did miss out initially before I made any other calls and gave them some positive feedback and making sure they know it's not the end for them but that they just missed out this time and there is still plenty of footy to be played."
Kezie Apps will again captain the side with Keeley Davis and Kennedy Cherrington named to make their debuts.
The interstate clash will see Hilder come up against former Jillaroos teammate Tahnee Norris, who was appointed as coach of the Maroons earlier this year.
It will mark the first time both teams have been coached by females since the inaugural women's State of Origin in 2018.
"Being the coach now, one thing I've been told in a lot of course and a lot of learning in coaching recently is you've got to have a really good relationship with your players and understand your players and that's been a massive bonus for me," Hilder said.
"Having to make those calls to those girls and knowing them already and how they would react because some do react totally different so you need to make sure you deliver it properly."
Harvey Norman NSW Women's State of Origin team
1. Botille Vette-Welsh (Wests Tigers)
2. Yasmin Meakes (Central Coast Roosters)
3. Jess Sergis (Helensburgh Tigers)
4. Isabelle Kelly (Central Coast Roosters)
5. Tiana Penitani (Cronulla-Sutherland Sharks)
6. Corban Baxter (Cronulla-Sutherland Sharks)
7. Maddie Studdon (Cronulla-Sutherland Sharks)
8. Simaima Taufa (Mounties)
9. Keeley Davis (Mounties)
10. Millie Boyle (Burleigh Bears)
11. Kezie Apps (c) (Helensburgh Tigers)
12. Sarah Togatuki (St Marys Saints)
13. Hannah Southwell (Central Coast Roosters)
14. Quincy Dodd (Cronulla-Sutherland Sharks)
15. Filomina Hanisi (Mounties)
16. Kennedy Cherrington (Cronulla-Sutherland Sharks)
17. Holli Wheeler (North Sydney Bears)
18. Brydie Parker (Central Coast Roosters)
19. Renee Targett (North Sydney Bears)
Most Viewed in Sport
From our partners
Source: Read Full Article