Mass-ive rise: This boom Bomber was a star from 'day one'
The booming left-foot kick of Essendon sensation Massimo D'Ambrosio has been widely praised since his Rising Star nomination for last weekend's stunning effort against the Swans at the MCG.
In just his third game, D'Ambrosio, 19, became the first mid-season recruit to receive that nomination in the same year he was drafted. But it was his response to a text message from Ivo Havard, the president of Point Cook Football Club, where D'Ambrosio "was a star from the minute he walked in", which left as deep an impression.
"I texted him and said: 'Well done, Massimo, fantastic effort'. And he said: 'Thanks very much, Ivo. And how is your family going?'" Havard said.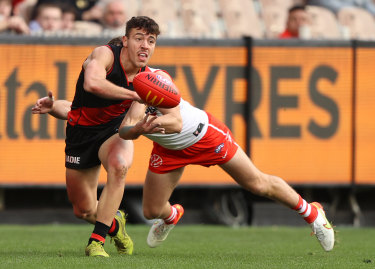 Massimo D'Ambrosio was a star against the Swans last Saturday, confirming why he was snapped up in the mid-season draft.Credit:Getty Images
"How is my family? He is very well-grounded and, hopefully, he gets a long career out of AFL footy. I am sure he will."
D'Ambrosio has averaged 17 disposals through his three games so far, including 23 in the Bombers' upset win over the finals-bound Swans, and will look to build on that against the Lions in Brisbane on Sunday.
His performance brought hugs and even tears from his parents Louie and Nadia when D'Ambrosio was embraced over the boundary fence – a particularly rewarding moment for Louie as he had been side-by-side with his son through many punishing extra training sessions at Point Cook, which helped to net four league best and fairest awards, five club best and fairests, and state representation.
D'Ambrosio began in the under-9s but was quickly elevated to the under-10s, such was his talent.
"He has always had the want in his eyes and the commitment to go to higher levels," Havard said.
"He has always had that laser kick, [that] perfect left-foot kick … it's a beautiful weapon of his. That's carried him all the way through his footy."
Then came this kicker that should make the Bombers, and their supporters, even more buoyant about Adrian Dodoro's savvy mid-season selection.
"He has always had that laser kick, [that] perfect left-foot kick … it's a beautiful weapon of his. That's carried him all the way through his footy."
"What they haven't talked about yet, or heard from Massimo, is that he has an unbelievable goal sense. He can kick a goal. I have seen him kick seven, which turned a game on its ear because he was injured and went to full-forward," Havard said.
"He just reads the play. All the kids would be struggling with windy conditions, but he would be on the right side of the pack when the ball was going to go over [the other players'] heads. He just had that natural instinct."
That was also on show when he had 40 touches and two goals as a 16-year-old in the senior side.
However, football can be a great leveller, and D'Ambrosio experienced that over the past two seasons. Back stress fractures halted his development, so, too, the pandemic and the absence of matches.
The Western Jets, in the NAB League, dealt with his injury well, but recruiters say their former co-captain lost his edge as a midfielder last season. Still, he had expected to be taken in last year's national draft, but the call didn't come.
"I was a bit disappointed at the end of last year, but I got over that quickly," D'Ambrosio said.
He rejoined the Jets this year as an over-age player, flourishing in a new role as a rebounding half-back. A strong start meant he was back on the radar – those at the Jets talk of his "his lethal left peg" – before the Richmond VFL side came calling.
He hurt his shoulder while playing in a VFL match in Sydney, fearing his mid-season draft hopes had been dashed. But Dodoro and the Bombers had seen enough. D'Ambrosio met with the Bombers only days before the June 1 draft, and he was taken with pick No.3.
Recruiting sources say Collingwood, Geelong, Hawthorn and the Giants were also interested.
"I was studying construction management and [doing some] delivery driving two months ago. My life turned around when I got my name read out," D'Ambrosio said.
"My journey is just starting, so I am really grateful."
Sam Draper congratulates Massimo D'Ambrosio after the Bombers' round 14 win against St Kilda.Credit:Getty Images
What is clear is that D'Ambrosio won't forget where his journey began.
Point Cook have already held a couple of pizza nights in honour of their maiden AFL product – with more boys potentially in line to follow. D'Ambrosio, having linked with an impressive crop of young talent despite the Bombers' on-field woes this season, has signed an 18-month contract, one expected to be extended come the off-season.
Going on what D'Ambrosio has shown so far, the local pizza shop can expect plenty of business in coming years.
Keep up to date with the best AFL coverage in the country. Sign up for the Real Footy newsletter.
Most Viewed in Sport
From our partners
Source: Read Full Article