'Matter of compartmentalising': Clarkson arrives to coach the Kangaroos
Alastair Clarkson maintains he can juggle the demands of beginning to turn around the fortunes of a club which has finished bottom of the ladder for two years, while dealing with an AFL investigation which could shape whether he is allowed to continue coaching.
Clarkson's official first day as North Melbourne coach at Arden St coincided on Wednesday with a statement from one of the five First Nations families who have made racism allegations towards Clarkson, Chris Fagan and Jason Burt from their time at Hawthorn between 2008-16, which the former Hawks officials deny.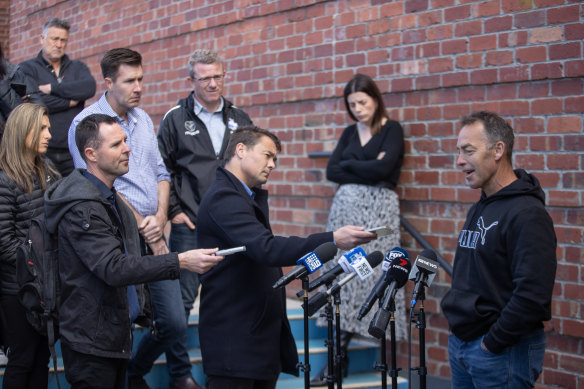 Back on deck: Alastair Clarkson had his first official day as North Melbourne coach on Wednesday, but the questions aimed his way were about his time at Hawthorn.Credit:Simon Schluter
The AFL investigation is expected to finish, complete with its findings, by December 22.
Fagan, the former Hawthorn football department chief and now Brisbane coach, and Clarkson had taken a leave of absence after the allegations first emerged, but they have now been allowed to return.
Clarkson, the four-time premiership coach, insisted he and Fagan, also a long-time football department member, have the mental capability of guiding players and leading training, while separately taking part, with their own legal counsel, in a major investigation.
"I suppose the advantage for Chris and I is that we have been around the game for a long period of time. It's just a matter of compartmentalising things," Clarkson, in a relatively upbeat mood, said.
"Obviously, the investigation will take our most significant priority over the course of the next five or six weeks, however long it takes. In the meantime, we have a really good team of people. They have worked pretty well without me the last four or five weeks.
"I am sure they will do the same. I will just come in and out of the program as I see fit but, the number one priority, will be to contribute to that investigation."
Todd Viney, the Kangaroos' new football department chief and the man Clarkson is answerable to, has played a key role recently, including through the trade period, when the club could not retain former No.1 draft pick Jason Horne-Francis. Viney also kept a close eye on Clarkson's press conference on Wednesday.
Players have also taken it upon themselves to remain focused through this late unexpected drama, coming in what had already been a tumultuous season.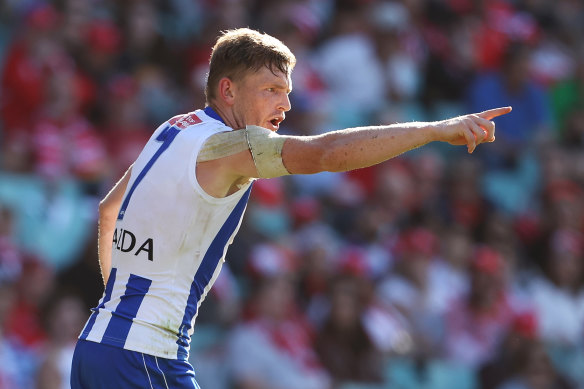 Skipper Jack Ziebell was among a group of players who took to the track on Wednesday.Credit:Getty Images
Kangaroos skipper Jack Ziebell, midfielder Jy Simpkin and emerging but inconsistent star Tarryn Thomas were among a dozen players who completed strenuous running drills at Arden St on Wednesday, despite the start of pre-season training still officially almost three weeks away. First-to-four year players are due back on November 21, but senior players are not expected back until early December, as part of their collective bargaining agreement.
In the statement released by Indigenous woman "Amy" on Wednesday, her lawyers wrote that "the AFL, Hawthorn and those who are alleged to have engaged in inappropriate conduct are all reported as welcoming this move. They have gone back to business as usual, including Alastair Clarkson and Chris Fagan being returned to their coaching posts. For Amy, it is not business as usual."
Clarkson, however, said he was entitled to the presumption of innocence.
"That [returning to work] is a decision that has been made by the club and myself," he said.
"At the minute, they are just allegations and we are going to defend ourselves pretty strongly in the investigation and, like anyone in this world, until the allegations are proven, you should be able to get on and lead your life.
"I really just want to get through the investigation with the AFL. It's been a tough four or five weeks for all of us. What we do know is that we always had the care of our players right at the highest priority of our football club."
Clarkson has endured several controversies through his career, including over his own behaviour. He once punched a wall in the coach's box at the MCG in anger, and in another case had to apologise for abusing a junior football umpire.
However, this latest controversy is of a far greater magnitude, and threatens to potentially end the career of a man considered the greatest modern coach.
"Chris, Jase [Burt] and myself have gone through a tough four weeks, without a doubt. But we are pleased that the terms of reference have been stamped by the AFL, and we just await information from the AFL on when all that will commence," Clarkson said.
"[We are] looking forward to the chance to contribute to that and, in the meantime, get on with what we need to do here."
Keep up to date with the best AFL coverage in the country. Sign up for the Real Footy newsletter.
Most Viewed in Sport
From our partners
Source: Read Full Article