'Our relationship is a funny one': The chalk and cheese defensive duo out to break a hoodoo
Save articles for later
Add articles to your saved list and come back to them any time.
Exactly four years have passed since Jake Lever played his first match in defence for Melbourne alongside Steven May.
It was Queen's Birthday 2019 and Melbourne were in free fall. Their preliminary final appearance a year earlier seemed illusory. Lever was returning from a second knee reconstruction after joining the club in 2018. May was playing just his second match with the Demons after arriving that season.
The Jake Lever and Steven May combination has transformed MelbourneCredit: Getty Images
Nothing was certain, except that the Magpies would win, as they did on their way to a shock preliminary final loss later that season.
In the 69 games Lever and May have played together since, the pair have been All-Australian, won a premiership together and established themselves as one of the game's best defensive duos.
Lever and May. The surnames fall off the tongue of Melbourne supporters, as established in their dialogue as Gawn and Grundy or Oliver and Petracca.
But another phrase comes to mind when it comes to the Demons' defensive duo. They are chalk and cheese.
Jake Lever pulls on the Big Freeze beanie for this year's FightMND fundraiser.Credit: David McPherson
"Our relationship is a funny one, it is built on a lot of banter. We are at opposite ends of our life. I am 27 and I probably act like a bit of a 40-year-old with a couple of kids. I like to be in bed and tucked in by 9pm, that sort of set-up," Lever said.
"He is 31 and he still acts like a 19-year-old. That is the banter that comes between us. We should be living in different bodies, Steve and I. That difference is something that bonds us."
The pair has made Melbourne hard to play against since landing at the Demons within a year of each other, critical to the defensive wall the team has established.
It's worth noting Lever has not played in either of the two games where Melbourne conceded more than 100 points in the past three seasons.
"[We also share the] drive of wanting to win. I think you can both see we are pretty competitive people out on the ground," Lever said.
"I always get messages from my mates asking 'what are you and Steve arguing about?' I actually walk off half the time thinking 'I did not argue'. It is just the way we speak to each other."
They are both animated talkers with fast-moving mouths, which can accentuate the emotion behind their conversation.
The pair's intent is to ensure standards remain high, and Lever claims their approach is one reason why the Demons have been contenders in the past two seasons.
But their friendship goes deeper than that. Last week they could only laugh when Lever spoiled May as he went for a mark on the member's wing.
"It's funny because we always have hiccups along the way," Lever said. "He beautifully bodied out Charlie Curnow for himself and he was going to take a mark and I came over the top and spoiled him. I looked at him and laughed and he looked at me and laughed and I just said to him 'one every game mate, one every game'."
Lever can have a laugh at himself when the time is right.
Former assistant coach Craig Jennings, who is now with the Giants, was responsible for Lever's random nickname "Ricky".
It came after Jennings – who likes to try different communication methods – read out, unbeknownst to the group, former Crow Ricky Henderson's statistics when introducing Lever.
No one picked up on what had happened when he said "welcome Ricky" but Tom McDonald made sure the name stuck.
Lever's good nature off the field is clear when he reacts with mock frustration when reminded that he (and May for that matter) have never played in a win over Collingwood on what was formerly Queen's Birthday Monday.
"Geez mate, don't remind me," Lever said.
"The fact I haven't won a Queen's Birthday and Collingwood have had the wood over us just adds another layer to the challenge."
Melbourne have not beaten Collingwood at the MCG in their past seven encounters and only defeated the Magpies four times – consecutive wins from 2015-17 – since 2007.
However, the teams are evenly matched on Monday and 95,000 people are expected to pack the stadium for an encounter between premiership contenders.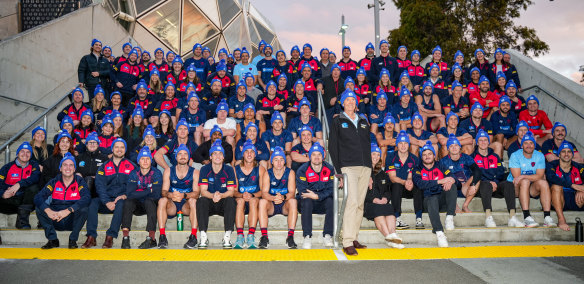 Neale Daniher addressed the Demons ahead of the King's Birthday clash with Collingwood.Credit: Melbourne Football Club
"We are looking forward to putting their best against ours, understanding that they are a bloody good side," Lever said.
He said on reflection the team did not appreciate the wins as much as they should have at the start of last season when the Demons were undefeated after 10 rounds before stopping to a walk. The mindset has changed.
"Teams are still going to think they are hunting us but I think it is important that each week we take it in our stride and really give it back to our opposition," Lever said.
"This week the roles are reversed. Collingwood are the best team in the competition at the moment and we are looking forward to challenging them."
The thought of facing that challenge has been made a little easier too thanks to the inspiration Neale Daniher provided when he visited the group on Tuesday to discuss the FightMND campaign that has elevated this match beyond one worth four points.
Lever said Daniher, again, provided him with a sense of perspective and aroused feelings of gratitude for the position he was in to play at the MCG.
He walked out of the room ready to go after Daniher told them they had a choice when faced with inevitable hardship and adversity that could lead to anxiety and fear. Daniher told the group he chose to search for the opportunity.
"It's more than the four points that we play for on Monday," Lever said.
Keep up to date with the best AFL coverage in the country. Sign up for the Real Footy newsletter.
Most Viewed in Sport
From our partners
Source: Read Full Article