'Risky investment'? What a deal for Dusty could look like
Former list manager Matt Rendell says Gold Coast would find it easier than Sydney to broker a trade with Richmond for Dustin Martin, but expects the Tigers champion to head to the Swans should he leave Punt Road.
Meanwhile, AFL Legend Leigh Matthews has declared Martin would be a "risky investment" for a new club given his recent form.
Martin's future has increasingly become a point of debate, with industry sources claiming he is tired of the Melbourne fishbowl and keen for a change.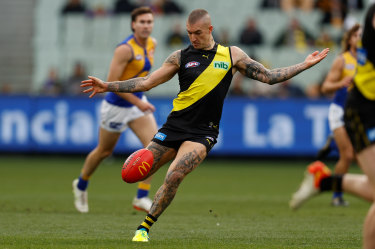 Dustin Martin's future has been a source of speculation all season, despite having two years left on his contract.Credit:AFL Photos
The three-time Norm Smith medallist, 31, enjoys spending time off in Sydney, where he grew up, and could seek a trade to the Swans or Greater Western Sydney. The Suns who have former Tigers lieutenants Wayne Campbell and Craig Cameron in key football-department roles, are another option.
Rendell, a former recruiter with Adelaide and Collingwood, said the AFL would love Martin to link up with the Suns, should he seek a trade, but Rendell believes Martin is a "Sydney man".
He said the Suns would find it easier than the Swans to fit him in their cap, and also to trade, but the Swans "love a big drawcard – and he is that". Rendell also laid out how Martin could renegotiate his contract, which has two years and more than $2 million remaining.
"He has given magnificent service to Richmond, but it doesn't sound like his head is in the right place to stay in Melbourne. It's a big wage bill, though. He would have to drop that down and sign a four-year deal if it comes to fruition," Rendell said on Tuesday.
"[A deal with the Swans would] have to have three years back-ended until 'Buddy' [Franklin] retires. The trade is probably going to require the Swans' first-round pick this year and next year's first round, unless a player is involved."
Superstar Franklin is negotiating a one-year contract extension with the Swans, who have denied having any contact with Martin. Giants captain Toby Greene said this week he would "love to play" with Martin and that his club would be "silly not to talk to him" should he seek a fresh start.
Martin was a rampaging, almost unstoppable machine between 2012 and 2020, missing only four matches – three of those through suspension.
But he has missed 10 games, six through personal leave and four through injury, over the past two seasons. That injury absence, which is likely to be linked at least in part to the personal leave, is growing, and may well now take in the final four rounds of the home-and-away season. It has added fuel to speculation that Martin's time with the Tigers could be up.
Coach Damien Hardwick has said Martin has given the Tigers more than enough and has his "blessing" to leave, should that eventuate, while club chief Brendon Gale maintains Martin has, and will continue to, thrive in his current environment.
However, over the past two years, the Martin of old has been less prevalent, prompting Matthews' comments on 3AW.
"I mean, he is still the best player in the game. He was the best player in the first half of last year," Matthews said.
"In almost a season and a half, for one reason or another, he hasn't been able to produce it, he just hasn't been able to produce it.
"In terms of whether he is going to be able to produce it again is a question, not an answer. And if he is at Richmond, you just keep going and hope like hell we can get him going again.
"For another club to invest in Dusty, I think he is a risky investment from now on."
In eight games this season Martin is averaging a career-low 18.8 disposals, less than three clearances per game for the first time since 2014, less than one score assist for the first time since '15 and, for the first time, less than two tackles per game.
While Martin has been meticulous in his preparation through the second half of his career, next season will be year 14 and at 31, he has 268 games to his credit. However, a move up forward has eased the physical impact on his body and industry sources say he should have several years ahead.
But he has already won three flags, three Norm Smiths, a Brownlow, four All-Australian jackets, and two Jack Dyer Medals with the Tigers. Is there more for him to achieve at Punt Road?
Martin, who took personal leave earlier this year to grieve the death of his father, has two years remaining on his nine-year contract. But his manager Ralph Carr told The Age in May: "He has got this year and then another two [under contract]. He is kind of set there. But who knows? Football is a funny world."
Keep up to date with the best AFL coverage in the country. Sign up for the Real Footy newsletter.
Most Viewed in Sport
From our partners
Source: Read Full Article