'It doesn't get any worse': Hunt says winless Waratahs must take good look at themselves
Karmichael Hunt says the Waratahs, and the senior players in particular, need to take a "top to bottom" look at themselves after a third consecutive defeat.
The mood in the Waratahs camp was solemn on Saturday after a 24-10 defeat to the Melbourne Rebels. It left NSW winless after three rounds of Super Rugby.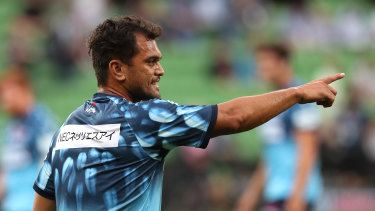 Karmichael Hunt marshals the troops against the Rebels. Credit:Getty
To make matters worse, the club has a bye in round four, meaning the players head into the last week of February still searching for their first competition points.
Players have been given a few days off and will return to training next week, but there were some candid discussions after full-time as the Waratahs continued their worst start to a Super Rugby season.
"In a nutshell, everyone needs to have a look at themselves, top to bottom, and understand the things that need to be improved on; whether that is general skill, intensity or preparation," Hunt told the Sydney Morning Herald. "A few boys had a few things to say just about what we need to do moving forward with Rob [Penney, coach] chiming in.
"Being 0-3 and as a footy player and a competitor, it doesn't get any worse, especially because we've got a bye now. It's an extra couple of weeks to ruminate over what went wrong. It leaves a pretty bad taste in my mouth."
While plenty has been made of a new generation coming through at the Waratahs, there is still lots of experience among the ranks. Senior players know they can do more.
New skipper Rob Simmons cut a dejected figure at full-time after a difficult introduction to captaincy since Michael Hooper stood aside.
Hunt, who has 47 Super Rugby caps, said senior figures needed to give a better account of themselves and lead a resurgence or watch the season go down the gurgler.
"There's a lot of caps in the top echelon of leaders and we're all disappointed," Hunt said. "We feel, like most leaders, we need to do more. It's nailing down what that is and having a clear focus on what is going to give us the best return. We are trying to problem solve and add more value."
The Waratahs' handling has been their Achilles heel in their past two losses, to the Blues and Rebels. Wet conditions have hindered their ability to play expansive rugby but coughing up so much ball has been a frustration.
"Conditions haven't helped at all," Hunt said. "Our DNA, with what we've shown over the last two months of pre-season and trial matches, we want to play expansive rugby. We want to be able to throw the ball around and offload.
"Whether or not we need to adjust to weather conditions accordingly, or whether it's holding onto the ball, it's probably a mixture of both. We cough up so much pill and the other teams use the ball smartly."
Source: Read Full Article