Inside the sports bars of Ukraine where Chelsea and Liverpool fans find escapism in the Premier League
A Liverpool fan poses with a manikin inside Anfield sports bar

Sign up to Miguel Delaney's Reading the Game newsletter sent straight to your inbox for free
Sign up to Miguel's Delaney's free weekly newsletter
Thanks for signing up to the
Football email
Nicolai could not make it to the Kyiv bar to watch the game between Chelsea and Liverpool. "Really sorry to miss this, playing an away game against the Russians in Bakhmut, a draw at the moment, but things should change when we bring on the subs," he messaged.
There was a three-line whip to attend the televised game for members of the Chelsea supporters club in the Ukrainian capital on what was their first gathering since the start of the Russian invasion.
But serving as a soldier on the "meatgrinder" frontline in Donbas was an acceptable excuse for absence. Some other members were also away fighting as this brutal war continues into its 18th month with little chance of peace breaking out anytime soon.
Football is played behind closed doors in Ukraine. Crowds, it is feared, may well attract missile and drone strikes from the Russians. Some of the stadiums where we watched games are shut down, like the 52,000 seater Donbas Arena now in the separatist 'Donetsk Peoples Republic'. Some have been destroyed like the cosey one in Chernihiv which reminded one a bit of Fulham's Craven Cottage.
Male football fans cannot watch their clubs or the Ukrainian national team play abroad. Under martial law imposed by Volodymyr Zelensky's government, men between the ages of 18 and 60 cannot leave the country as they may be eligible for military service.
Recommended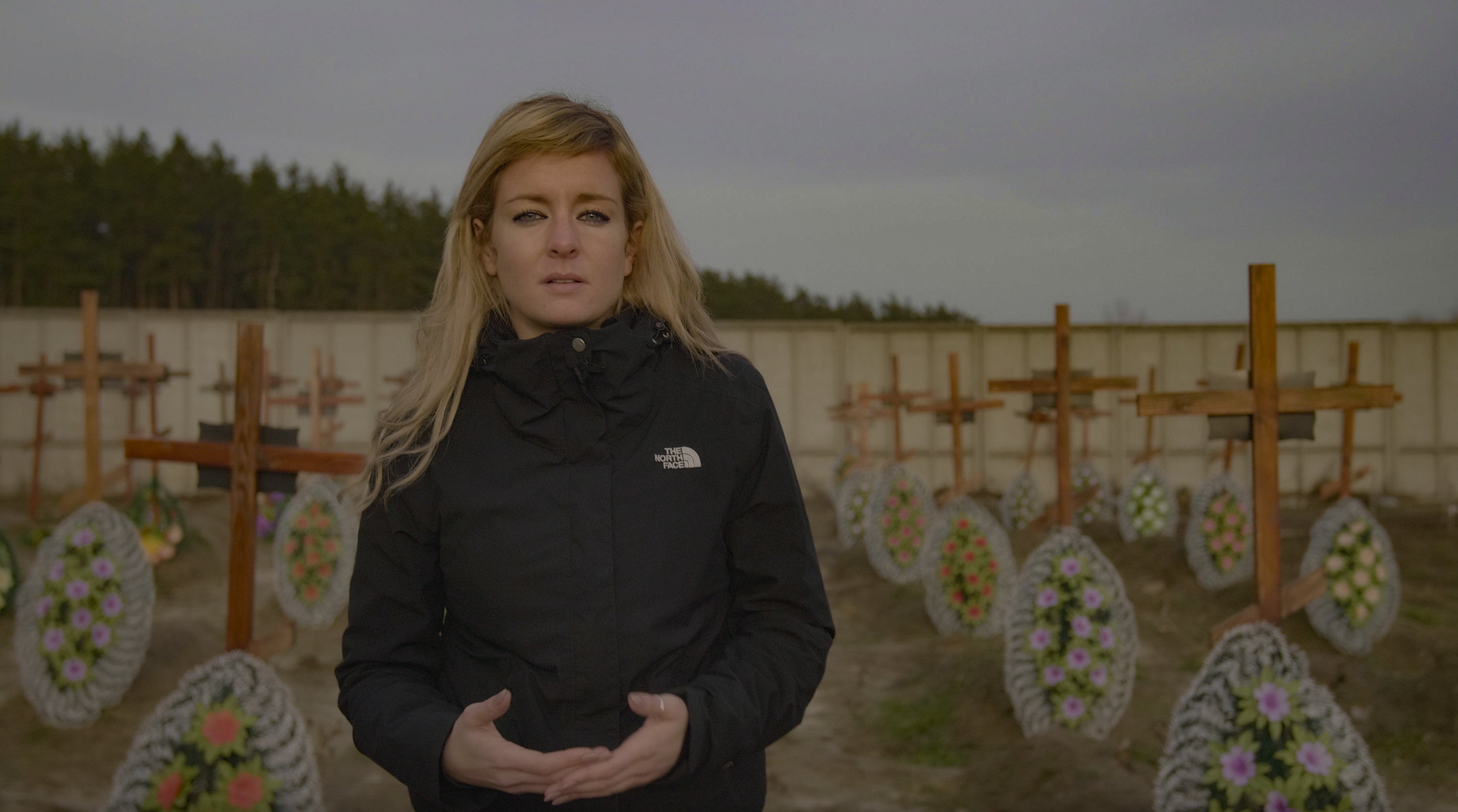 Many of the fans here have however been to England to see games in the Premier League in the past. Alex saw Chelsea beat Manchester City 6-0 at Stamford Bridge in 2007 with the Ukrainian forward Andriy Shevchenko, a legend in this country, getting the last goal, and he became a Chelsea supporter. "I remember seeing players like Drogba and Lampard, they were so impressive," he recalled. "I decided that day Chelsea was the team for me".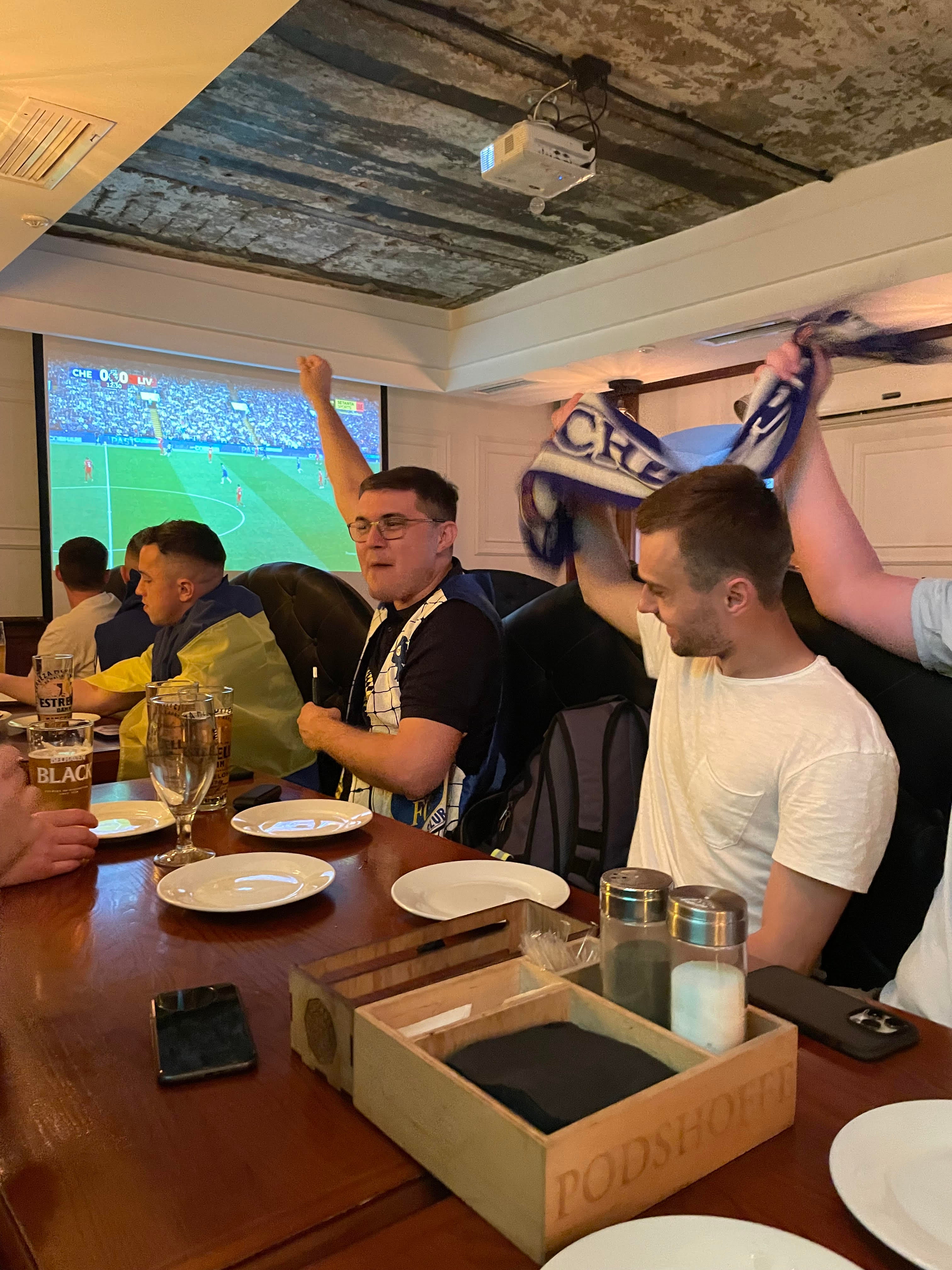 Chelsea fans in the Podshoffe
The Podshoffe bar was packed out for the game with Blues fans. The atmosphere was much like it would have been in pubs on the Kings Road – comments on the raft of new players, views on Mauricio Pochettino as manager (overwhelmingly positive), the shambles of last season, the American owners.
The chants were of the type one would hear in London. Some were a bit surreal in the setting. "I wanna be a Chelsea Ranger, I wanna live a life of danger," sounded odd at a place where danger is never far away. Among those lustily belting it out were soldiers on R&R, or those who may well get called up soon. Almost all of those not in the services are part of the civilian volunteer organisations who are at risk during bombings. Kyiv experienced another heavy barrage of missiles last Friday.
Chelsea should have won, was the verdict at the end. But the signs were encouraging and, with experience, the young players like Nicolas Jackson and Mykhailo Mudryk would take their chances better, was the view.
Across the city Liverpool fans were watching the games in other bars. Yuri's ambition is to watch the Reds play at Anfield again once the travel ban is ended. "But this war is going to go on for a long time, we can't stop until we get back all occupied territory. Our family home is in Luhansk [now in separatist Luhansk Peoples Republic]. I'll get to Luhansk before I get to Liverpool. But I hope the Saudis don't buy the whole team by then," he joked.
Yuri was cross about Chelsea gazumping Liverpool to buy Brighton's Moises Caicedo for £115m. "Same old Chelsea, too much money. They've bought so many players they don't know what to do with them. Maybe they'll make a big mistake and we'll pick up another Mohammed Salah."
There would have been no problem with Liverpool fans at Podshoffe, the Chelsea followers insisted. The game would have been enjoyed together.
However the head of the supporters club, Roman, recounted an unfriendly encounter. "We were in a pub singing Chelsea and Liverpool songs. Then this guy, Liverpool, suddenly punched me, I was in hospital for two days. I suppose you get morons everywhere." There has been an unofficial truce between the ultra fans of Ukrainian clubs since the separatist wars of nine years ago. Some of these rival supporters form the core of a few of the most hardened army units in the forces.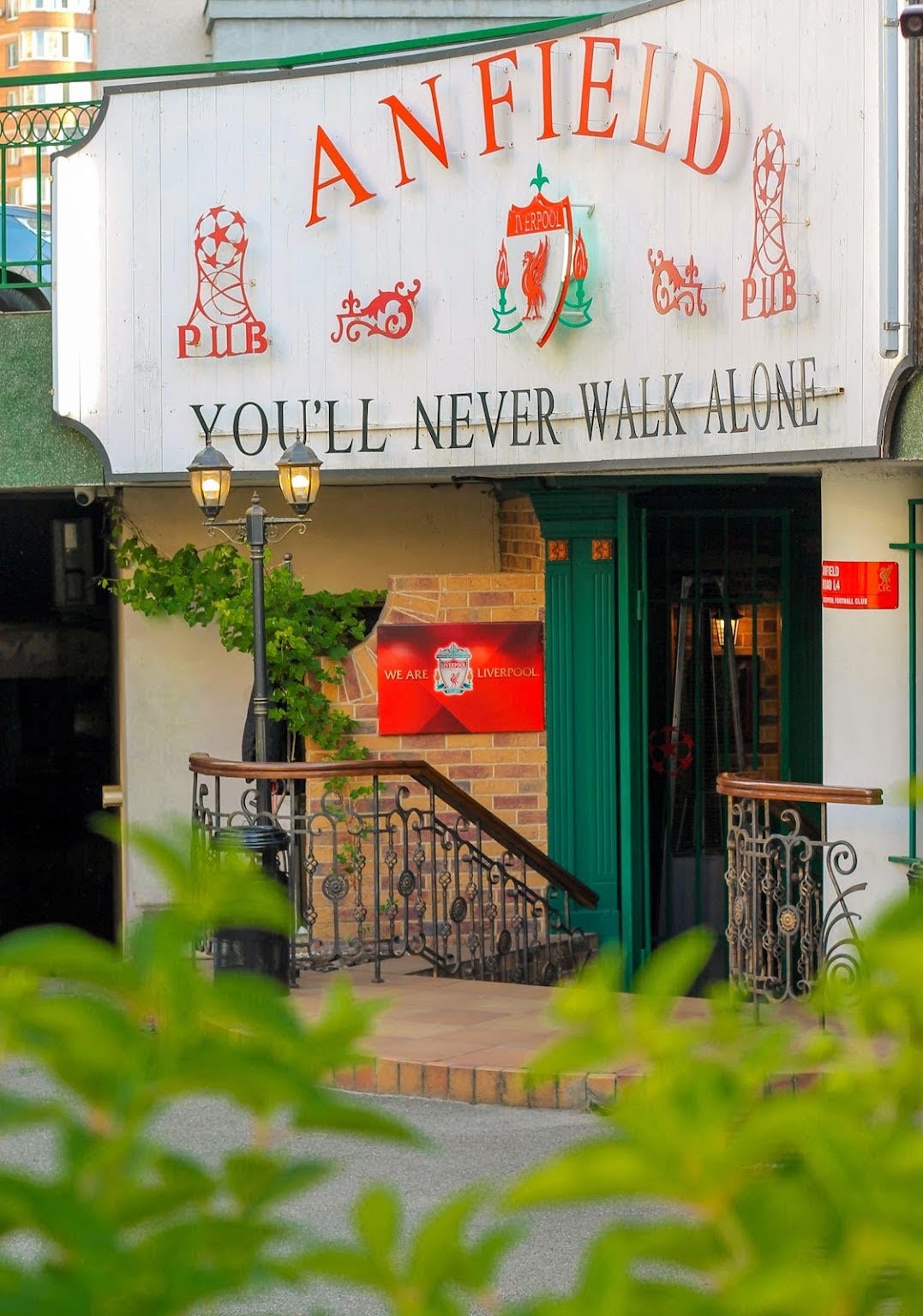 A pub named Anfield hosts Liverpool supporters in Ukraine
"Maybe the guy thought the truce only applied to Ukrainian clubs. Anyway we're broadminded, we even have separatists here," says Roman, gesturing to a man who supported Barcelona as well as Chelsea, adding with a laugh: "He is a separatist, must be a Catalan separatist."
Ihor, also watching the football, said: "You meet all sorts of people watching football, don't you. People find all kinds of ways of watching football at difficult times. We cannot forget the war going on, of course, but you also need a bit of time to carry on with other things, have a bit of distraction."
I watched the Carabao Cup final last year between Chelsea and Liverpool on TV in Kyiv. That was on the week the invasion had begun and the Russians, intent on taking the capital and regime change, were delivering pounding artillery and air strikes.
A Ukrainian friend found a basement bar which was showing the game despite the curfew. We couldn't watch it through to the end because a building collapsed nearby during the bombing and the bar owner claimed we might get buried underground if there was another hit. Chelsea lost the game on penalties after extra time.
They have tried to kill me nine times already, they have got to do a bit better than this
Demian Shevko, a Ukrainian colleague who is an ardent Liverpool fan, watched the game with me last Sunday. We saw the FA Cup final between the two teams in Kharkiv when the Russians were hammering the city. We lost again on penalties after extra time.
Along with Ukrainian friends we also watched Ukraine in the World Cup qualifiers, the elation of victory against Scotland from Dnipro, and the heartbreak of losing the final to Wales from Lviv.
One does indeed meet all kinds of people watching or talking football abroad. An English guy invited himself to join us for the Lviv match. He was ex-SAS training Ukrainian Special Forces, he whispered to me on learning that I was a reporter.
Judging by claims of all the operations he was involved in, he seemed to have taken part in every siege since Troy. The man got drunk quickly and started swearing loudly at the Welsh team to show his new-found loyalty to Ukraine, to the embarrassment and bemusement of the locals. It is not uncommon to meet these Walter Mittys in conflict zones. He was eventually asked to leave the country by officials after "an incident".
One does also meet real combatants through shared football interests, some with chequered history. Ahmed Wali Karzai, the brother of the then Afghan president Hamid Karzai, was the fierce strongman who ran Kandahar during the Taliban insurgency. I met him once just after a salvo of missiles had been fired at his home. "They have tried to kill me nine times already, they have got to do a bit better than this," he said, waving his arm at the damage.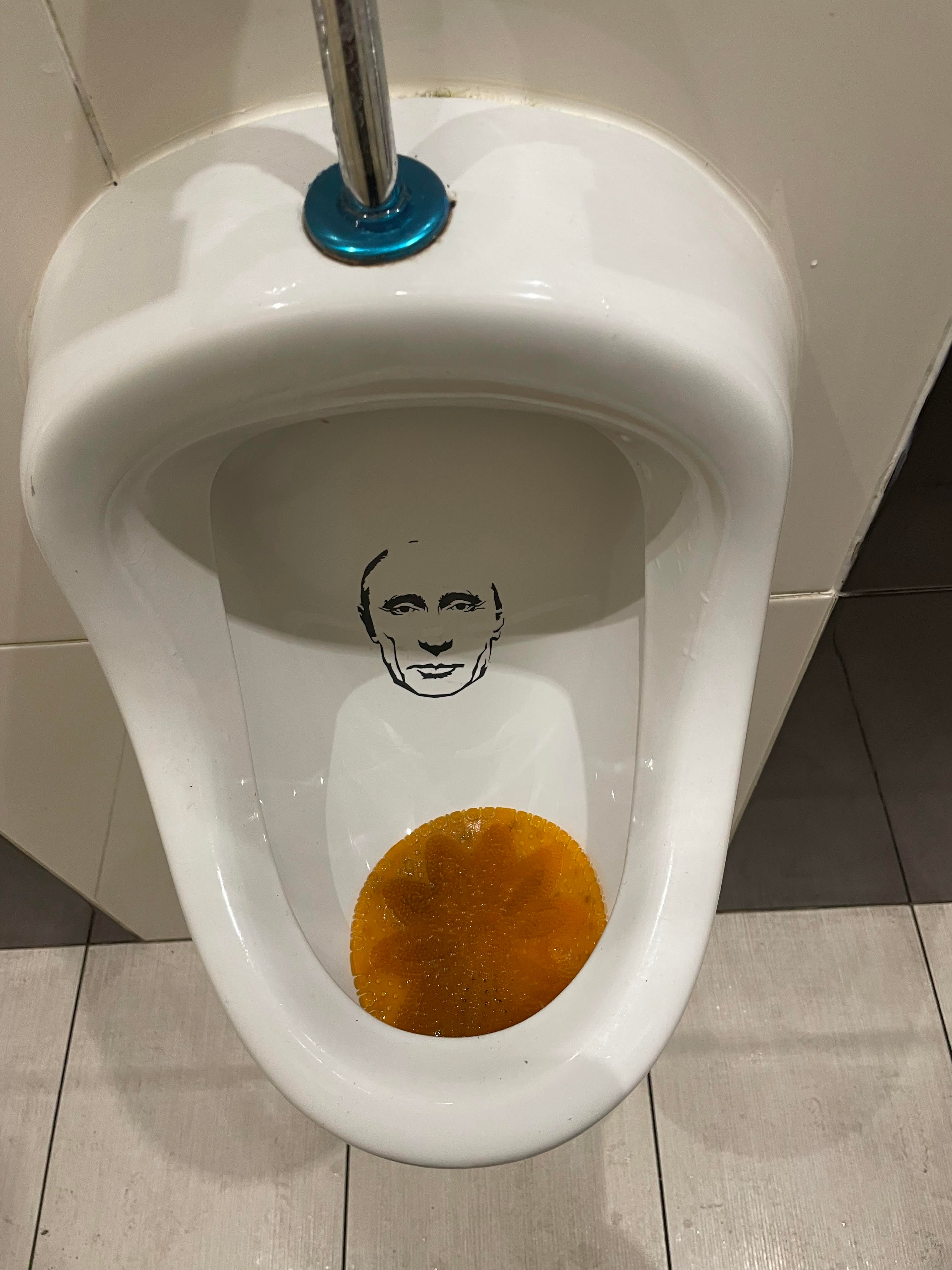 A urinal with a target: the face of Vladimir Putin
AWK, as he was known, was a Chelsea supporter and a great admirer of John Terry ("a strong leader like me") and wondered if I could get him a signed shirt of the then Chelsea captain. I managed to get one thanks to a colleague in The Independent's sports section and phoned Karzai to say that I would present it to him on my next visit to Afghanistan. But before I could do that, he was shot dead by one of his bodyguards.
This week saw the second anniversary of the Kabul evacuation, a poignant reminder of the withdrawal by the West which abandoned the Afghan people to the Taliban.
Some of us journalists covering what was unfolding also tried to do what we could to help people who would be Taliban targets. A Manchester United shirt worn by a Taliban checkpoint commander on the packed airport road helped one day. A colleague and I spent a long time talking football to the man as he stroked his Kalashnikov AK-47. The fighter, initially belligerent, mellowed enough at the end to allow through an Afghan family my colleague was trying to get to the extradition flights.
It was in those days that the Afghan women's football team managed to escape. They are now based in Australia playing in Victoria with the backing of A-League Melbourne Victory. Fifa has so far refused to acknowledge the plea of the players to recognise them as the national team.
The Afghan men's team has started playing again in Fifa approved competitions. Women meanwhile are banned from playing football, or any other sport, under the Taliban regime, as they are banned from education or work.
Talking about the Women's World Cup in Australia and New Zealand taking place now, Yulia, a 23-year-old Chelsea supporter, was full of sympathy when we discussed the plight of Afghan women players.
"Just think, you have to escape from your country, not see your home again, maybe your relations again, and then Fifa behaves like this! It is a big shame," she said. "Perhaps they can come and tour here one day when the war is over, maybe we could raise some funds for them."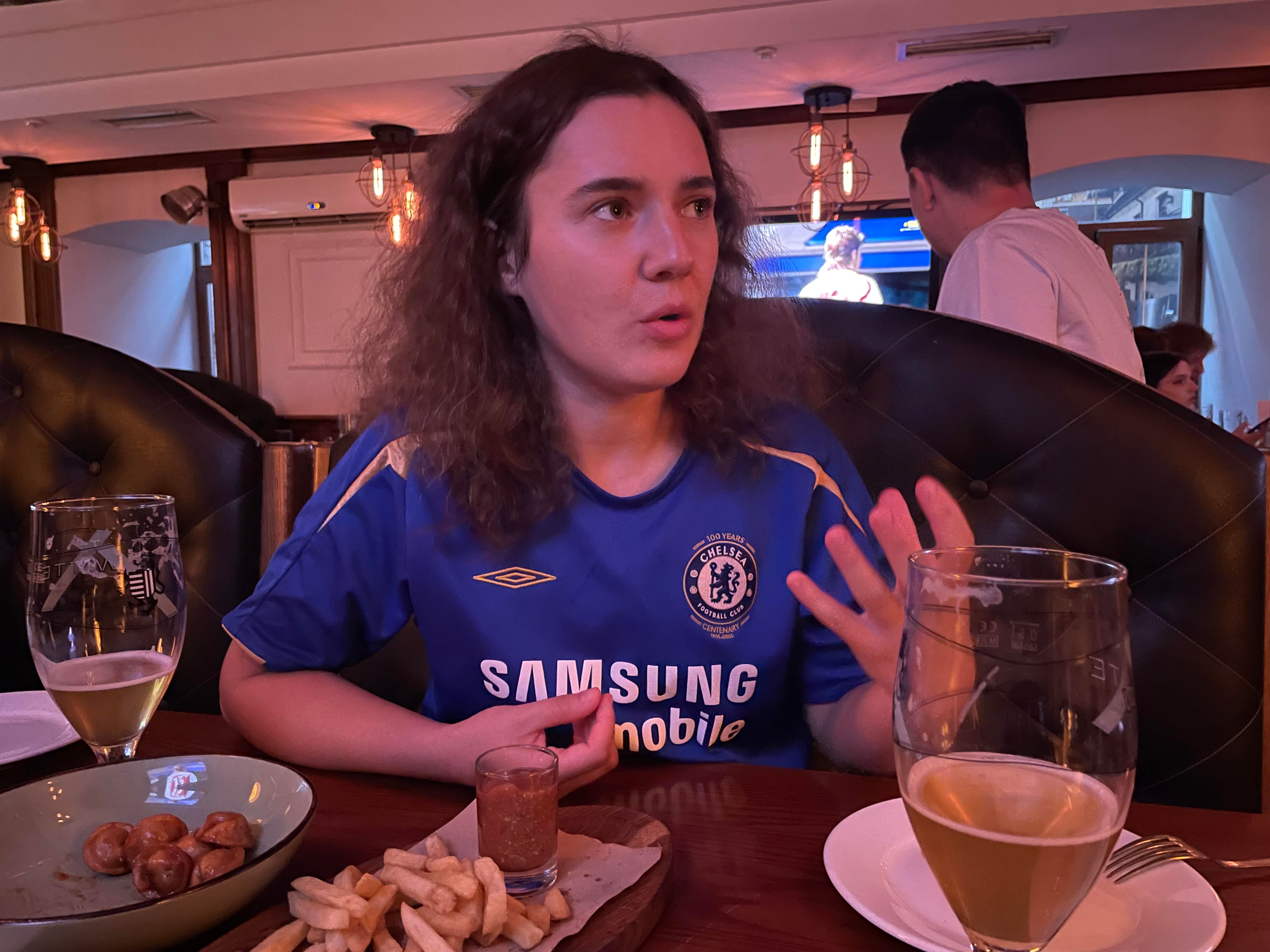 Chelsea fan Yulia
Both the Chelsea and Liverpool supporters clubs are engaged in humanitarian fundraising. Some of their members have been killed or wounded leaving partners to bring up young children. The Chelsea supporters in Ukraine had received help from Chelsea supporters clubs in the UK as well as, among others, those of Manchester United and Liverpool.
"We are very grateful for their support, they have all been very generous," said Roman, whose father, a soldier, is currently in hospital injured. "It is really good to see everyone coming together." His friend Alex added: "It'd be great if our fellow fans in England keep in touch, that's so good for morale knowing we have friends standing by us."
Recommended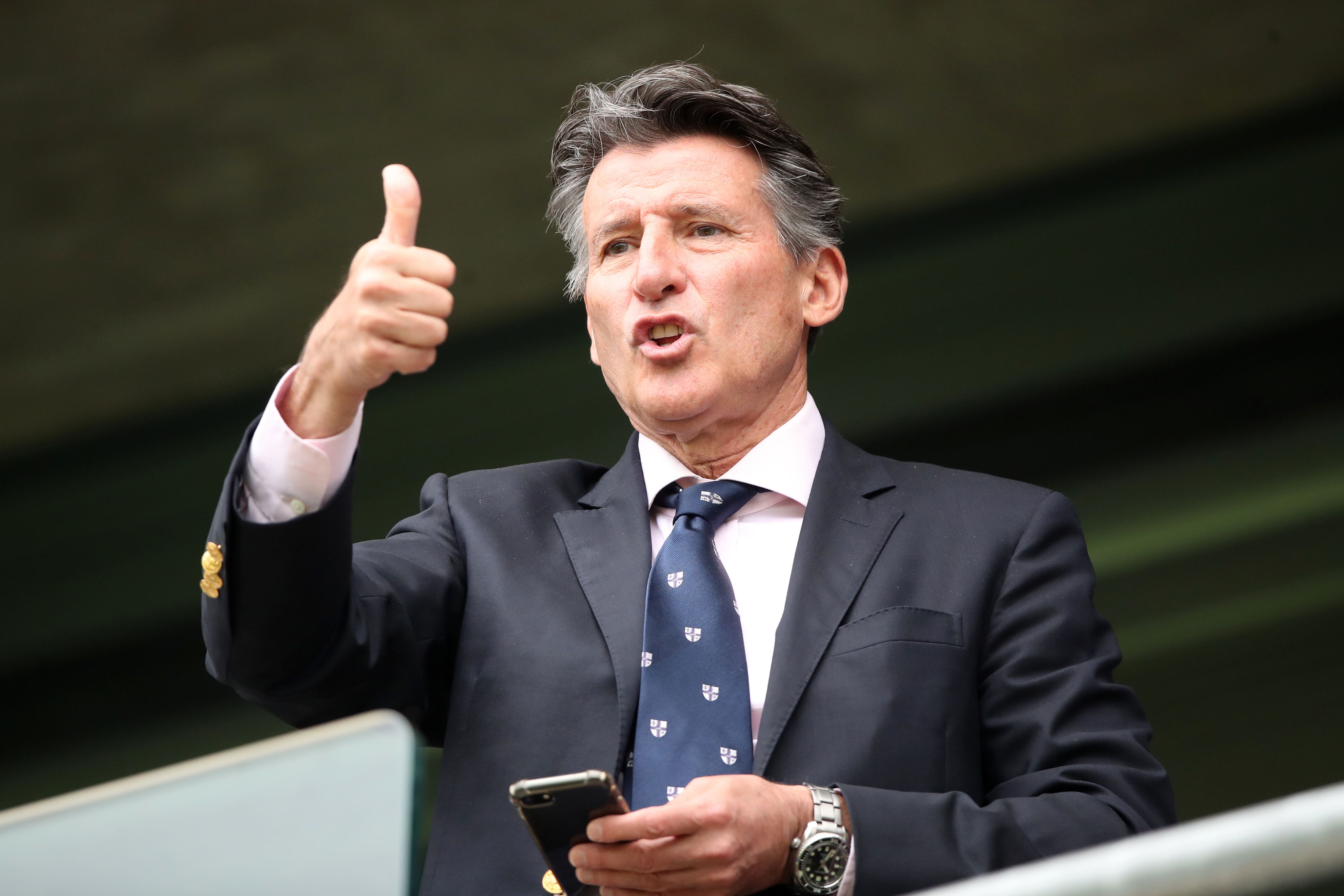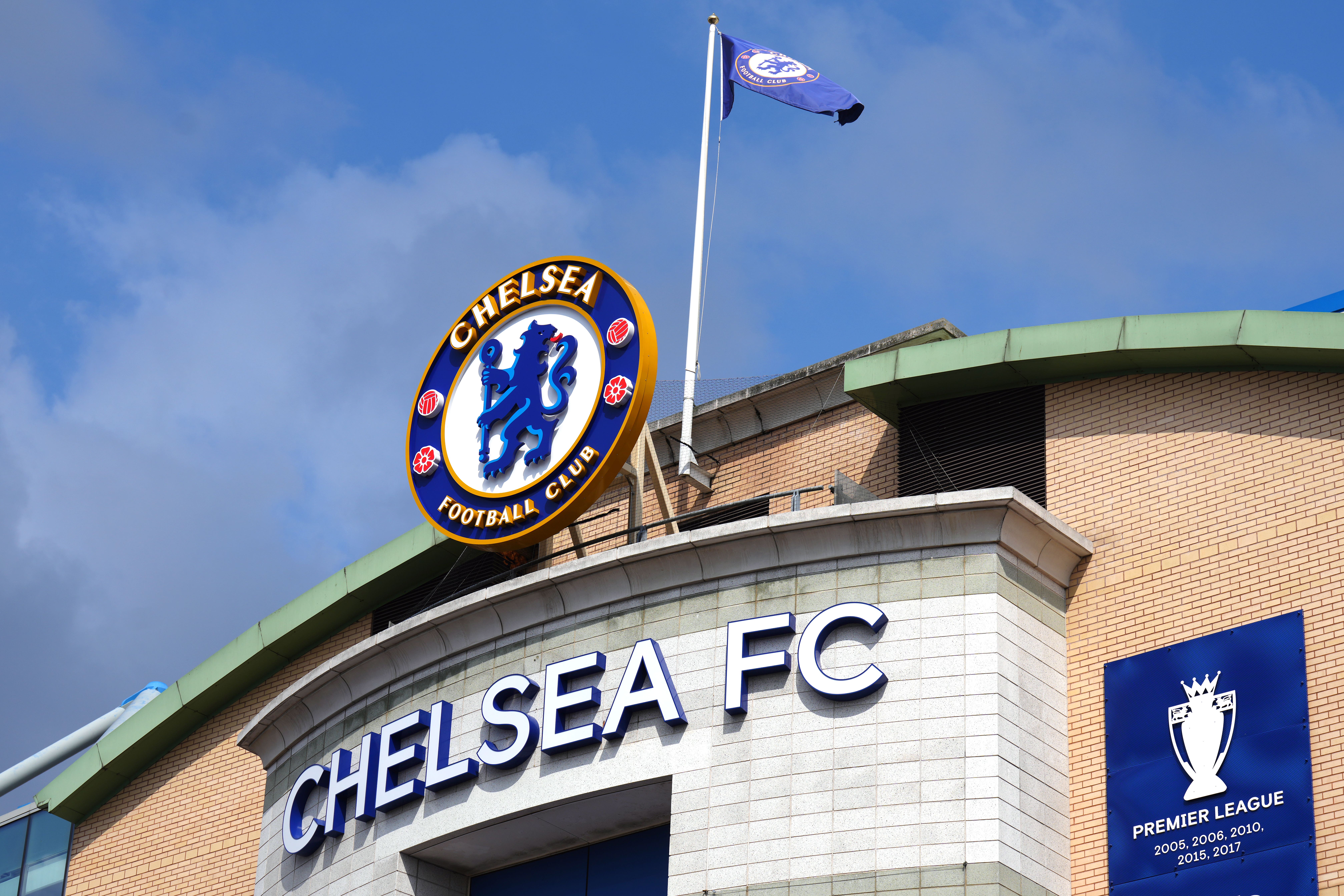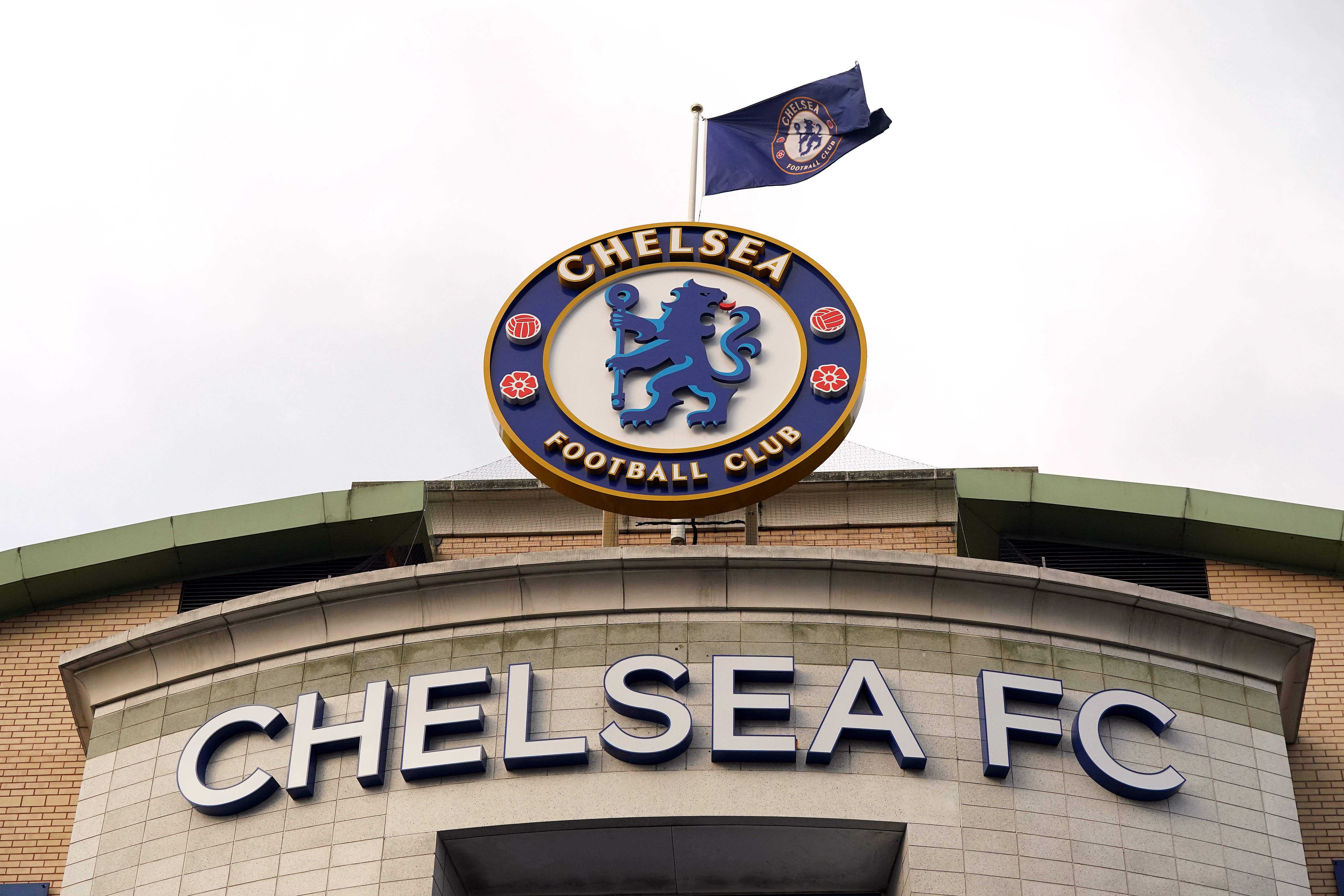 Yuri the Liverpool fan also spoke of very positive response from fans from clubs in Britain and Europe in raising welfare funds. He looked forward, he said, to thanking them in person, perhaps in a game between Liverpool and Chelsea in a European venue. I said the only one that I had attended between the teams outside England was the Super Cup final in Istanbul in 2019.
"We won that one on penalties, I remember. Istanbul would be a good location, it's been a lucky place for us, let's hope we don't have to wait too long for that," said Youri.
Source: Read Full Article