Luke Shaw admits to 'massive regrets' over pulling out of England squads and 'letting down' Gareth Southgate
Luke Shaw has admitted he has "massive regrets" over withdrawing from past England squads amid injury struggles, saying he believes he "let down" coach Gareth Southgate.
Shaw has suffered from various injury problems during his career and said on Monday that his determination to establish himself at Manchester United arguably took priority over appearing for the national team.
The 25-year-old was called up by Southgate for this month's World Cup qualifiers against San Marino, Albania and Portugal, with Sunday's 2-0 win against the Albanians marking Shaw's first outing for the Three Lions since September 2018.
"My family [and I] had a few discussions and thought that maybe I won't be able to get back into it," Shaw said when asked whether he believed he would return to the national set-up. "But deep down I always believed that I could and I worked hard, and gladly Gareth's given me another chance. Hopefully I can just impress him and stake my claim to be in the squad.
"I had a few massive regrets; I couldn't stop thinking of the mistakes I'd made in the past, especially with England. I pulled out of a lot of camps around that time. I was maybe not in the best sort of condition.
READ MORE:
Thomas Muller interview: Pep Guardiola, modern coaching and why good movement is 'logical'
Wales send three players home for breaching protocol ahead of World Cup qualifier
Cristiano Ronaldo storms off after being denied late winner for Portugal
Should football boycott the Qatar World Cup?
"I think over the last two years I've thought about it so much that that was my biggest regret, and yeah of course letting Gareth down. I tried to keep in touch with him to just to let him know that things have changed. He said he's picked me on merit and how I've been performing. The past is the past and hopefully we've forgotten about that now and can just focus on the future and I want to keep impressing him."
Shaw recorded an assist in Sunday's victory over Albania, setting up Harry Kane for the Tottenham striker's first international goal since 2019. The defender has also been in fine form for United this season, providing five assists in the Premier League while re-establishing himself under Ole Gunnar Solskjaer.
Independent Football Newsletter
Get the latest football headlines direct to your inbox twice a week
Read our privacy notice
Independent Football Newsletter
Get the latest football headlines direct to your inbox twice a week
Read our privacy notice
While Shaw has gained the trust of the Norwegian, the left-back admitted to having had some concerns that the manner of his previous withdrawals from England squads had affected Southgate's trust in him.
"I think my biggest regrets was just pulling out, how I pulled out. Maybe at the time mentally I wasn't right and like I said, I massively regretted it. But you watched the [2018] World Cup, you watch how good [England] were doing and you can see how good the squad's become and it's always a massive honour to play for your country and I wanted to get back involved with England – who wouldn't?"
Shaw acknowledged that he was perhaps quick to withdraw from past England camps due to a desire to prove his worth at United amid injury struggles.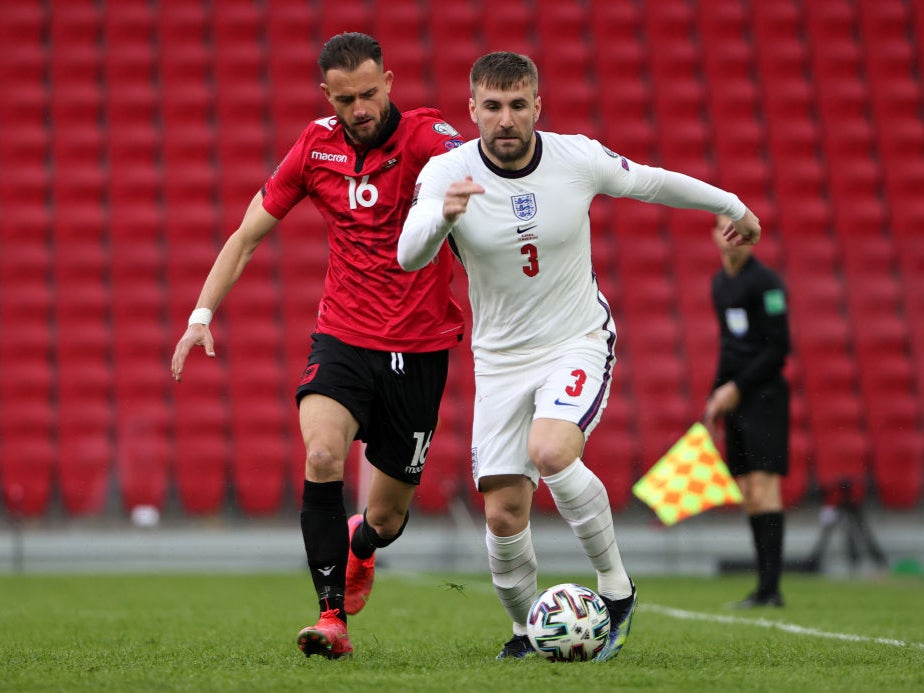 Shaw recorded an assist during England's victory over Albania on Sunday
"Yeah, maybe. I did have problems at the time, as in injuries, but maybe they were ones that that could have been dealt with. But like I said there was a lot on my mind, especially in the times I had at United.
"People obviously know what was going on, but Gareth's given me another chance and I need to prove to him that I'm different and I want to be part of this squad. I think the last few days I've been here hopefully I've shown him that and hopefully I can keep my spot in the squad.
"Playing for your country is a massive privilege and an honour. I think at times I took advantage of that and, you know, didn't really think about it too much. But of course now I just want to forget the mistakes I've made in the past, and Gareth's done that and we're just focusing on the future.
"The past is the past and let's just focus on what's happening today."
England, who currently top their qualifying group for next year's World Cup in Qatar, take on second-placed Poland at Wembley on Wednesday evening.
The qualifying matches also serve as an opportunity for Southgate to see his players in action ahead of this summer's rescheduled Euros, with a squad yet to be selected for the major tournament.
Source: Read Full Article