Roberto De Zerbi brings out Jurgen Klopp's softer side in Brighton-Liverpool love-in
Jurgen Klopp and Roberto De Zerbi embrace before kick-off at the Amex

Sign up to Miguel Delaney's Reading the Game newsletter sent straight to your inbox for free
Sign up to Miguel's Delaney's free weekly newsletter
Thanks for signing up to the
Football email
It is hard to imagine Jurgen Klopp attempting to soothe an irate Pep Guardiola on the touchline of a Premier League match, or cuddling David Moyes, or gently caressing Sean Dyche's cheeks with the palms of his hands. Yet for most of Sunday's match at Brighton, even in a game of significance against a potential rival, he treated Roberto De Zerbi with this kind of love.
Sometimes Klopp played a wise avuncular character, helping to manage De Zerbi's emotions. At other times they giggled like old friends, laughing at dubious refereeing calls. More often than not their love language of choice was an ironic facial expression: a wry smile, a raised eyebrow, or two puffed cheeks after the ball had hit the woodwork.
Perhaps it was the unseasonably warm October sunshine. Or perhaps it was the after-effects of the week before, a week like no other, in which Klopp had suggested Liverpool's defeat by Tottenham should be replayed over VAR-gate. Whatever the reason, Klopp was not going to take himself too seriously in this 2-2 draw at the Amex.
"Do you think it was a goal scoring opportunity? Hands up!" Klopp joked in his post-match press conference. He had been asked whether Brighton's Pascal Gross should have been sent off after conceding a penalty, but he wasn't going to bite. "I haven't seen it back yet. Oh, a few hands up! I'm over it. I'm too old for these kind of things."
He had treated the match in the same spirit. When De Zerbi lost his cool over a penalty claim and berated the blameless fourth official Graham Scott, having already been shown a yellow card, it was not one of De Zerbi's own staff but Klopp who strode across the technical area, placing himself between the two men and deploying an affectionate face-hold to pacify the Italian. He probably saved De Zerbi from red.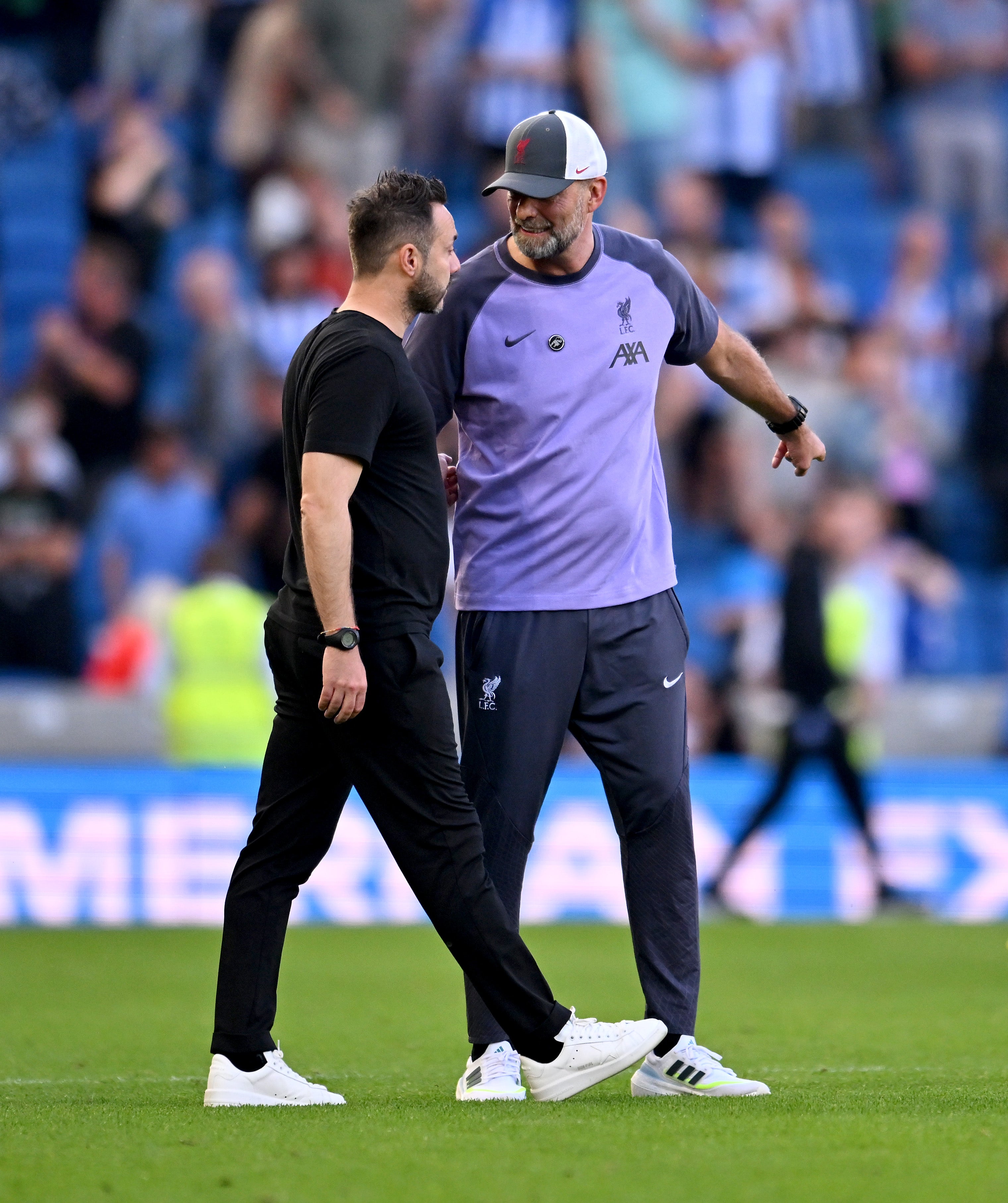 De Zerbi and Klopp share words after the full-time whistle
The game fell on the eighth anniversary of the start of Klopp's Liverpool reign. He is likely to be around for a little while longer after signing a contract to 2026, and has talked passionately about ​​"building Liverpool 2.0", but we are surely in the autumn of his time in the Premier League. When he does eventually depart, perhaps it is this unique side of him – big-loving Klopp – that will outlast any other part of his legacy, be it angry Klopp or gegenpressing Klopp or even trophy-winning Klopp.
He can get as upset as any other manager, sometimes uncomfortably so. I watched him be pretty unpleasant to a translator before a Champions League game in Salzburg a few years ago, before later apologising, rightly so. But the broad smile and booming laugh are never far away, and evidently De Zerbi brings out his softer side.
Both managers had been overflowing with respect before the match, when Klopp described Brighton as the best-coached side in the Premier League. That was partly because Liverpool were yet to win in three matches against De Zerbi's Brighton – that run is now four after this entertaining draw. And despite a feisty game, those feelings remained intact.
"I love Klopp!" said De Zerbi. "He can do what he wants. I have big respect. I consider him one of the best coaches in the world. I like his behaviour. When he says something, 99 per cent [of the time] I agree with him."
Klopp reciprocated, praising De Zerbi's brave style which is causing a cascade of goals at both ends. "I have to say I could not respect more what he is doing. I'm a real supporter of it, I'm a football lover and if someone comes in with the impact he has on football, that shouldn't be underestimated.
"In the moment when he got outraged, I used my age and tried to calm him down. I had no clue what they (De Zerbi and the fourth official) were talking about, I just saw them. If I am in a moment like this, there's a moment of no going back that appears and I think he was close to that. I tried to calm him down."
Sometimes it is entertaining to see antagonism on the touchline. But there was something heartwarming in seeing two of the Premier League's best managers enjoying the emotional waves of a football match not unlike the fans around them. These are the people our children watch and learn from; they are also the people awful football parents watch and learn from. Klopp and De Zerbi are by no means saints, but their love-in was a welcome reminder that even in the Premier League, it's just a game.
Source: Read Full Article