Steven Gerrard: Daniel Candeias red card was an 'embarrassment'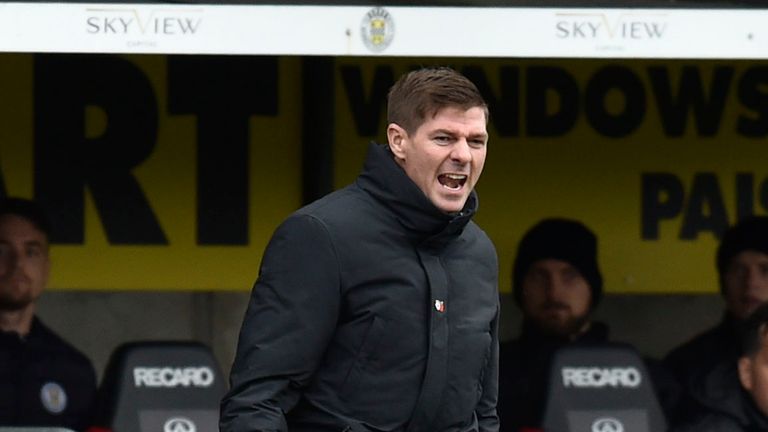 Steven Gerrard branded referee Willie Collum's decision to send off Daniel Candeias in Rangers' win over St Mirren as an "embarrassment".
The Ibrox boss also took aim at the coin-throwers shaming Scottish football after Alfredo Morelos became the latest target to be struck.
Candeias sent Rangers on their way to a much-needed win over St Mirren when his cross drifted into the net 10 minutes from time, but the substitute failed to see out the 2-0 win as he was shown a second yellow in the wake of Morelos' stoppage-time effort.
St Mirren 0-2 Rangers
As it happened
Gerrard had no complaints about the first caution, which he received for leaping into the away end as he celebrated the opener, but he was left furious by Collum's decision to flash yellow again as Candeias attempted to shrug off Anton Ferdinand, who had placed him in a headlock and appeared to aim a jab at Candeias' chin.
He said: "Daniel deserved his first yellow card. He was emotional and got carried away after scoring a goal.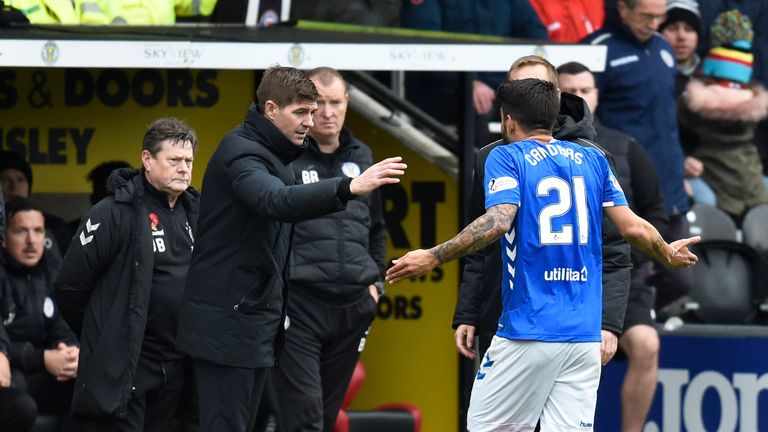 "There was a coming together with Anton Ferdinand and he doesn't do anything other than try to get the man off."
Gerrard was then interrupted as footage of the incident appeared on the Simple Digital Arena press room TV and erupted: "So Daniel gets a yellow card for that? Come on, lads. Be serious.
"The second yellow card is embarrassing. There is your evidence, that's what you're dealing with."
Gerrard was just as firm with his condemnation when quizzed about pictures apparently showing Morelos being struck by a coin as he celebrated his goal two minutes into second-half stoppage time in front of the home support in the West Stand.
Coming just four days after Neil Lennon was felled by an object hurled from the terraces at Tynecastle, he asked: "Is it going to have to take someone's eye to come out or someone to be badly hurt from an object for us to make it stop?
"These people shouldn't be at a football match. You just ban them forever. It's that simple. Then it will stop."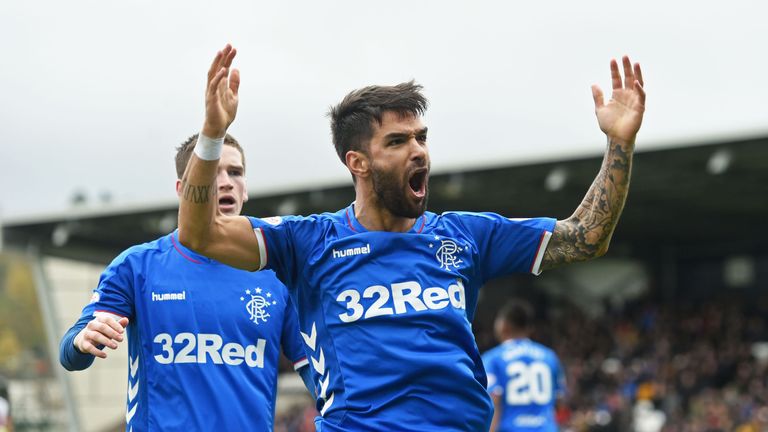 The result at least brought Gerrard some joy following three games without a win. His side had toiled amid the wind and rain battering down on Paisley before Candeias' cross was swept past Saints goalkeeper Craig Samson by a heavy gust.
Morelos made sure of the victory in stoppage time as he drilled his 14th goal of the season home from a tight angle.
Gerrard said: "We know these teams have got a lot to play for and are going to fight and be difficult to break down. The pleasing thing for me is we didn't get frustrated.
"The lads kept plugging away and creating chances. Ironically it came with a little bit of luck but I believe you make your own luck in this game.
"According to Daniel he meant it. I've been in the game a long time and haven't seen anyone score one of those, not on purpose anyway."
St Mirren have now taken just one point from the last 33 available and boss Oran Kearney admits his side's luck was out again.
"We're disappointed to lose the game," he said.
"The first goal is very important and if it's a shot and it went in then I'll doff my cap but if it's a cross then that's a disappointing one.
"The first goal into the last part of the game was always going to have a huge effect."
Source: Read Full Article