Why Wrexham? How Ryan Reynolds and Rob McElhenney came to buy a club they'd never heard of
Reynolds and McElhenney watch on at Wrexham's Racecourse Ground

Sign up to Miguel Delaney's Reading the Game newsletter sent straight to your inbox for free
Sign up to Miguel's Delaney's free weekly newsletter
Thanks for signing up to the
Football email
The best place to start a Hollywood love story is at the beginning, and in this case with a question: what would movie star Ryan Reynolds and TV star Rob McElhenney want with an ailing football club in North Wales?
Why buy any team, but especially this one, drifting without direction four tiers below the Premier League, fighting for attention in their own town, lost amid a sea of Liverpool and Manchester United shirts on the school playground?
The answer involves boredom and luck, intrigue and inspiration, strategy and a little romance too.
The beginning
There is a third character in this story: Humphrey Ker is a British comedy writer and actor, and without him none of this would have happened.
Recommended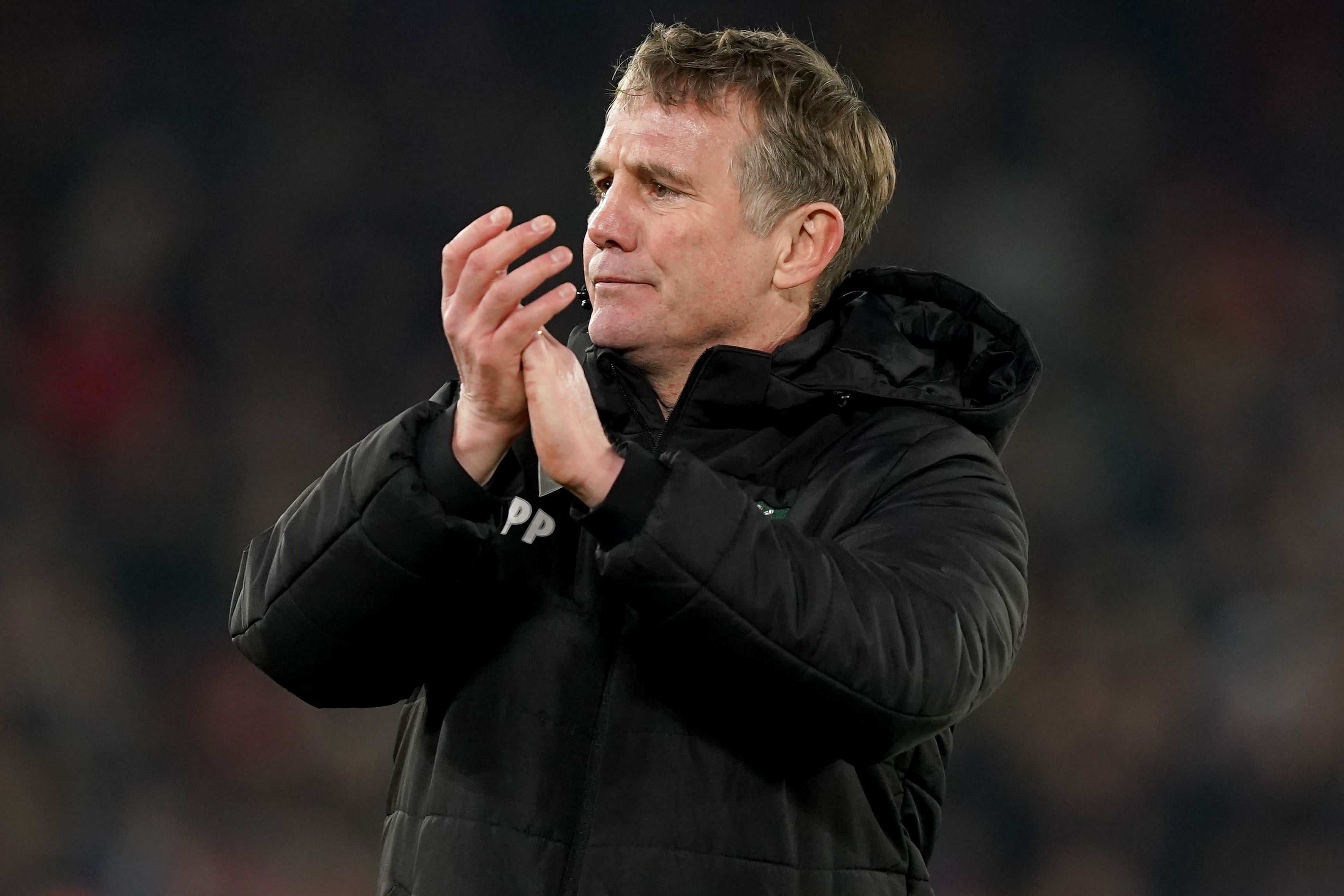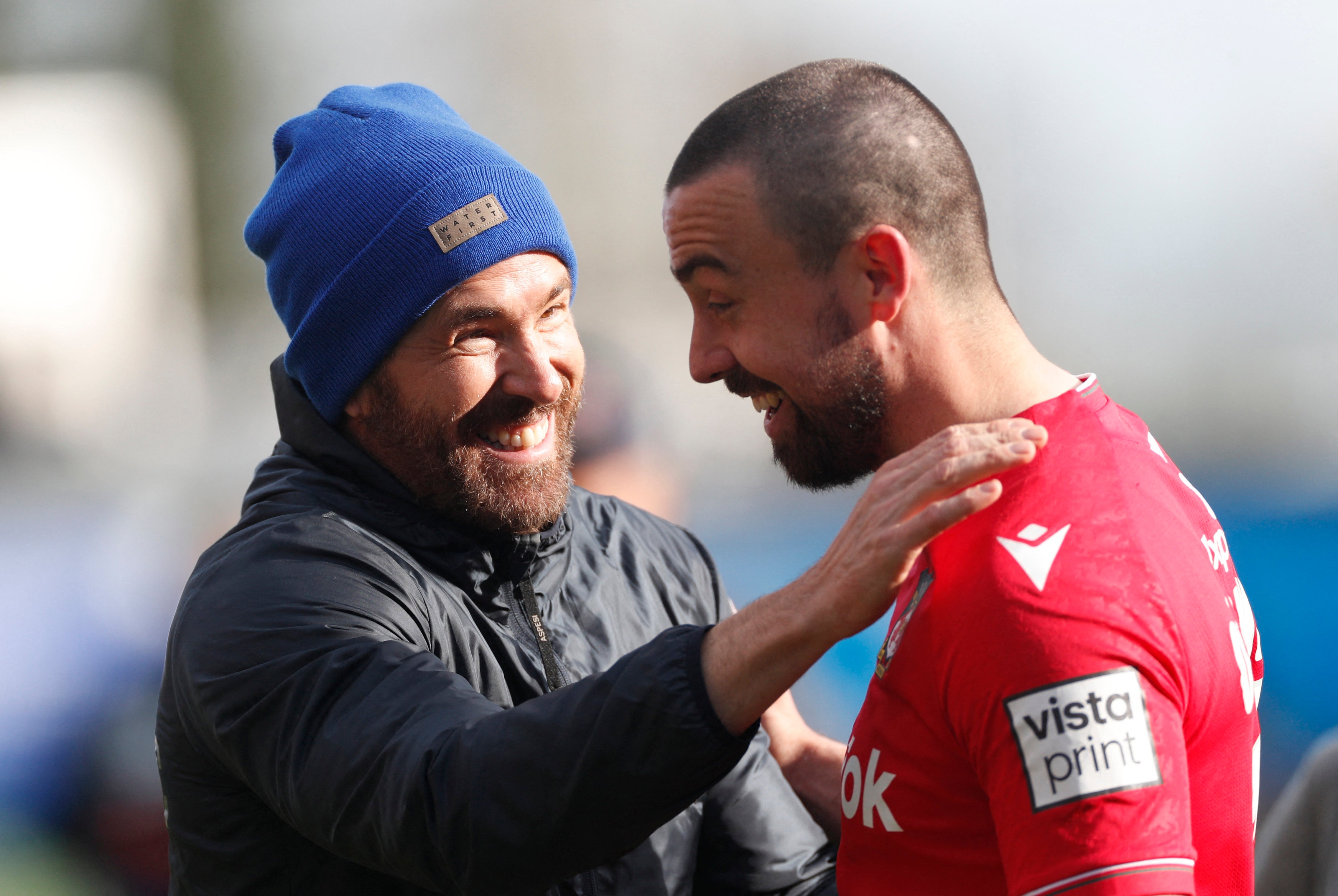 Ker went to Eton, studied at the University of Edinburgh and began a career in entertainment with an award-winning show at the Fringe. He appeared on panel shows like Have I Got News For You before moving to the US to write scripts for TV pilots, and there he worked with McElhenney on his new show Mythic Quest.
Around this time Jurgen Klopp's Liverpool side were at their zenith, and often during his lunchbreak Ker would steal an hour to watch his beloved Reds. McElhenney would gently mock Ker's love of soccer but he was intrigued by the emotion evoked by some of the more extraordinary events that year, like Liverpool's heart-stopping, stomach-gripping Champions League semi-final win over Barcelona at Anfield.
During the pandemic, Ker recommended McElhenney watch the Netflix series Sunderland 'Til I Die to understand what football was really about and why clubs resonated more deeply in their communities than most US sports franchises. McElhenney sat down to watch with his wife, the actor Kaitlin Olson, but they weren't taken in by the first episode and switched off.
Then, when Olson went out of town for a few days to visit family, McElhenney tried again amid the onset of lockdown boredom. He binged two series and messaged Ker immediately.
McElhenney was gripped by the jeopardy of promotion and relegation, a concept alien to most American sports fans, and told Ker he wanted to make his own documentary with his own club. Enthusiasm is a contagious thing, and despite his scepticism Ker was soon surfing the computer game Football Manager to come up with a shortlist of potential candidates.
McElhenney had made some money with his hit TV show It's Always Sunny in Philadelphia, but he certainly didn't have the billions needed to purchase a Premier League giant, so Ker identified half a dozen clubs in need of new life. Hartlepool and Macclesfield were among them, but Wrexham stood out for two reasons: they retained a loyal and passionate fanbase still turning out for National League games in their thousands; and they served a giant catchment area without a major club for miles in any direction.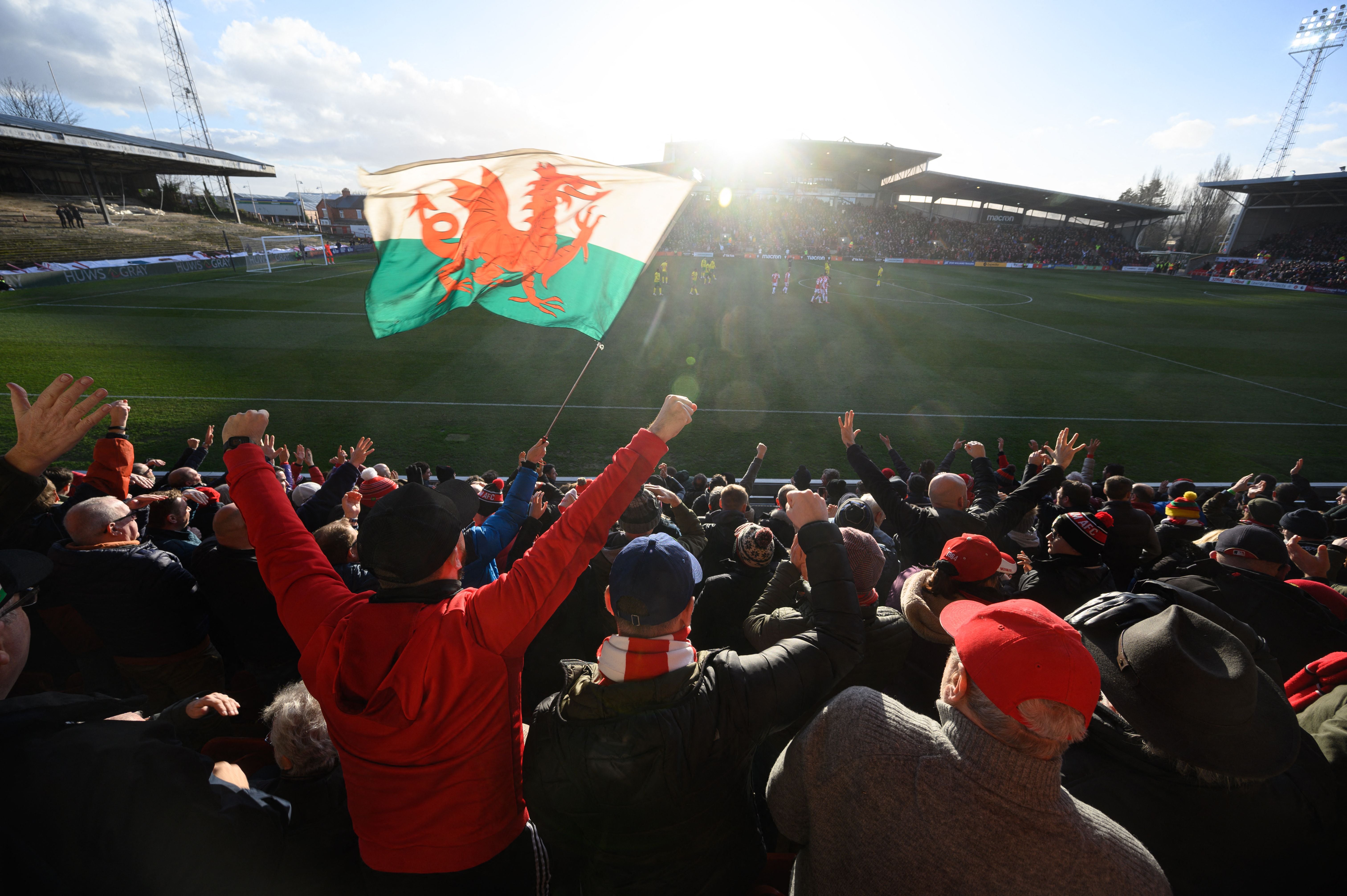 Wrexham have retained a loyal fanbase despite their struggles
Ker made contact with the Wrexham Supporters' Trust, whom he found in need of investment after the pandemic and open to ideas. McElhenney meanwhile wanted a big-name sponsor and reached out to Hollywood star Reynolds, who owned several brands. "I had TV money," McElhenney explained, "but I needed movie money."
McElhenney had never met Reynolds but they had become friends online after Reynolds sent a complimentary message about his favourite scene in It's Always Sunny. Then came the reply that sent a jolt of electricity through McElhenney and Ker, that made them realise this wild, ridiculous idea was about to get global attention: I don't want to sponsor Wrexham, I want to buy them with you.
The hook
In November 2020, RR McReynolds LLC bought Wrexham AFC for £2m, following a poll among the club's 2,000 Supporters' Trust members who voted overwhelmingly in favour of their new owners. Reynolds could have said that it was love at first sight, that he set eyes on the old Racecourse Ground and his jaw dropped. But that's not what happened.
As Reynolds put it: "The biggest challenge was the community going 'what the f*** are these two guys doing here?'" He needn't have worried, because they were welcomed by a town deliriously bemused by their new visitors. They signed shirts and posed for selfies as people from Aberystwyth to Colwyn Bay flocked to Wrexham.
But the reality was that two famous actors had bought a football team muddling along in non-league, playing a game they didn't know much about, in winter, in Wales. The action was often a stodgy watch and it all felt a long way from the excitement they'd seen on Netflix.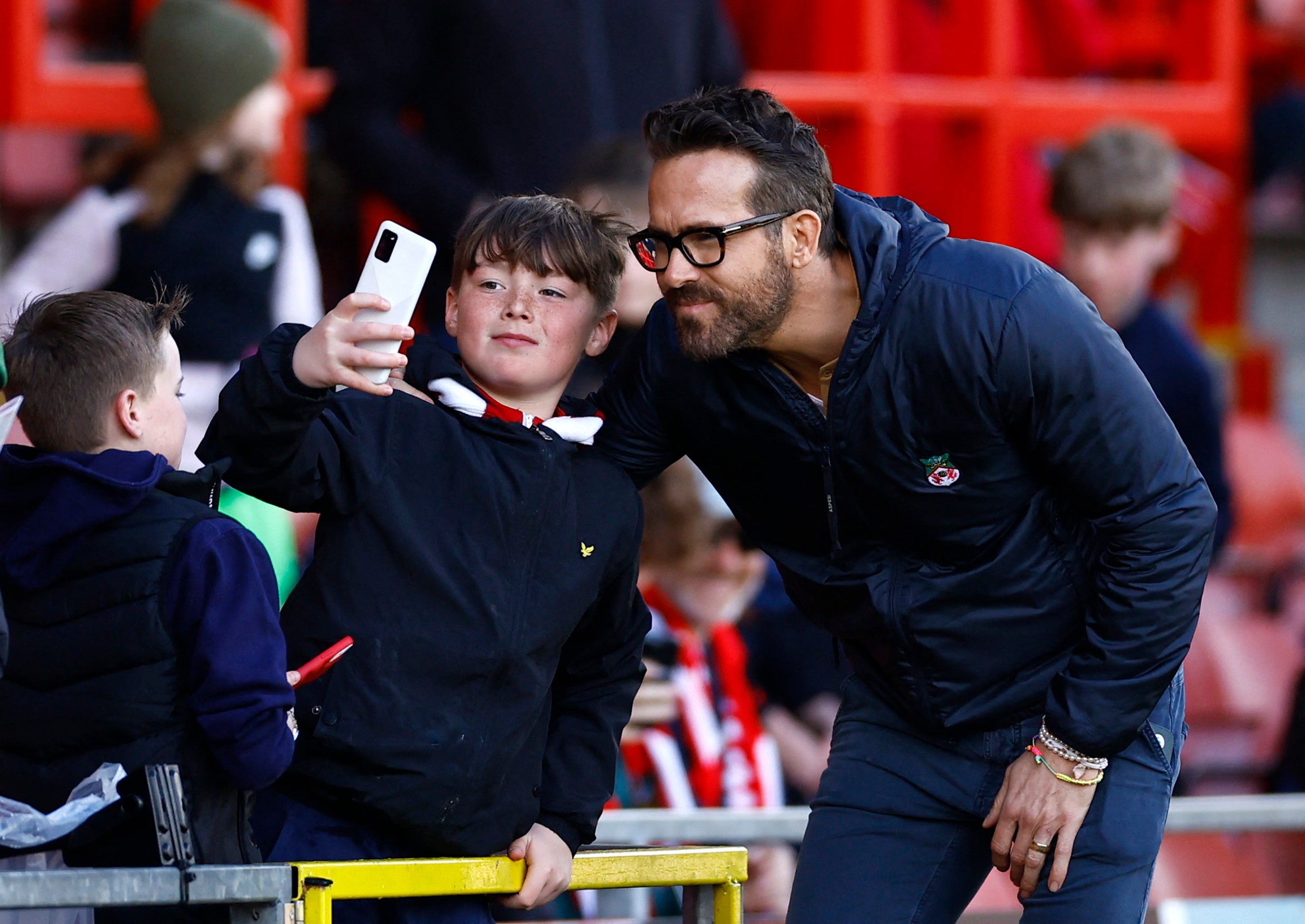 Ryan Reynolds poses for a selfie with a young Wrexham fan
At this point, Reynolds and McElhenney thought it would be an exercise in philanthropy rather than passion. The new owners invested in community schemes and hired voluntary staff like Wrexham's disability liaison officer. They stayed in the town and drank in The Turf pub over the road.
But on 2 April 2022, Wrexham played Stockport in the FA Trophy semi-finals, and everything changed. The game had all the ingredients: an intense rivalry, a fierce atmosphere and a place waiting in the final at Wembley Stadium. Wrexham stole the game with a 91st-minute winner that sparked bedlam at the Racecourse Ground, and it was all too much for Reynolds, who was left sobbing in the corner of his executive box. It was his first taste of football euphoria, and he was hooked.
The middle
Right from the start, McElhenney and Reynolds were open about doing it their way. They wanted to build a business. They wanted to make a behind-the-scenes documentary. A cynic might see Welcome to Wrexham as PR fluff, which perhaps it is, but then these are Hollywood stars and this is what they know. McElhenney describes the series as "a love letter to working-class communities" like those he knew growing up in Philadelphia.
They have admitted their weaknesses — Reynolds jokes that "your average five-year-old in Wrexham has forgotten more about football than we will ever know" — but know their strengths: they are popular and charismatic and they can tell – and sell – compelling stories.
We didn't know anything about the sport – now we're obsessed with it
Reynolds and McElhenney have deployed humour to great effect. One of the first ways they generated publicity was to promote the club's shirt sponsor, Ifor Williams Trailers, with a video urging viewers to invest in a trailer for a loved one this Christmas – "especially if they own livestock".
They have thrown themselves into everything about Wrexham, engaging with the community and even learning bits of Welsh. McElhenney managed to say the town name Llanfairpwllgwyngyllgogerychwyrndrobwllllantysiliogogogoch during a talk show appearance, while Reynolds is reportedly looking to buy a house in the nearby village of Marford.
But alongside that enthusiasm, they have also been strategic in their approach. The trailers were soon replaced by TikTok as the club's leading sponsor which brought a tenfold increase in revenue. Other major brands like Expedia came on board too as Reynolds and McElhenney cranked up the publicity, appearing to millions on The One Show in the UK and The Late Late Show in the US.
They hired the former English Football League chief executive Shaun Harvey to help run the club, alongside Ker, handling contract renewals and transfers. Coaxing top talent like Paul Mullin, the League Two player of the year, and Ollie Palmer from his hometown club AFC Wimbledon has transformed fortunes on the pitch, and Wrexham now stand on the brink of promotion back to the Football League for the first time in almost a decade.
In the meantime, the owners have become deeply emotionally invested, describing symptoms akin to a lovesick teenager.
"We didn't know anything about the sport – now we're obsessed with it," Reynolds says. "It's a living, breathing, screaming nightmare for me. Now I love this sport so much that I hate it. It's one of the greatest things that's ever happened to me and genuinely one of the worst."
The end
Delve through fan forums from earlier this season and you could still find the occasional sceptic, a Wrexham fan who yearned for the old days when there was no delineation between supporters and owners, when club decisions were made in the pub by the same people standing on the terraces.
But critics are few and far between now. Winning helps, of course, but there is more to the new ownership than on-field success. Reynolds and McElhenney have taken the time to learn that football clubs are delicate things, especially historic ones like Wrexham. They are not just sports teams but century-old community institutions; not just businesses but cultural artefacts to be carefully preserved. Wrexham were founded in The Turf in 1864; it is not an exaggeration to suggest they might have followed clubs like Bury and Macclesfield to the wall without new investment.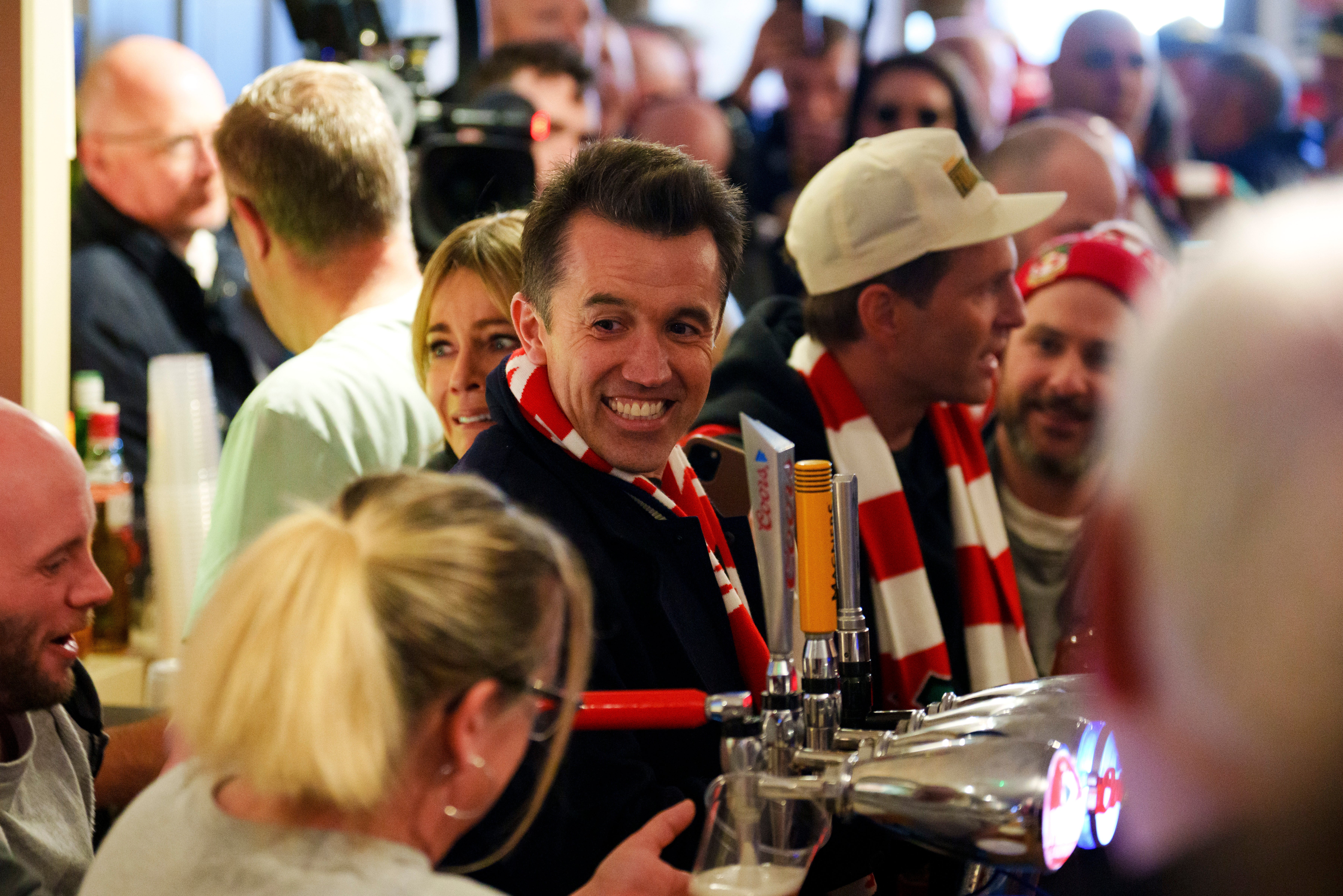 Rob McElhenney gets the beers in at The Turf pub
The Turf is teeming these days, Reynolds' favourite pub now transformed into a tourist hotspot. Plans are in place to renovate the stadium and increase its capacity to 16,000, making it fit to host regular international football again – the Racecourse Ground is the oldest international football venue still in use having first hosted Wales in 1877.
Recommended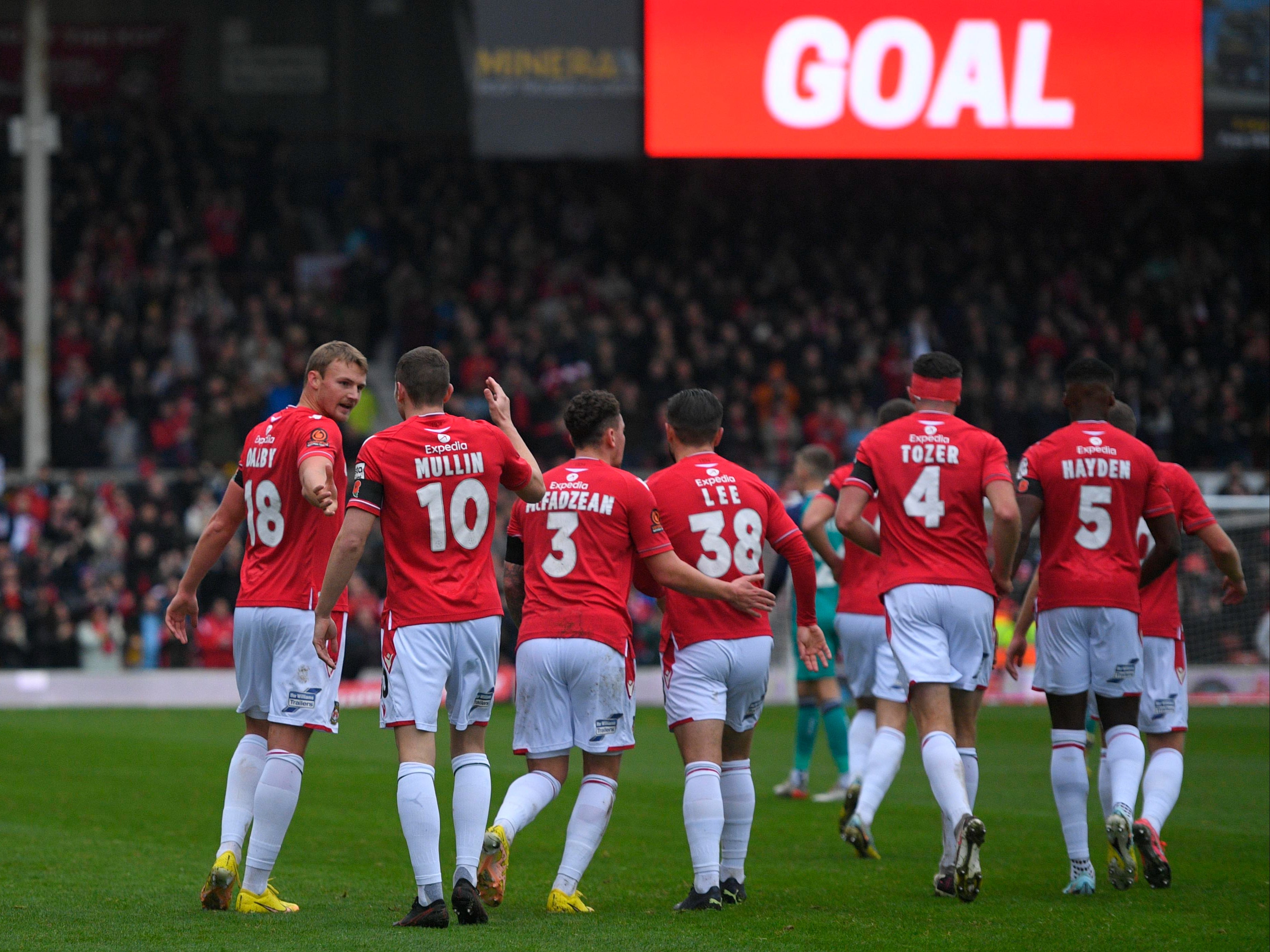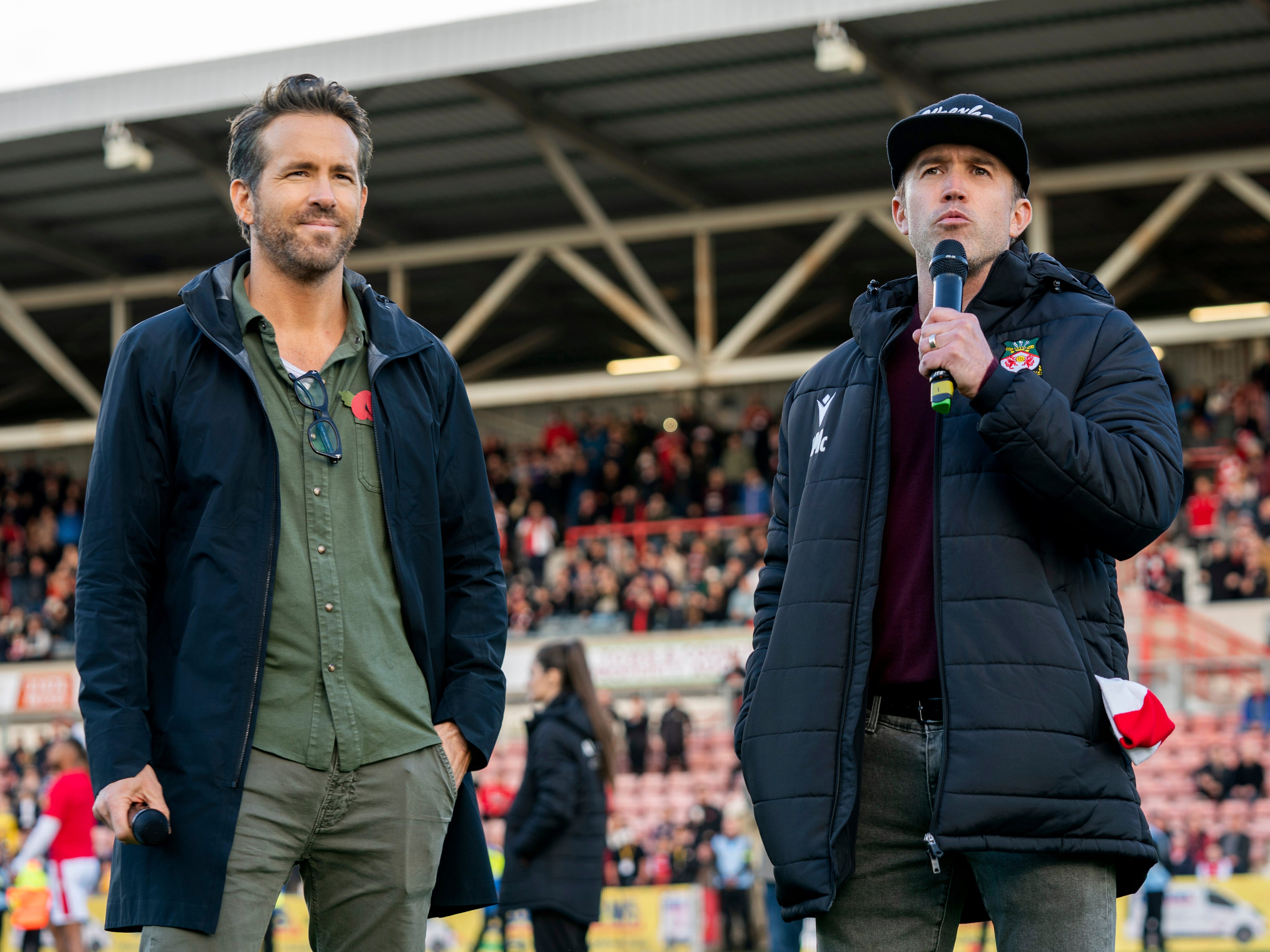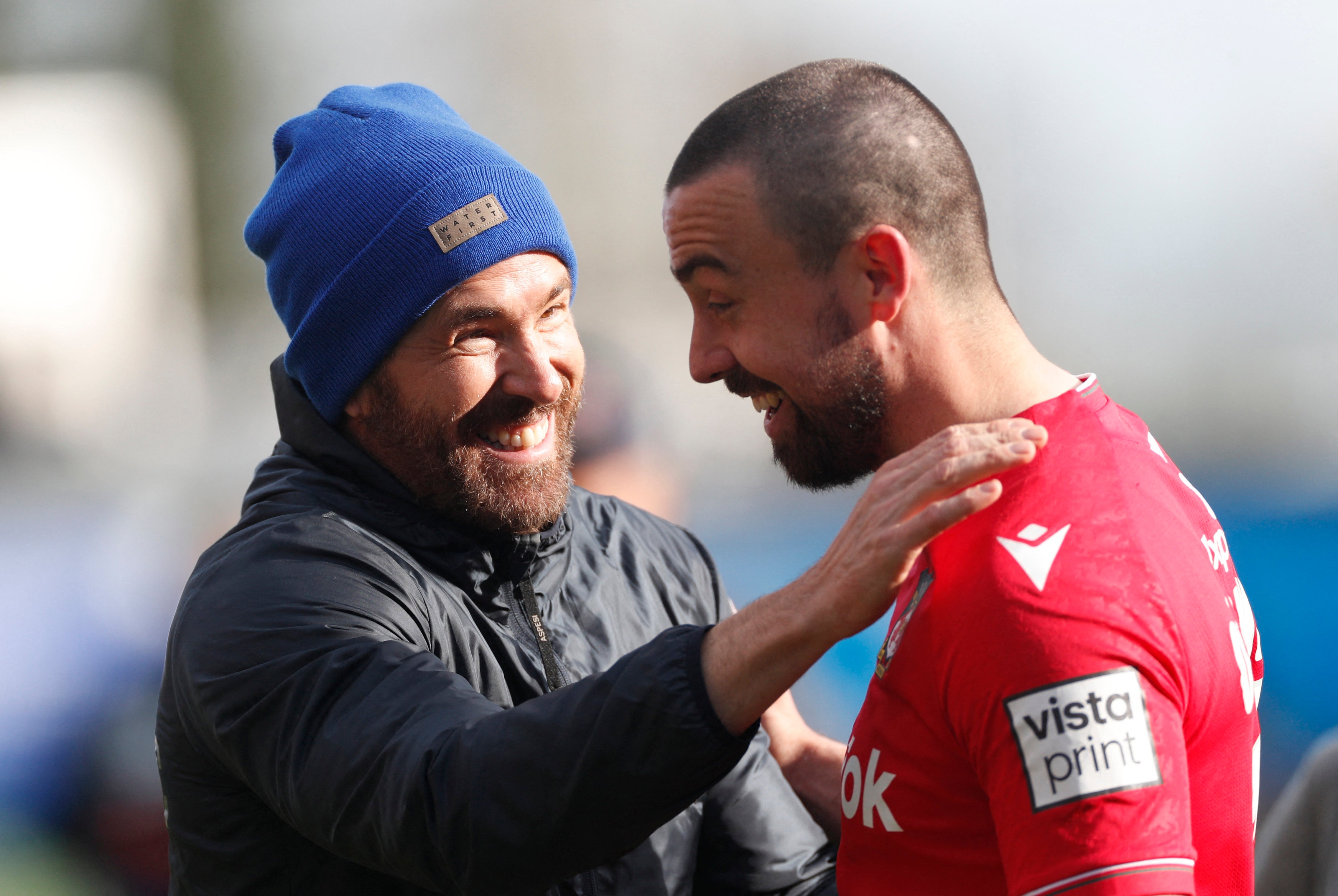 And despite all the changes, there is still a recognition of what matters locally. Ifor Williams Trailers may have been usurped as the main shirt sponsor but they remain visible on the players' shorts and around the stadium, as do Wrexham Lager and others with longstanding ties. The ideal owners of a football club are always its supporters, but the next best thing is someone with money who understands why the ideal owners of a football are always its supporters.
How does this story end? The beauty of football is that it has no ending, just the hope of a new beginning each season, over and over again. It is a series of never-ending sequels, and Wrexham will still be playing in front of their dedicated fans long after the credits roll on the RR McReynolds story, whenever that day comes. But it is a safe bet that Reynolds and McElhenney will leave the club in a better place than they found it. It has only been two years but that much is already true: the team are on the brink of the Football League, and the playgrounds are filled with Wrexham shirts again.
Source: Read Full Article