'It's officially a bromance': Djokovic tells Kyrgios he is 'an amazing talent'
London: If at times the world has seemed against Novak Djokovic and Nick Kyrgios, at least they now have each other.
The controversial pair – pantomime villains at various stages in the past six months – could not help but lavish praise on each other at the end of a mighty three-hour tussle on Wimbledon's famed centre court.
Their "bromance", now deemed official by the 21-time grand slam champion, took the sting out of what had been, at times, a fiery contest.
"It's hard to find consolation words after such a tough loss but you showed why you deserve to be one of the best players in the world, particularly on this surface," said Djokovic.
"Congrats to you and all your team for an amazing tournament. I wish you all the best, man. I really do."
Kyrgios reciprocated, describing Djokovic as "a bit of a god" in his post-match interview.
The pair have had an uneasy relationship in the past, with Kyrgios last year branding Djokovic a "tool" and a "strange cat". But, as Djokovic lifted the trophy for a seventh time at Wimbledon, and for the fourth time in a row, all seemed forgotten. He vowed to shout his defeated foe-turned-friend dinner in the days to come.
"This is the start of a wonderful relationship between us," Djokovic said.
In front of future kings and queens, knights and dames, Kyrgios had paid little regard to the beauty and chivalry of the All England Lawn Tennis and Croquet Club, with its strawberries and cream, linen suits, flowery hats, manicured lawns and usually impeccable manners.
He had initially unnerved the Serbian, breaking him early to win the first set in his grand slam final debut. But as the temperature soared past 30 degrees in London, and a near-capacity 15,000 crowd found its full voice, the Australian lost his focus, his cool and eventually the match 4-6, 6-3, 6-4, 7-6 (7-3).
Kyrgios had promised "fireworks" ahead of the match and became involved in several furious and often bizarre arguments with a fan, the umpire and even his own box during the final.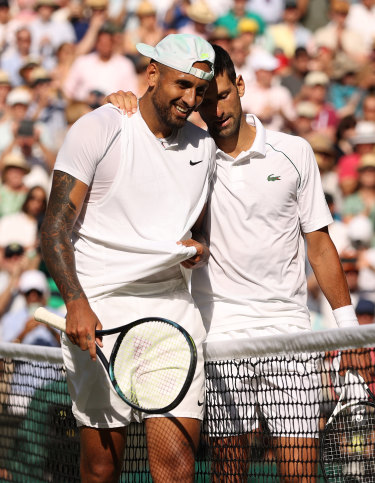 New bromance: Djokovic praised Kyrgios for a great battle in the Wimbledon men's final.Credit:Getty Images
The 27-year-old, who declared this week "I do what I want", twice dropped the f-word in front of two future monarchs. The presence of eight-year-old Prince George, who was seated next to his parents William and Catherine, the Duke and Duchess of Cambridge, seemed to have no restraining effect, forcing a red-faced BBC broadcaster to apologise to viewers.
In a particularly tense third set as he battled to stay in the match, Kyrgios – fined twice during the tournament for his on-court behaviour – lost patience with a woman in the crowd who he claimed was drunk and distracting him by talking during points.
He unleashed on umpire Renaud Lichtenstein, in scenes reminiscent of their fiery clash at the 2020 Australian Open, when the Canberran called the Frenchman "stupid" and a "f—ing idiot".
"She's drunk out of her mind in the first row, talking to me in the middle of the game … What's acceptable?" Kyrgios screamed.
"I know exactly which one it is. The one with the dress, the one who looks like she's had about 700 drinks, bro! Talking to me in the middle of the point."
The woman was not ejected over the incident, and told media who later tracked her down that she had consumed "two drinks" and was supporting the Australian from the start.
It's possible the hot London sun may have conquered more than one fan during the day, as Pimms and champagne flowed freely from the pop-up bars around the grounds.
But it was Kyrgios who was drunk on rage, his odd ongoing clash with his support team who were watching from a box.
Even John McEnroe, centre court's most famously volatile player, was baffled by Kyrgios's on-court behaviour, declaring on the BBC: "In a way he beat himself."
At 4-4 in the fourth set Kyrgios had raced out to 40-0 only to surrender the next four points to give his opponent the advantage. An unforced error handed Djokovic the break.
The Australian erupted at his support team, venting in the direction of his players' box where his girlfriend, Costeen Hatzi, and father, Giorgos, were among those watching.
Steaming with rage, he urged his team to show more support, yelling: "What do you want now? Why would you get to f—ing 40-15 or 40-0 and you all just sit there? Why would you do that?"
He added later: "What are you scared for? Why are you scared to say something? I don't get it. Any of you. All of you went into your shell."
To the puzzlement of centre court fans, who had earlier given loud support, he then sarcastically clapped with his racket before throwing it down to the floor between games. He received a code violation for one of the outbursts.
Kyrgios, who fired 30 aces in a match where he proved a worthy opponent for one of the sport's all-time greats, told the crowd he thought he'd "played well", while hailing Djokovic as "a bit of a god".
He acknowledged he'd crossed the line at times, thanking the ball kids and umpires for "putting up with it". "I know we have a tough relationship at times," he said.
Lauded for his raw talent but lambasted for his application, the Australian ended the fortnight with perhaps more fans than he started with. But, ultimately, he remained an unfulfilled talent.
Most Viewed in Sport
From our partners
Source: Read Full Article