Novak Djokovic vs Andrey Rublev LIVE: Australian Open 2023 latest score after Serbian reacts angrily to fan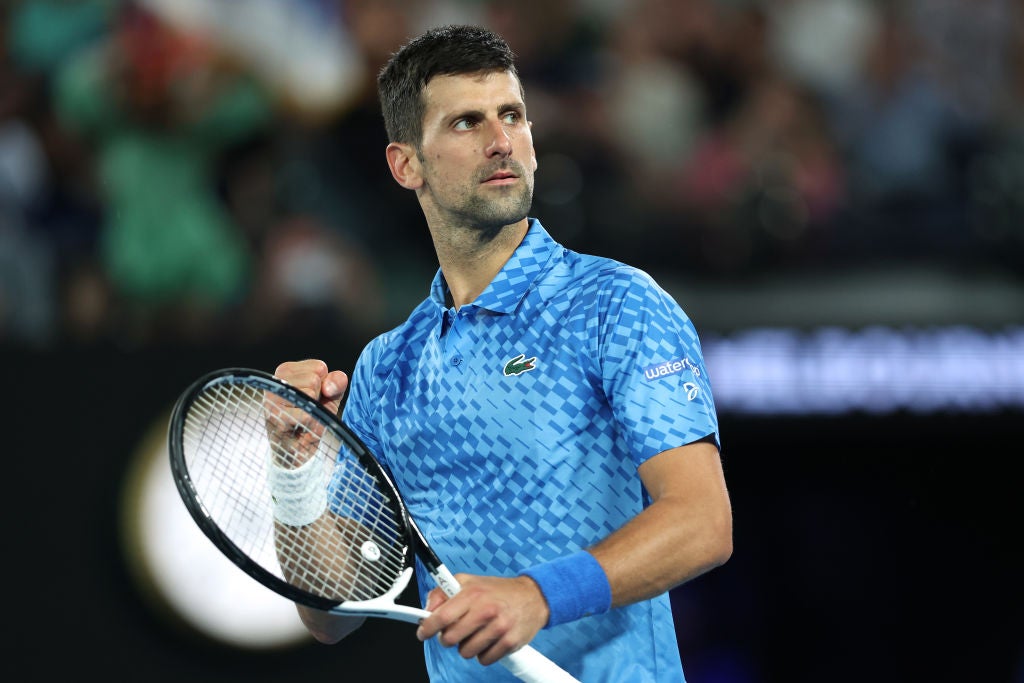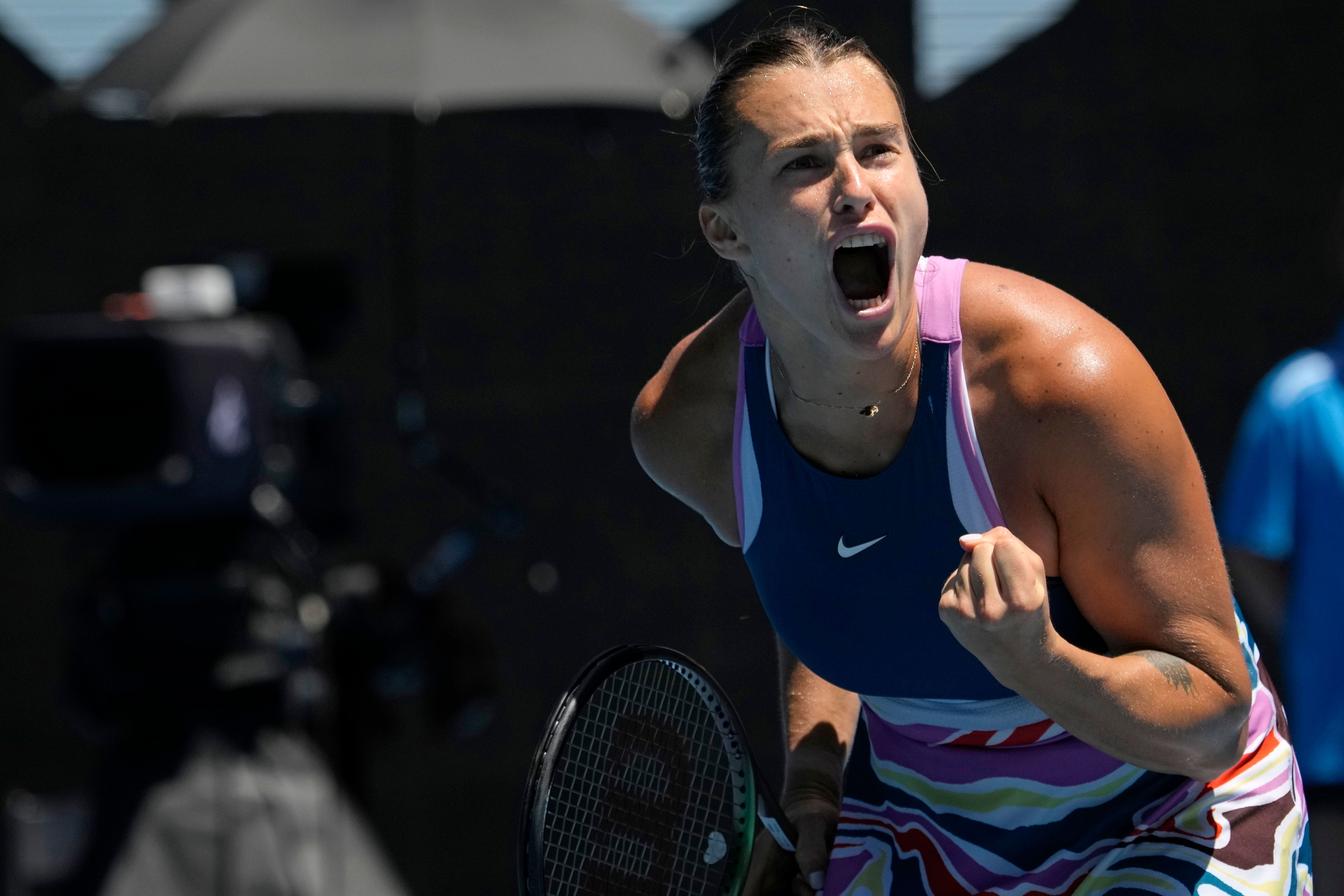 Australian Open 2023: *Novak Djokovic 6-1, 3-2 Andrey Rublev
Djokovic is getting frustrated by the conditions, it's so windy, his hair, which is short, blowing right back and his shirt rippling.
A chance for Rublev to carve out a break back at 15-30.
But the pressure to seize the chance is evident, a tense rally and then he cranks it up but nets with an audacious attempt at a forehand winner.
But Djokovic struggles to control that, off balance and the wind changes the trajectory of the ball and it drifts wide, break point!
But just like that, big serve, again, and Rublev blazes wide. Deuce.
Djokovic shaking his head again, stumbling backwards and netting with a backhand, break point two.
Australian Open 2023: *Novak Djokovic 6-1, 3-2 Andrey Rublev
Now then, Rublev has lost his head a bit here, it's 0-40.
He saves one, Djokovic twisting and sends the backhand wide.
Too good from Djokovic and the break, immense nerve.
Australian Open 2023: Novak Djokovic 6-1, 2-2 Andrey Rublev*
191kmph on his second serve, are you kidding? Djokovic picking him moments superbly to go for it there.
Rublev was in that point, a high lob but then he nets, 30-0.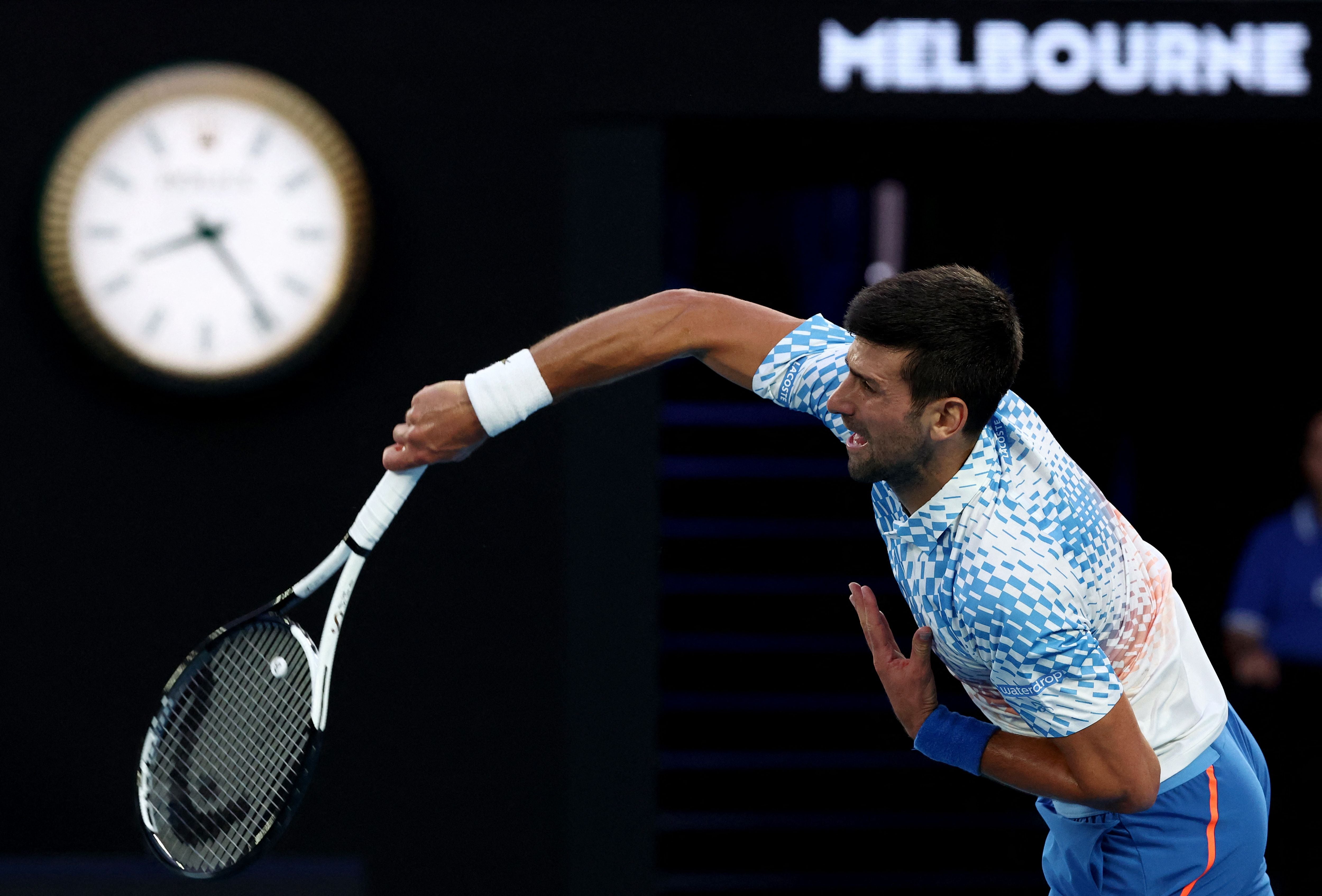 Australian Open 2023: *Novak Djokovic 6-1, 1-2 Andrey Rublev
Rublev cracks, his forehand goes deep, 15-30.
Extra venom on that one though, then another big serve, he has life, 2-1.
Djokovic furious too, screams at his box.
Australian Open 2023: Novak Djokovic 6-1, 1-1 Andrey Rublev*
Rublev with a confidence booster there, a straight forward hold.
Djokovic upset with fans goading him courtside again. The fan appears to be shouting, "send him home, Rublev, send him home!"
Rublev fighting on the Djokovic serve, a big forehand and then the rush to the net and an easier slam. Deuce.
Djokovic with some heat on that second serve: 176 kmph. Game.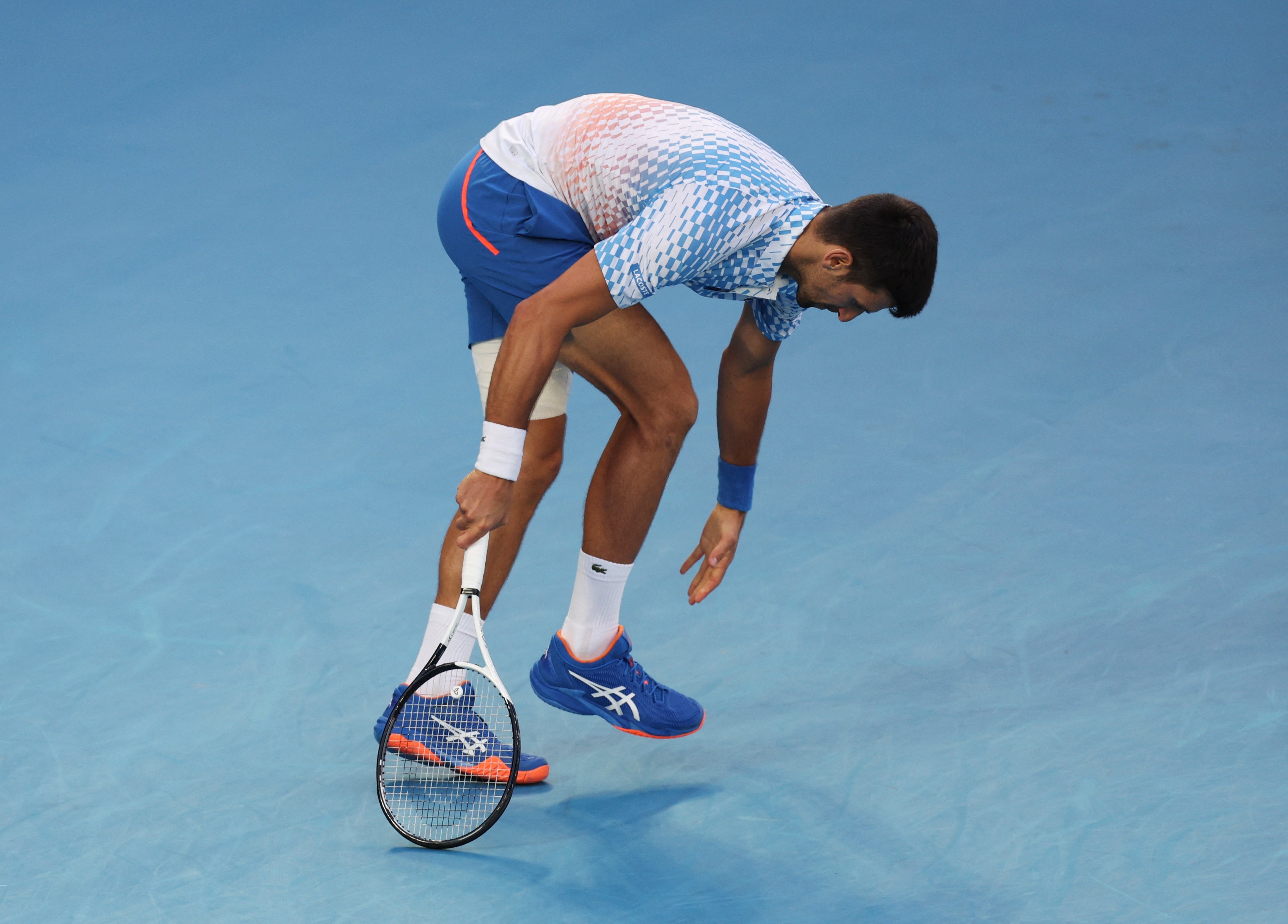 Australian Open 2023: Novak Djokovic 6-1 Andrey Rublev*
Serving for the set then, brilliant backhand slice from Djokovic.
It spins viciously away from Rublev's forehand. He can't believe it, 'how is that possible?' seems to be the gist of what he's saying.
A break point out of nowhere! But that's a brilliant serve and it vanishes quickly, deuce.
Djokovic has only been broken three times in the tournament.
Another chance! A double fault, Djokovic holds the pose, one-legged, confused. Rublev sniffs a chance.
Djokovic with the unreturned serve again. Clutch.
A poor smash and Djokovic performs another magic trick, escaping from a poor position to pass and bring up set point.
A poor smash and Djokovic makes no mistake, swatting a backhand deep, SET!
Australian Open 2023: *Novak Djokovic 5-1 Andrey Rublev
Rublev with a rocket from inside to out to save break point.
He's being pushed to the absolute limit and needs a 144kmph forehand to put Djokovic away.
Ooh, spicy, Djokovic upset with a fan again it seems: "Shut up! Every single point it's happened…"
Another break point saved, Rublev with some bombs on first serve.
And another, a serious test this for Rublev just to force Djokovic back a little, even if this set is probably gone, he can't go two breaks down.
A fifth break point coming up… Too good! Repeatedly peppering Rublev's backhand. Magnificent.
Australian Open 2023: Novak Djokovic 4-1 Andrey Rublev*
Djokovic's plan is to force Rublev into audacious, risky strokes on the forehand.
It's working, despite the odd winner, Rublev's body language is slightly concerning, he looks dejected.
A comfortable hold, 4-1 and a big hole for Rublev.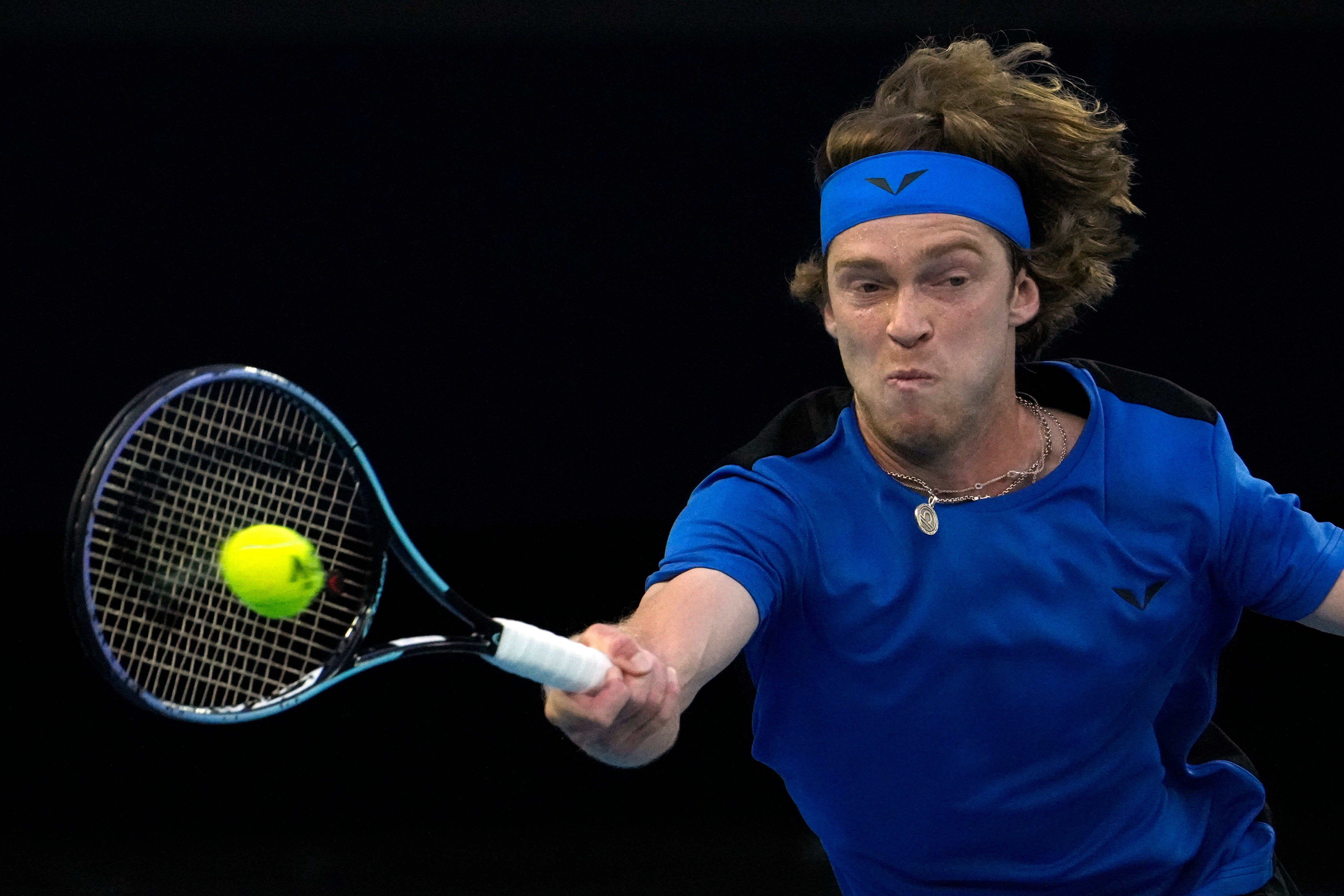 Australian Open 2023: *Novak Djokovic 3-1 Andrey Rublev
Rublev's forehand given a close examination from Djokovic, But Rublev cranks it up on serve, 211kmph, the fastest of the match, but he needs that as Djokovic is producing fireworks.
No time wasted and the Serb is winning points with two to three strokes. Oh no, that's a double fault on break point and Djokovic has the edge!
Australian Open 2023: Novak Djokovic 2-1 Andrey Rublev*
A ruthless run to start Djokovic's game on serve.
The wind coming from behind Djokovic's back, Rublev perhaps needs to retreat somewhat behind the baseline.
Another double fault, Djokovic looks uncomfortable. Hmmm, not this again? How much do you read into the anguish and body language?
2-1 Djokovic, he ramped up the level just then, heavy ground strokes. Game.
Source: Read Full Article