Ashley Young's costly mistakes gift Mohamed Salah and Liverpool Merseyside derby spoils
Everton's Ashley Young brings down winger Luis Diaz

Sign up to Miguel Delaney's Reading the Game newsletter sent straight to your inbox for free
Sign up to Miguel's Delaney's free weekly newsletter
Thanks for signing up to the
Football email
It tends to be the derby of the dismissals. The red side won in part because of a red card and, if the time when the meetings of the two halves of Merseyside were known as the "friendly derby" feels increasingly distant, these days the sendings-off are stacking up.
A 29th in the 32 seasons of Premier League rivalry went to Ashley Young, the man who ought to have been old enough to know better. Mohamed Salah's subsequent opener, and the first of his brace for Liverpool, stemmed from a second decision by referee Craig Pawson – both of which ought to be uncontroversial, though his leniency in sparing Ibrahima Konate the fixture's 30th red card seemed more of a mistake – as Everton's obduracy with 10 men ultimately merely spared them a heavier defeat.
There can be a tendency to pin results on referees, to say decisions changed games; yet that suggests players are powerless. Yet Young was complicit in his own downfall. Two cautions were the consequence of his choices. Of such a vintage that he was born a couple of months after Howard Kendall's Everton won their first Division 1 title and that he is a former teammate of his 52-year-old manager Sean Dyche, Young should have shown a greater sense of responsibility. He could be doubly faulted for his first booking: for fouling Luis Diaz in the Liverpool half and with just 18 minutes on the clock, putting himself needlessly in peril. He had a greater need to challenge the Colombian on the edge of his own box, but sliding in and chopping him down rendered his expulsion inevitable.
Within a duel where Young had a notable early success – a magnificent, and perhaps goal-saving, block when Diaz shot – was a tale of the two clubs: a £50m winger up against a 38-year-old free transfer, a player reinvented as a right-back late in his career. It threatened to be an unfair contest. It became no contest when one of the participants was removed.
And Diaz, the brightest of Liverpool's attackers on a day when they did not quite gel, when the wrong option was taken too often and when Jurgen Klopp's dislike of 12.30 kick-offs threatened to become more pronounced, was a match-winner of sorts. His cross struck the needlessly outstretched arm of the substitute Michael Keane: summoned to the monitor to review it, Pawson gave the penalty and Salah rifled it past Jordan Pickford.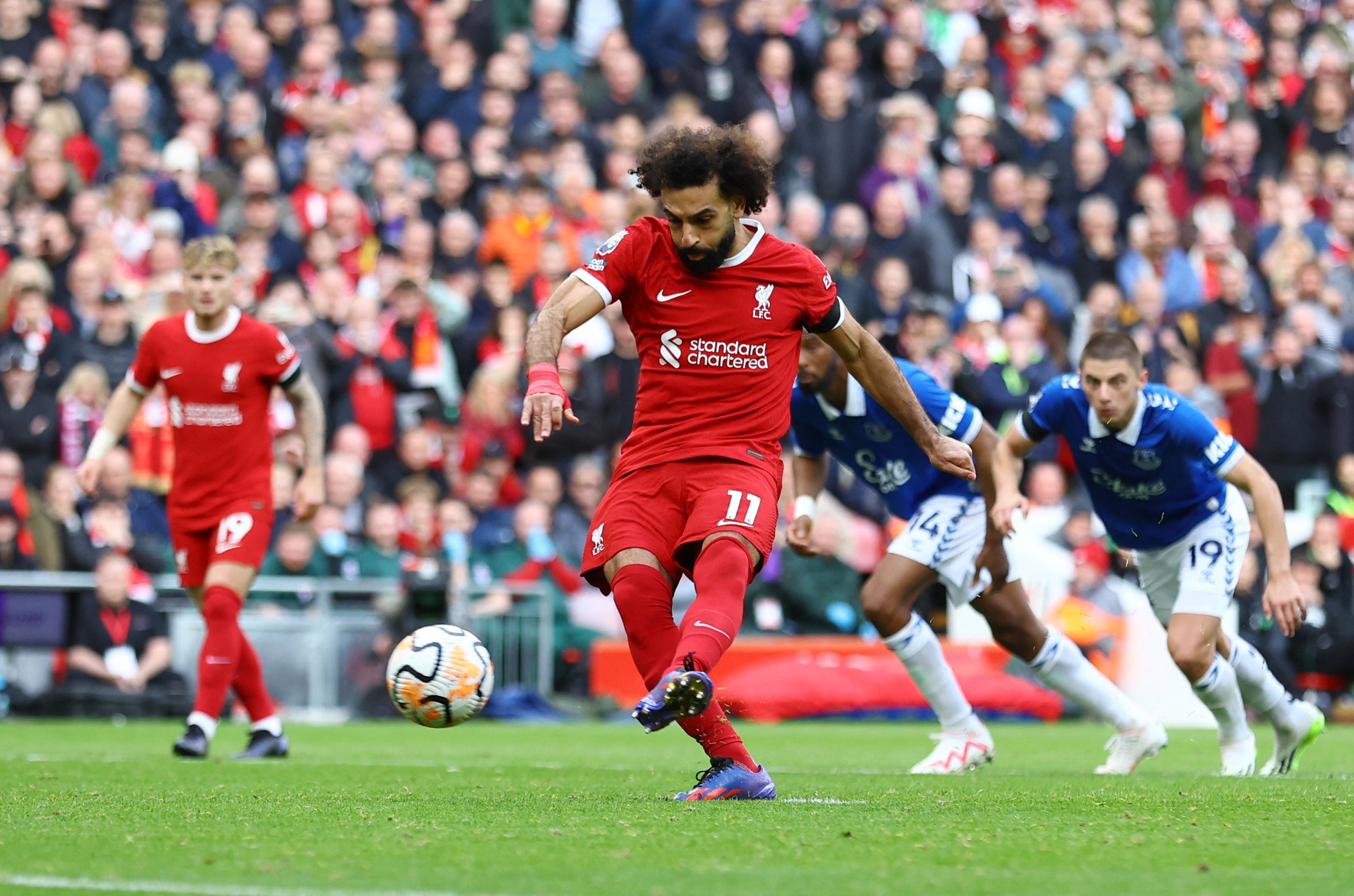 Salah gives Liverpool the lead from the penalty spot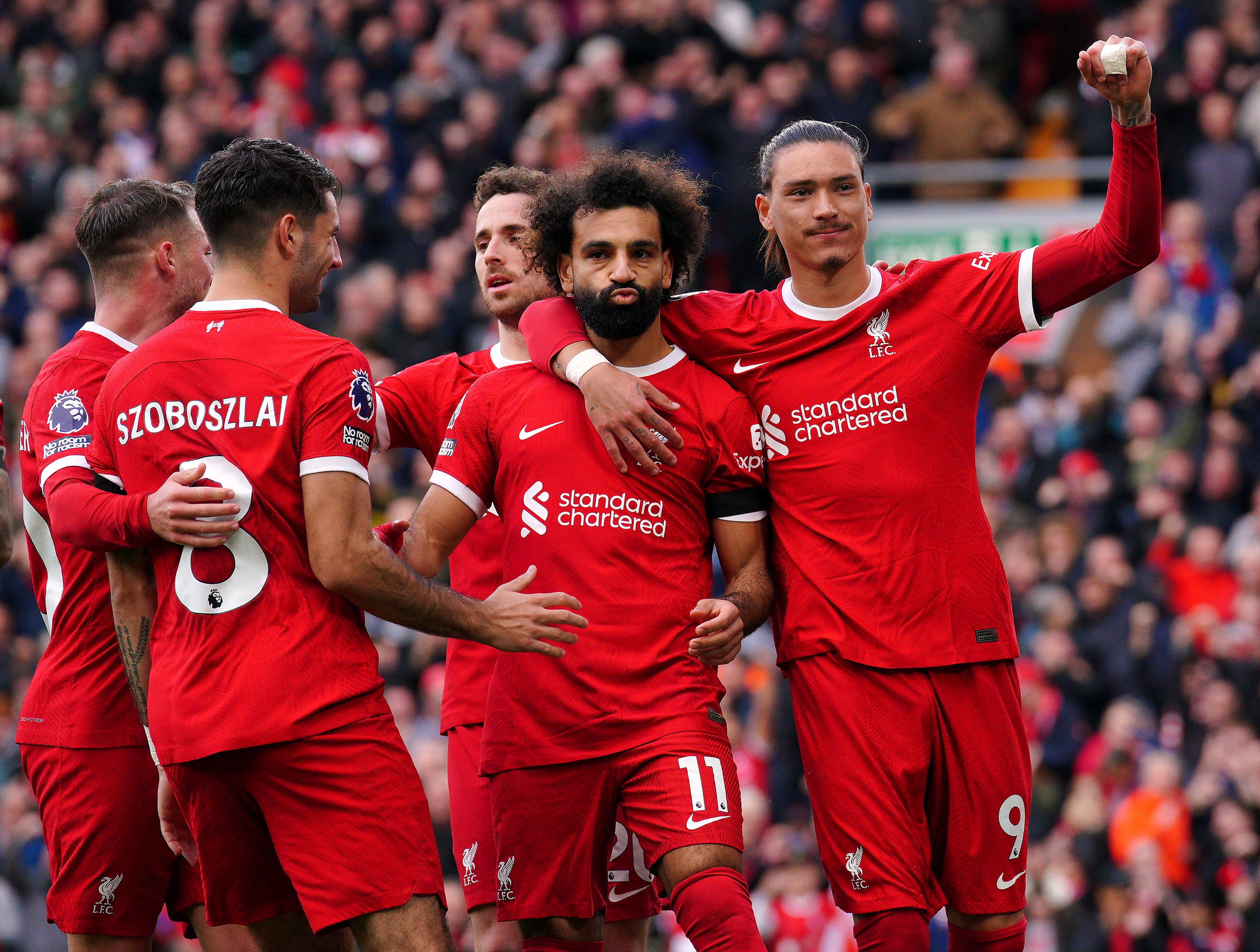 Salah celebrates after scoring Liverpool's opener
There was to be a second goal whereas Everton felt there ought to have been another red card. Before the deadlock was broken, Konate, already on a yellow card, evaded another for tugging back Beto. Klopp proved more decisive than Pawson. Instead, when Konate swiftly exited, it was because his manager substituted him. It did raise the question if Dyche, with a specialist right back on the bench in the shape of Nathan Patterson, could have taken early preventative action.
And eventually, with Everton stretched, Salah ensured the scoreline was the same as in Dyche's first defeat as their manager: 2-0, as he swept in a shot from Darwin Nunez's pass on the counter-attack. It was his 105th Anfield goal, taking him past the storied duo of Kenny Dalglish and Steven Gerrard. It also meant his recent record stands at 18 goals and 11 assists in his last 24 league games.
The post-match announcement that Liverpool were top, if only briefly, brought elation where there had been frustration. This was not the emphatic performance of potential champions: while Liverpool amassed 26 shots, it was partly a consequence of Everton being depleted and, of the many optimistic, long-range efforts, most were harmless. It was only when Jordan Pickford tipped Harvey Elliott's 90th-minute effort on to the bar that they almost scored from outside the box. The replacement Elliott, though, had made a difference, with his cleverness, brought on as Young's early exit prompted each manager to alter approach.
There had been some ambition in Everton's initial blueprint and it could have produced a first-minute lead when Dominic Calvert-Lewin headed straight at Alisson. But, down to 10 men, Dyche responded by removing his wingers at half-time, bringing on two defenders, in Patterson and Keane, and playing 5-3-1. A quarter of an hour later, Klopp removed his left-back, Kostas Tsimikas, who was no longer needed to defend, in effect forming a 2-5-3 formation.
Dyche's tactic was predicated on not conceding and, with his rejigged rearguard showing organisation and concentration, it threatened to succeed during an impasse that lasted almost half an hour. Then Keane's right arm and Salah's left boot brought a breakthrough. As Klopp has been keen to point out, his side have often won the Fair Play league. But Liverpool have four red cards already, and Konate could have made if five in a season of sendings-off. They have become accustomed to playing with 10 men this season. They profited from playing against 10. And if Everton are entitled to wonder what might have happened if the numbers had been evened up, they can first blame Young.
Source: Read Full Article